In my non-vacationing life, I rarely eat dessert.  When I'm on a Disney cruise, though, I tend to order dessert with dinner.  It's expected.  In fact, on the occasional evening I've attempted to pass on dessert, our server seemed genuinely saddened by this and vowed to find something to tempt me.  I've ordered plain vanilla ice cream or a Mickey Premium ice cream bar from the children's menu just to feel less guilty about my lack of a sweet tooth.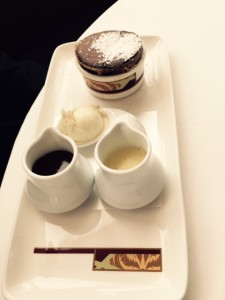 When we dine in Palo, our favorite adults-only restaurant on the high seas, it's a completely different story.  Palo serves THE Chocolate Soufflé – a delicious work of confectionary art that makes me inordinately happy!  Made-to-order, if you want this particular dessert, it's best to let your server know early in the meal so the 20-ish minute cooking time can be taken into account (while you're enjoying Palo's amazing Italian dishes).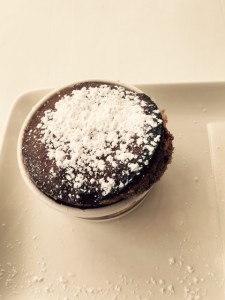 Hot, straight from the oven, the Chocolate Soufflé is served with a scoop of vanilla ice cream and two small pitchers of sauce, one chocolate, one vanilla.  You get to choose how you'd like to combine the separate components to make the perfect blend of hot, cold, chocolate, vanilla, crispy, gooey fabulousness that is this dessert!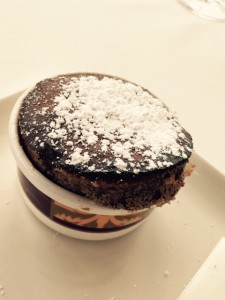 After I pause for a moment to admire the beauty of my dessert, I take that spoonful of ice cream and smoosh it right into the center of the soufflé.  That blend of hot and cold is SO perfect, but won't last forever so I immediately drizzle a little bit of both the chocolate and vanilla sauces right into the cavern I've made with the ice cream spoon and start eating.  Oh, boy, this is just the best dessert!  The crust on the outside, the gooey filling, the delicate powdered sugar topping – the blend of textures and subtle flavors really defies description, but trust me when I say it's one of my most favorite treats in the world.  If you find yourself dining at Palo, save room for dessert and order the Chocolate Soufflé – you won't be sorry.
Have you taken a Disney Cruise?  What was your favorite sweet treat?
Want to try Palo's Chocolate Soufflé at home?  Here's the recipe!