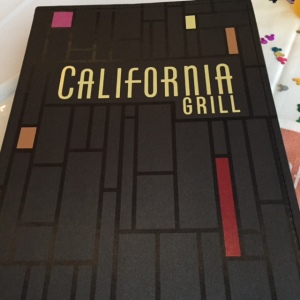 If you've chosen a Disney Dining Plan (or are thinking about it), you may be wondering – WHY do some "signature" dining restaurants, character dining experiences, and dinner shows require the use of TWO table service credits?  I get asked about this quite a bit and let me tell you – if you select some dining package other than the one for just quick service dining, you might find yourself puzzled and perplexed by the restaurant choices!
Yes, you could totally save time and money by avoiding the restaurants/experiences that burn two of your table service credits for one meal, but then again, some of the most popular and highly coveted reservations are at these two-credit places.  What to do…how to choose…  Ah, once again, the beauty of having my own blog is a place to express my own opinions!  However, I'd love to start a discussion here, so go ahead and share your opinions along with mine.  I'm pretty thick-skinned, so if you don't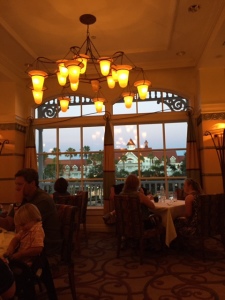 agree with me, shout on out.  For the benefit of readers that don't have a lot of (or any) dining experience at Walt Disney World – your opinion matters!  All points of view are welcome.  Plus, I'm only talking about restaurants in which I have previously dined.  If I haven't tried a particular dining experience, it won't be on the list.
For ease of understanding, I'm using three categories to discuss the two-credit dining choices I've experienced.  These are:  Definitely Worth It, Might be Worth It, and NOT worth it at all.  Ready?  Let's go!
Disney Dining: Worth Two Table Service Credits?
Definitely Worth It:
California Grill (Disney's Contemporary Resort):  This place is fabulous.  The food, the service, the atmosphere – all top shelf.  The big bonus though, is the ability to watch Wishes from the outdoor viewing area no matter what time your dinner reservation was for.  It's a pretty grown-up place, but is surprisingly kid-friendly.  My own experience can be found here.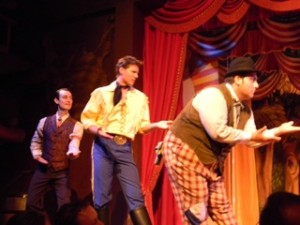 Hoop-Dee-Doo Musical Review (Fort Wilderness Resort and Campground):  Dinner (all you care to eat) and a show!  Adult beverages included!  It's basic food (fried chicken, ribs, sides, strawberry shortcake), but filling and tasty.  The show's good with singing, funny skits, and great characters.  Full review here.
Might be Worth It:
Jiko – It's one of our most favorite places to eat and it's got the added bonus of being at the Animal Kingdom Lodge.  If you're looking for a romantic evening out OR your children have more sophisticated palates, Jiko might be a great choice.  Animal Kingdom Lodge is not only gorgeous, but the savannah viewing area just off the resort's lobby is a wonderful place to hang out before dinner.  Arrive early to allow plenty of time for exploring and animal watching.
Citricos (Grand Floridian Resort and Spa)– The food and service are amazing.  This is a place I'd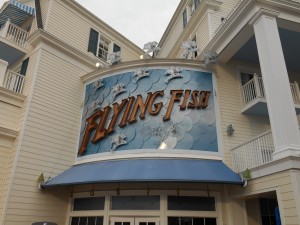 pick for a romantic dinner for two or for a grown-up evening out.  Get to the Grand Floridian early and enjoy a cocktail in Mizner's Lounge before dinner.  I love the restaurant's décor and quiet elegance. (Review here.)
Flying Fish Café (Boardwalk) – Like Citricos, but in a completely different setting.  Food and service are excellent and the Boardwalk is a great place to visit.  Arrive early or stay late – the Boardwalk has a lot to offer by way of street performers, shops, lounges and bars. (Review here.)
Le Cellier (Epcot's Canada Pavilion) – You may have noticed that, up until this point, all my recommendations have been outside the parks.  Le Cellier is extremely popular and some people find it overrated.  We like it, though, and have never had a bad meal there.  It's dark and cozy inside, which is often a great respite from the Florida sun and Epcot crowds.  If you're going to be in Epcot and want the convenience of enjoying a pretty good steak dinner without leaving the park, Le Cellier's a good choice for dinner.  Try the cheese soup!
NOT Worth It:
Fairytale Dining at Cinderella's Royal Table – If you want a character dining experience, there are tons of 1-credit choices!  Unless you feel you must burn two credits just to say you ate in Cinderella Castle, it's not worth it!  If you want to eat in a castle, chose Beast's abode in Fantasyland and dine at Be Our Guest.  If you must dine with princesses, head on over to Epcot and enjoy Princess Storybook Dining at Akershus Royal Banquet Hall.  Personally, I'm particularly fond of dining with the Fab Five at Chef Mickey's (Contemporary Resort) or with Cinderella, her Prince, Lady Tremaine and the Step Sisters at 1900 Park Fare (dinner / Grand Floridian Resort and Spa).  And, if I'm NOT at Cinderella's Royal Table, I at least have to option of buying (and enjoying) an adult beverage if I choose.
Pizza Delivery – There are absolutely times when in-room dining holds a certain appeal, but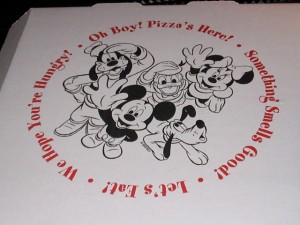 blowing two table service credits to get a pizza, two single-serving, non-alcoholic beverages, and two desserts is a very poor use of those credits.  The pizza at Walt Disney World is notoriously awful.  Grab some snacks from a quick-service place or sundries shop (if one is handy) to take back to your room and save the table service credits for something truly extraordinary.  No food delivered to your resort room will be extraordinary in a good way.  Ever.
Your turn!  Agree with my assessment?  Have places to add?  Tell me what places you think are two-credit worthy!