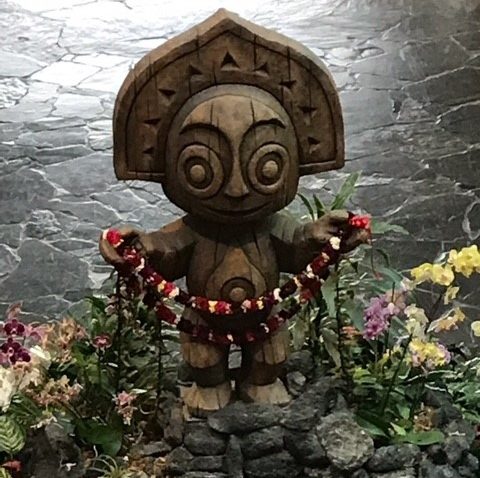 Tonga Toast at Kona Café is a Walt Disney World original.  This breakfast specialty has thousands of loyal fans and tops the list of must-do's for those who have not yet had the privilege.  A generous serving of "Banana-stuffed Sourdough French Toast rolled in Cinnamon Sugar and served with a Strawberry Compote and your choice of Ham, Bacon, or Sausage" – Sounds heavenly and if you love sweet breakfast foods, you will not be disappointed.  Unless you're me and you prefer savory eats first thing in the morning.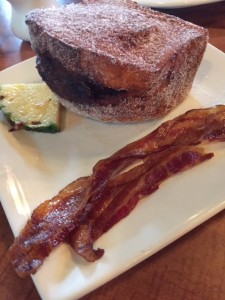 Kona Café Breakfast – Beyond Tonga Toast
For quite some time now, Kona Café has been a Disney vacation tradition.  Raymond and I (and now Joseph) are partial to the Egg White Omelet with roasted red peppers and goat cheese.  It comes with a side of berries and is an all around solid (and healthy) breakfast choice.  In fact, that's just what they both ordered on our departure day. 
Me? I decided to break away from the usual and try something new.  With quite a few delicious-sounding choices on the menu, I took my time selecting what I considered a splurge.  One, very simple-sounding dish caught my eye:  The Samoan.
Described as, "Poached Eggs with Hollandaise served over Smoked Pulled Pork Hash", what could I not love about that?  All my favorite food-types in one dish.  In short order, my plate arrived.  It looked much fancier than I'd imagined. 
Beneath a handful of gently sautéed arugula, the "hash" was actually some large, tender fried potatoes in a ring around the pulled pork.  This circle of yumminess was topped with two perfectly prepared poached eggs – yolks soft but not runny, whites firm but not rubbery.  The hollandaise sauce was smooth, thick and tangy.  I was uncharacteristically quiet as I savored every bite.
If you've been under the impression that Tonga Toast is your only breakfast option at Kona Café, think again.  Haven't tried Kona Café yet?  Add it to your to-do list and you just might find a morning visit to Disney's Polynesian Village Resort becoming a vacation tradition for you, too.
Are you a Kona Café fan?  What's your favorite breakfast item?