On that rare (for us anyway) occasion that we aren't planning to be at a Disney World park when it opens, we make time to enjoy a good breakfast.  Some of our favorite spots are near Magic Kingdom.
Breakfast – Disney World Monorail Loop
At the Contemporary – There are two places we favor:  Chef Mickey's and the Contempo Café.  The breakfast buffet at Chef Mickey's offers basic breakfast fare of all kinds.  Mickey Waffles, cereal, eggs, potatoes, pastries and more.  For a character dining experience, it's a solid choice.  Meet the Fab Five and fuel up for the day.  We've booked Chef Mickey for our departure morning on more than one occasion – it was a great way to say farewell and end our vacation on a happy note.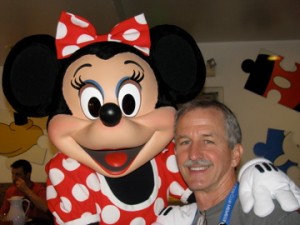 The Contempo Café is a quick service restaurant right next to Chef Mickey.  The menu's not huge, but for a decent price we can share the "Bounty Platter" and an order of cheesy grits (we love our grits in the South!) and be on our way.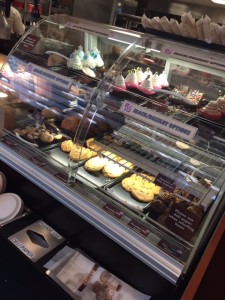 At the Grand Floridian – Again, we've been pleased by two places.  One's a sit-down restaurant and the other's a quick service spot.  The Grand Floridian Café boasts a big, broad menu in a fancy, Victorian setting that's still considered casual dining.  If our meal will be falling into the brunch-ish time frame, this is where we'll eat.  We've found it easy to make a last-minute breakfast reservation no matter what time of the year we go.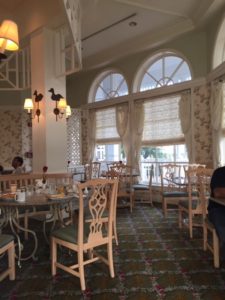 At the Gasparilla Island Grill, the menu is very similar to the Contempo Café, but we'll pass up the Bounty Platter here for a freshly prepared Croissant Sandwich…yum!  Note to other lovers of grits – don't order them here.
At the Polynesian – There's only one place for us and that's Kona Café.  There are a couple of perfectly respectable quick service options at the Poly, but if we're having breakfast at this resort, it's going to be at Kona.  There's lots to choose from – sweet, savory, lite, heavy – there's something for everyone on this unique and delicious menu.  The Tonga Toast is legendary.    Added bonus for us – the grits here are the absolute best!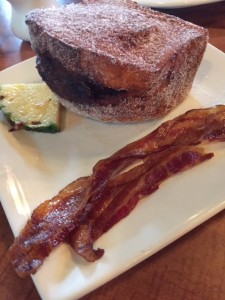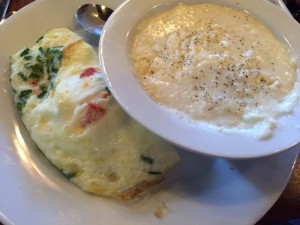 How about you?  Do you make time for resort breakfasts at Disney World?  Which ones are your favorite?