Last December at Walt Disney World, we ate a lot.  Adding both new experiences along with old favorites made coping with the Christmas crowds easier – less park time, more culinary exploration.  We rarely have a sit-down breakfast on vacation, so enjoying some early morning dining reservations was a rare treat.  One of the new places we tried was the Grand Floridian Café.
Grand Floridian Café Breakfast
It's hard to write an honest review of a dining experience that began with vomit. Not our own, thank goodness, but there was upchuck splattered liberally near the cafe's entrance.  If you've been to the Grand Floridian before, you may have noticed the dramatic and beautiful tiled floors.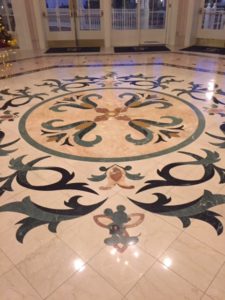 Just before our arrival, it appeared that a little someone had been violently ill smack in the middle of the lovely tiled atrium.  We gingerly skirted around the mess – I don't know about Raymond, but I made a valiant effort to NOT breathe in until we were safely inside the restaurant. We were shown to our table immediately and seated beside a window.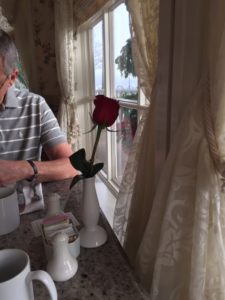 The Grand Floridian Café's décor is everything you'd expect from its location. It completely reflects the overall resort theme – white, bright, open and airy with small, lovely details in keeping with a Victorian feel.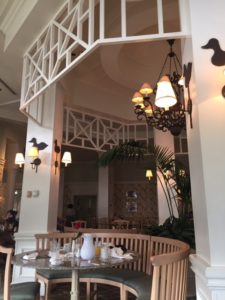 Our server visited our table right away with menus for us to look over.  I liked the simple presentation of the condiment selection on the table.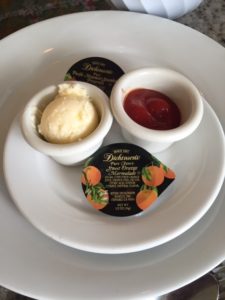 While there was nothing fancy or particularly outstanding among the menu offerings, there were some solid, hearty breakfast choices mixed among lighter fare like breakfast salads. I did not order one of theses, but thought the idea had merit.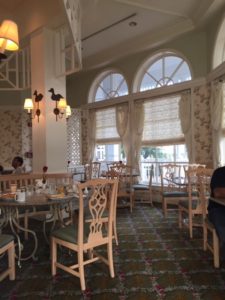 As often happens with Raymond and I, we decided to order something to share and selected The Garden Omelet (Three-Egg Omelet, Spinach, Feta, and Roasted Tomato served with Lyonnaise Potatoes or fresh Fruit). We were keeping in mind that lunch that day would be at Whispering Canyon Café, another new experience for us, and we wanted to be good and hungry by then.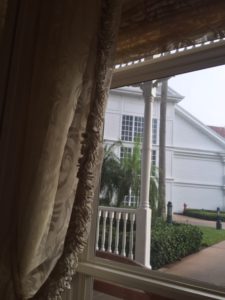 While we waited for our omelets, I passed the time people-watching out the window. It was early and there weren't too many people out and about yet.  There were few people seated near us in the restaurant.  It was Christmas week and while everywhere else was ridiculously busy, the Café was not doing a booming business this early in the day and that was just fine with us.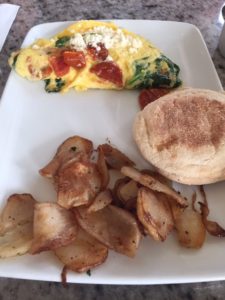 The food was fine, even if our particular selection was rather unremarkable. The service was excellent, the restaurant's peace and quiet was welcome and soothing.  Would we eat here again? Sure – especially during Christmas week when finding a serene spot to fuel up is nearly impossible.
I've heard the Grand Floridian Cafe's lunch menu is good, boasting the popular Grand Café Sandwich (Open-faced hot Ham, Smoked Turkey Breast, Bacon, and Tomato with a rich Boursin Cheese Sauce and Fried Onion Straws).  Maybe next time we'll try a mid-day meal instead of breakfast. Excluding the unfortunate vomit greeting, we had an overall good experience.
Have you tried the Grand Floridian Café? What did you think about it?