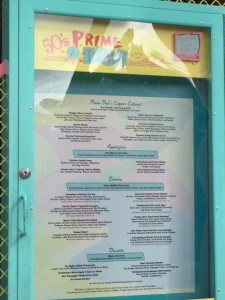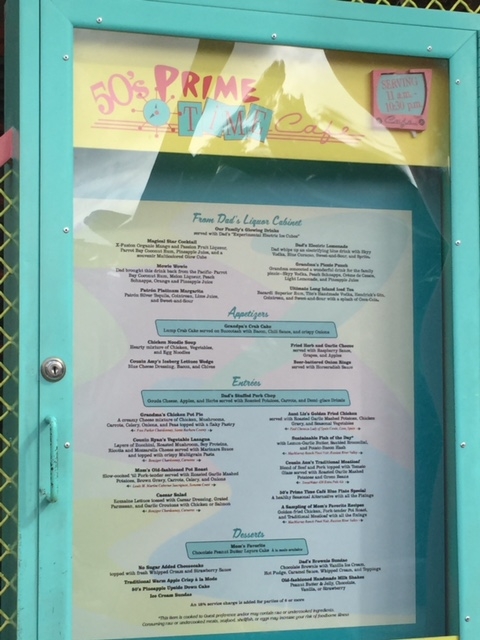 Let's be honest – Disney's Hollywood Studios is our least favorite park restaurant-wise.  The counter service options leave a lot to be desired and table service dining is generally underwhelming.  A couple of exceptions being the Hollywood Brown Derby's patio dining and 50's Prime Time Café.  One is perfect for some delish snacks or light meal and a glass of wine, the other is great for some classic American comfort food in an awesome mid-century setting.
Raymond and I recently enjoyed lunch at the 50's Prime Time Café (we hadn't been there in years) and were tickled by the kitschy décor, the 1950's TV show clips, the funky service, and the home-cooked-meal menu.  For one table-service credit on the Disney Dining Plan, Prime Time's a great choice for families and those of us old enough to appreciate the nostalgia.
Disney Dining – 50's Prime Time Café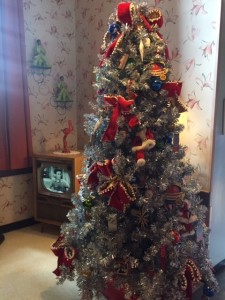 We arrived a few minutes before our reservation, checked in at the podium and were free to roam around the waiting area.  Because it was the week between Christmas and New Year, the crowds were extreme and finding a place to sit was impossible.  Raymond found a quiet corner to stand in and I wondered around taking in the adorable seasonal decorations and homey atmosphere.  We didn't wait long before we were called to be seated.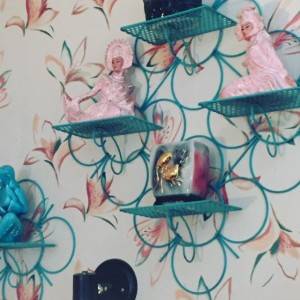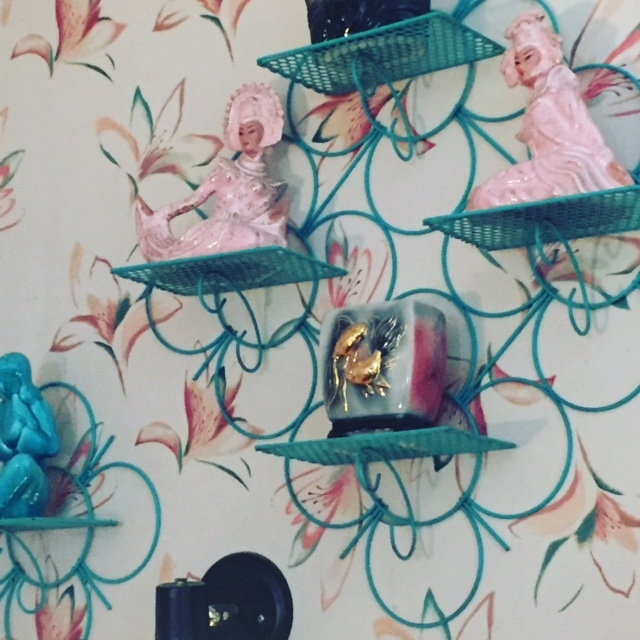 If you haven't heard about 50's Prime Time Café, it is one of the unique Disney restaurants that creates a total immersion experience.  You are propelled back into a typical home in the 1950's – complete with a grown-up (your server) making sure you mind your manners, eat your veggies, and have a good time.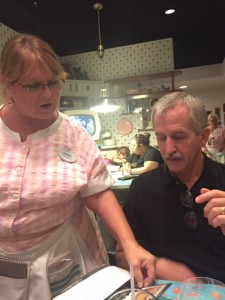 I couldn't stop looking around!  I kept spotting things I grew up with either in our house or at an aunt's, uncles, or grandparents'.  On my previous visit, I did not take the time to appreciate the carefully curated artifacts!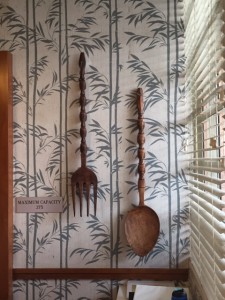 The menu mainly consists of plain old American fare – popular dishes once the mainstay of those long-ago dinners where the entire family gathered around the dinner table together and talked to each other.  Back in the days when kids were called in from playing outdoors to wash up and dinner hit the table promptly at 6:00 pm.  No smart phones or cable TV…just hearty food prepared without benefit of a microwave oven.  Hard to imagine isn't it?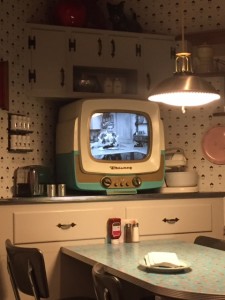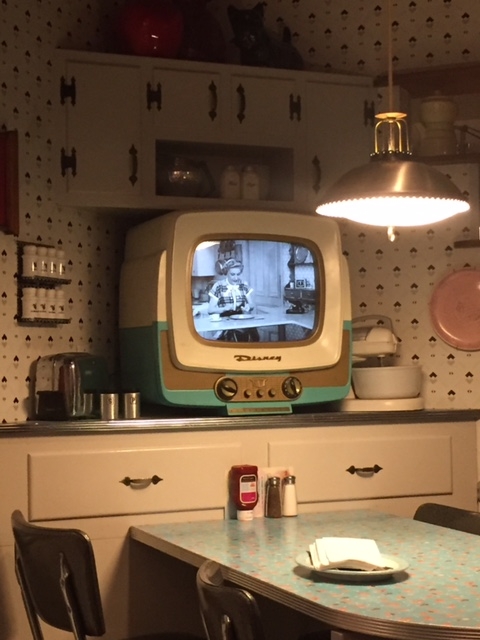 Raymond and I decided to share an appetizer and entrée so we'd have more room for the dinner reservation we had that evening.  We chose the "Fried Herb and Garlic Cheese served with Raspberry Sauce, Grapes, and Apples" for $8.99 and "A Sampling of Mom's Favorite Recipes -Golden-fried Chicken, Fork Tender Pot Roast, and Traditional Meatloaf with all the fixings" for $21.99.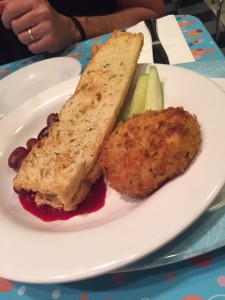 The appetizer was just okay…we ate it, but probably wouldn't order it again.  I'm guessing it was the raspberry sauce which struck me as very artificial tasting.  The entrée was excellent!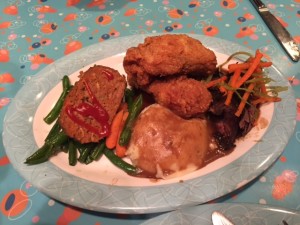 This place knows how to make fried chicken, pot roast, and meatloaf!  They all tasted exactly the way we wanted them to.  The veggies were great too (and I got all the green beans!)!
We think 50's Prime Time Café is a great place for a hearty meal.  If you have meat-and-potatoes fans in your family, they're sure to find something enjoyable on the menu and if you grew up in or just after the 1950's, you'll feel right at home.  It's a fun time-travel experience for everyone!
What's your pick for best table service restaurant at Disney's Hollywood Studios?  Have you eaten at 50's Prime Time Café?  What did you think?