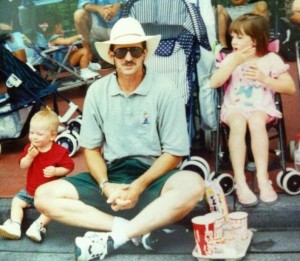 We took our first trip to Disney World with children in 1996.  Megan was four and Joseph was 13-months old.  This trip was taken during what I fondly refer to as "the lean years" – you know, the just-starting-out part of your lives when you're living on love 'cause there's not much else.  It was a big deal for us to take this trip.  A family reunion was planned at an off-site motel, so we flew down a few days early and splurged for an on-property stay at a value resort.  All Star Music is where we ended up.  In July.  Yes, just imagine!  We knew so little back then!!!  I will say, the Brazilian teens we encountered were very sweet and the girls all wanted to hold Joseph, marveling over his (then) blonde hair and blue eyes.  He soaked up the attention (and candy) they heaped upon his little baby self while he practiced his charm with the ladies at the guitar-shaped swimming pool.
Even though money was so tight back then, we were, of course, completely and totally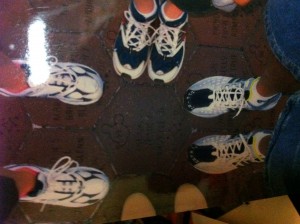 enthralled by the perfection of Disney World as a vacation spot for The Fam.  We decided on an additional splurge: a Walk Around the World brick to mark our spot at OUR Happiest Place on Earth – even if we couldn't visit again for a while.  I have found that Disney does a great job of inducing you to make emotion-driven purchases, but that's another topic for another day.  Plus, I've never been a fan of being TOO practical anyway.
So the deal was, you dished out about $250 (if I recall correctly) for a personalized brick paver to be placed on the walkway which had been planned to circle the Seven Seas Lagoon.  Now, unfortunately, the circling was scrapped, but hundreds (thousands?) of us purchased bricks nonetheless.  Look down on the walkway outside Magic Kingdom!  It made us feel part of the magic – even if we couldn't be there.  It took us a while to go back – about 8 years, but once we made it, it was time to see our brick.
A code on the certificate we received with the brick's purchase indicated the brick's location.  Ours started with a "W" so we knew our brick would be west of the Magic Kingdom heading on the walkway towards (but never reaching) the Grand Floridian.  Raymond did the research to narrow down the exact location.  We went in search of our little mark on Disney World.  A lot worn down and worse for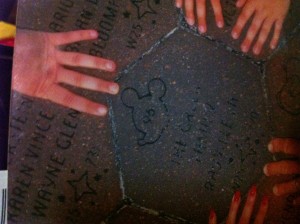 wear, we were thrilled anyway when we found it!  Even though a long time had passed between trips, knowing that our hexagonal marker was waiting for us, made it's very impractical purchase worth every penny.