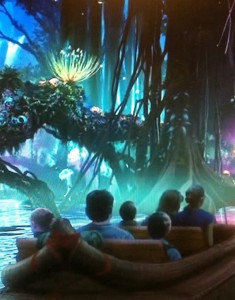 This week's What-If Wednesday is all about Avatar!  Land, that is.  After two years of anticipation and a January 10th groundbreaking ceremony, construction is finally underway.  Personally (and I believe many of you feel the same) – because I absolutely love Animal Kingdom, I am thrilled that the construction of Avatar Land means Disney imagineers are making substantial additions, creating new attractions, and adding nighttime experiences to a great park.
Just in case you missed it, here's a link to the D23 Tokyo video of James Cameron and Joe Rohde discussing some Avatar Land details:  http://youtu.be/j3fkuaQNGHI
Many thanks to those of you who played this week!  Now on to the What-If part….
What if you were in charge at Disney's Animal Kingdom?  Would you go ahead with Avatar Land as planned or would you go a different direction – What would you like to see?
I asked – you Tweeted out your answers.  Here are a few of my favorite ones:
@1MinDisneyDream:  "Not a lover of the film, I did enjoy it.  I'm looking forward to the night experience." – I'm totally in agreement with this!  As many before me have pointed out, Avatar (the movie) is basically "Dances With Wolves" on another planet.  Soldier assigned to fight a territory's natives for land and resources, learns the natives' ways, understands their culture, becomes sympathetic, falls in love – no longer wants to fight to takeover the territory, but rather fights to help the natives protect their home.  Nothing new there but, what Avatar may mean to Disney's Animal Kingdom park in terms of extended hours and new attractions could be huge!  This is where Avatar brings a lot to the table in terms of extraterrestrial special effects, alien beings, incredible landscapes, flora and fauna…you get the idea.  All of it glows in the dark!
Sophie @DisneysBeauty and Alexander @alex_wdw both thought tributes to Disney's The Lion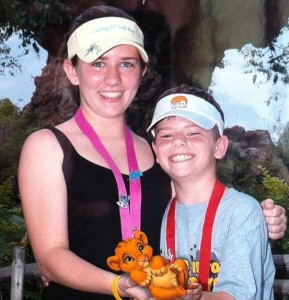 King would enhance Animal Kingdom more than Avatar Land.  Sophie wants "a tribute to either The Jungle Book or The Lion King – Alexander took it one further suggesting a Lion King roller coaster.  I think both of these have great potential.  The Festival of The Lion King is a fantastic show (temporarily closed, scheduled to reopen this summer) – attractions to go along with it would make a logical expansion to the Africa section of the park.  Adding elements from The Jungle Book to the Asian section would also make sense.  Solid ideas, guys.
Safari Mike (@JamboEveryone) is an excellent authority on the Animal Kingdom, being one of the hosts of an awesome podcast, Radio Harambe ("the unofficial podcast of Disney's Animal Kingdom and Walt Disney World.").  I was pretty stoked when Safari Mike took the time to jump into this discussion via twitter.  If not Avatar Land?  Mike made the following suggestions for other Lands:  Australia, Mystic Point, Amazon, Middle Earth, North America, and Beastly Kingdom.
Let's take a look at these one at a time…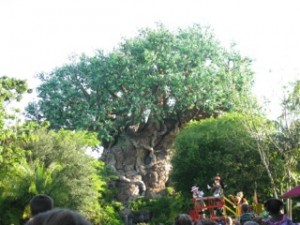 Australia – this was also a suggestion made by Disney Princess83 (@OzGoofyPrincess) as she is from Australia (she also mentioned that she's not really an Avatar fan but is "excited about Animal Kingdom becoming a nighttime park").  Australia would be a fantastic focus for a new Land – the array of extraordinary animals alone is mind boggling.  Then there are the reefs, the caves, the outback, the desert….
Mystic Point – This Land can already be found in Hong Kong Disneyland and would work extremely well duplicated in Animal Kingdom.  Mystic Point's highlight is Mystic Manor – the home of world explorer Lord Henry Mystic and his traveling companion – a monkey named Albert.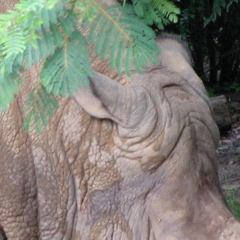 Amazon – For me, just bringing awareness to the animals, plants, and conservation needs of the Amazon rainforest would be worth a Land in Animal Kingdom alone.  That being said, dark rides (under the trees' canopy or cruising down the Amazon River) and roller coasters (through the treetops) are just a couple of cool ideas that spring to mind!  Cue the anacondas!
Middle Earth – Just think for a second how ridiculously popular a Land based on the location of J. R. R. Tolkien's books would be!  Ents and Dragons and Trolls, oh, my!
North America – As a Land, this has very broad options.  A live animal section (bison, wolves, bobcats, alligators, armadillos, etc.) and attractions based on everything from the Alaskan wilderness to the Florida Everglades and everything in between – could even include the Yeti's cousin Bigfoot!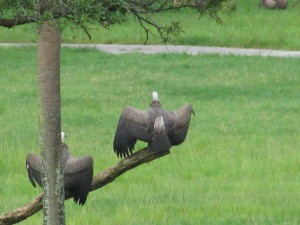 Beastly Kingdom – This suggesion was also popular with @JaynePhipps and @ISIParksBlog.  It is indeed a shame that such a perfect original concept for Animal Kingdom has never been made a reality.  Unicorns, dragons, perhaps a phoenix rising from the ashes – as the basis for incredible rides, shows, and attractions.  Who wouldn't love that?
Thanks again for playing along!  Shout out if you have any suggestions for next week's game!