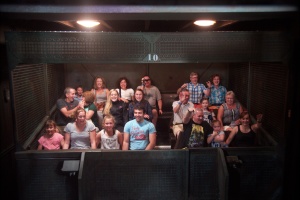 Please note:  The advance purchase price for Memory Maker has increased to $169 (from $149) since this post was originally published.
If you read my first review, you already know that our initial experience with Memory Maker was not a good one and it was entirely our own fault.  Raymond and I decided to have a do-over, a Memory Maker Mulligan, if you will.  Perhaps it seems silly to spend $149 (advance purchase price) to have Disney photographs of just the two of us, but hey!  We are not the type to ask a bunch of strangers to take our pictures AND we aren't the best at selfies (perhaps our advanced ages are a disadvantage?).  No matter the reason, we took this most recent trip to Walt Disney World to celebrate our 25th Wedding Anniversary and I wanted pictures to commemorate the occasion.
So, how did we do with round two of Memory Maker?  I'm proud to say much, much better!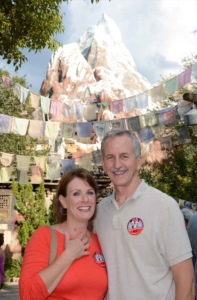 We got 105 pictures from many different settings in each park.  We absolutely love the new ride videos included with our Memory Maker purchase!  We are completely happy with our investment this time around.
What we did differently:
We deliberately located a photographer immediately after park entrance every day and waited (if the line was short) when necessary.
We took advantage of photographers a little off the beaten path.  (One we found near Epcot's Italy Pavilion was especially great.)
When we saw a character with a short line, we jumped in it.  Our pictures with Duffy are priceless (we sent one to our children right away since they are most decidedly NOT Duffy fans!).  Our pictures with Chip and Dale in Frontierland are hilarious because we were still soaking wet from Splash Mountain!
We didn't just stand side-by-side.  When Raymond kissed me behind his hat in the middle of Main Street U.S.A., a nearby snack vendor started calling out tips which in turn got the crowd involved.  "Kiss her again!" "Without the hat!" "Ma'am!  You've got to pop the foot!" – which meant we got even more cute pictures!
We asked if "Magic Shots" were available and ended up with Olaf in one picture and Anna and Elsa in another.  The ghost driver of the hearse in front of Haunted Mansion during Mickey's Not So Scary Halloween Party was our favorite.
Note:  You can view your photos almost immediately by logging on to My Disney PhotoPass.  Even if you make sure everyone is linked, you still may not be able to see all the pictures.  This happened to us – when Raymond's Magic Band was scanned after pictures were taken, I couldn't see them.  A quick stop at (of all places) a FastPass+ Kiosk in Epcot got the situation resolved.  A very helpful Cast Member named Jennifer was able to quickly fix the problem.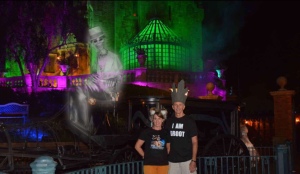 Tip:  If any of your pictures are missing, call (407) 560-4300 (Monday – Saturday from 9:00 am – 6:00 pm) and see if they can be located.  The Cast Members are excellent and will do all they can to find your missing photos.
Have you used Memory Maker?  How was your experience?  Where were your favorite pictures taken?  How many pictures did you get?