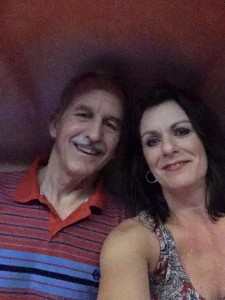 We had a great time at Walt Disney World!  We always have a great time, so this comes as no surprise.  What DID surprise us was the exceptional, unexpected delights along with a couple of equally surprising minor disappointments.  You know me – fair and balanced (usually) is my M.O. and today's no different.  Please bear in mind that in anticipation of the extreme crowds to be expected between Christmas and New Year's, we made an unprecedented number of dining reservations.  Now let's get to it!
Walt Disney World – Just Back, Trip Recap!
The VERY BEST –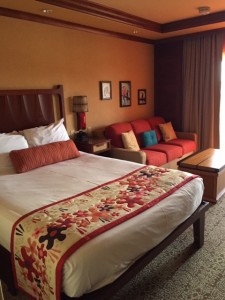 Our Polynesian Village Resort DVC villa!  You can read that review here.  We were so happy with our location and how comfortable and luxurious our room and its amenities were!  Would we stay here again?  In a heartbeat!
Saying Goodbye to the Osborne Lights – Bittersweet, but we made the most of the opportunity and were happy at the end of the day.  I guess we could call it closure.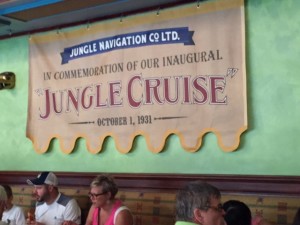 The New Skipper Canteen – A full review of this fantastic new Magic Kingdom eatery will be coming up within the next few days, but let me say – If this is the future of Disney's theme park dining, I'm ecstatic!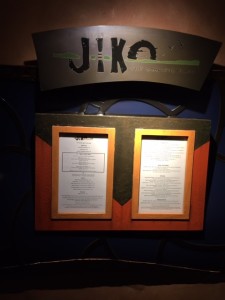 Jiko – It's been a few years since we've eaten at this Signature restaurant at the Animal Kingdom Lodge because we had to work Boma and Sanaa into our vacation dining rotation.  It was every bit as wonderful as every other time we've eaten there.  Again – full review coming soon.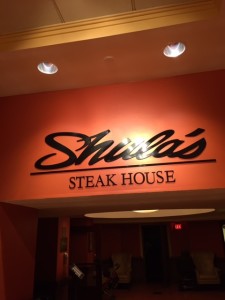 Shula's Steakhouse – Ever since we tried (and were delighted by) Il Mulino at the Swan, we've been hoping to fit dinner at Shula's (at the Dolphin) into our plans.  Perfectly perfect in every way.  Guess what?  Yup – there's a review coming up soon!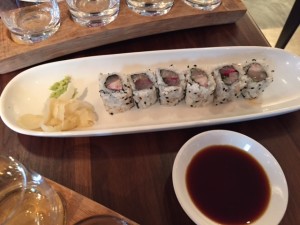 Morimoto Asia – Another place we were dying to try and brand new to boot.  Located in Disney Springs, we planned a morning around having lunch at Morimoto Asia before an afternoon at Epcot.  What a great meal!  We shared every course hoping it would keep us from eating too much – HA!  We left completely stuffed and loved the sake flight offered there as well.  You know?  I believe I'll write a review on this place too!  (So check back!)
The Really Good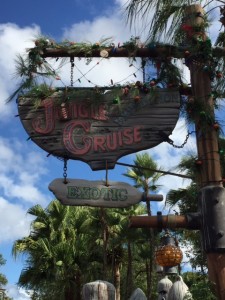 Jingle Cruise – We love Jungle Cruise in it's usual configuration so chances were that we'd be thrilled with the ride's holiday overlay.  And we were.  Skipper Patrick was from our home state of Louisiana and he was a true master at pun-delivery!  If you've not had the chance and are visiting Walt Disney World during the holidays, do make time to experience this fun and funny seasonal treat.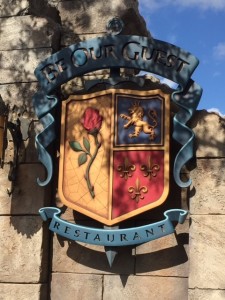 Breakfast at Be Our Guest – We'd eaten both lunch and dinner at Be Our Guest before, so we thought, why NOT see how breakfast is.  Hands down, this was our favorite meal at this unique and amazingly-themed restaurant in Magic Kingdom's Fantasyland.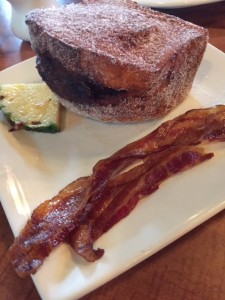 Breakfast at Kona Café – We'd never had Tonga Toast before!  We had to knock that off our Disney to-do list.  While the toast might have been a little sweet for us, we loved the omelet we shared, plus the coffee and the service were both excellent.  Those to-go coffees our server offered us were just the ticket for making sure we were wide awake when we got to Magic Kingdom.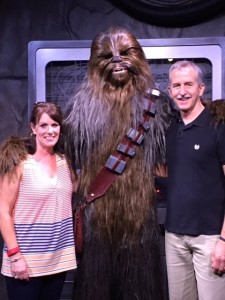 Meeting Chewbacca – He was everything we hoped he'd be!  Tall, furry, friendly, and photogenic!  The Launch Bay, where fans can meet both Chewbacca and Darth Vader, is packed with enough Star Wars information and memorabilia to make every fan happy.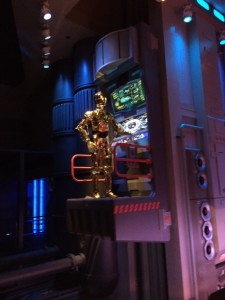 The New Star Tours – We weren't sure what to expect with the new Force Awakens tie-ins, but they were just right – seamlessly included in the storyline. (Nope, no spoilers here!)
The Disappointments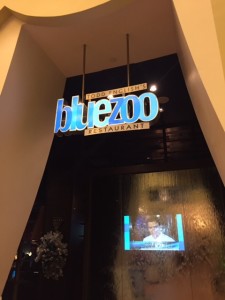 Bluezoo – This Todd English restaurant at the Dolphin was someplace we'd really looked forward to trying.  We'd heard such great things about the menu and service.  The service was as expected – excellent.  The disappointment came in the form of our $42 entrees.  We each ordered something different and we both found the food lacking in interest and flavor.  There are tons of other places in that price range at Disney World, no need to waste money here.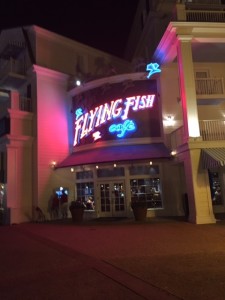 Flying Fish – The last time we ate at Flying Fish was in May, 2014 and it was one of the best dining experiences we'd ever had.  The food, the service, the ambiance – all of it created such a fantastic vacation memory.  Raymond and I were expecting the same thing this time.  Not so much.  Lackluster (at best) is what we got.  It started with the hostess who would not make eye contact or smile – just shoved a pager at Raymond and said (without looking up), "We'll call you when we're ready".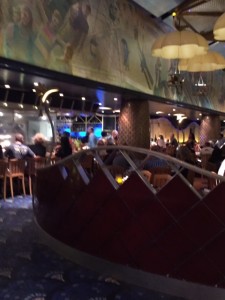 The young lady who led us to our table when our pager blinked was equally un-Disney-like.  Our server went through the motions, but never talked about the menu or made recommendations of any kind.  He was pleasant enough yet made us feel like a chore he needed to finish quickly.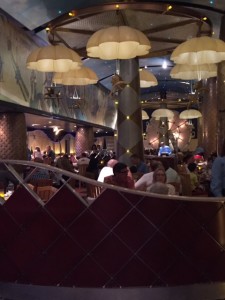 I have a theory.  Flying Fish is getting ready to close for an extended refurbishment.  I asked and the server told me they were all being reassigned to other places.  I believe they've all checked-out and mentally moved on, knowing that at the end of January their work family will be divided up among many other Disney restaurants and they'll each have to learn the ways of a new place.  I'd be willing to go back again after the refurb and give Flying Fish another shot.
Have your recent experiences been different than ours?  What has been your most favorite recent Disney dining or attraction experience?