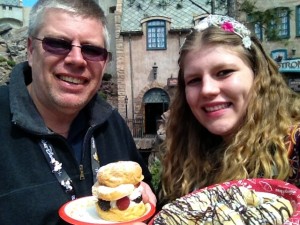 Please welcome today's guest, Curtis Stone!  Curt and his daughter, Lindsay, are the hosts of the Geekin' on WDW Podcast (and website).
Walt Disney World's Hidden Pleasures
There are some men in this world that think Disney World is not for them. They think there's not a lot of things for them and it's just for kids. As men, we typically hide our feelings and put on a tough act. Today, I'm going to expose myself.  Uh, wait, relax, let me rephrase that.  There are many attractions at Disney World that I would say are on my "Hidden Pleasures" list. These are the ones I would not admit I like in front of a bunch of macho men over at Gaston's Tavern over a brew. But, today I'd like to reveal these beauties even if they are a bit testosterone weak. I don't care if you make fun of me. I like'm, I'm over 50 years old, I'm a 6′ 2″ dude and comfortable in my masculinity.
Here's my corny hidden pleasure list in no particular order: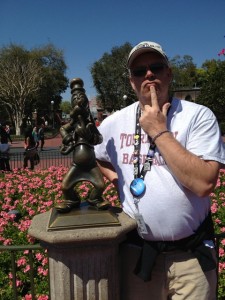 1. Carousel of Progress – My wife loves this one and drags me in every year. It's turned out to be one of my must do's and I love it too. The tune grows on me. I love Walt Disney the man and this is one of his classics.
2. Small World – I don't know who nailed all those little kids feet to the floor but they sure are cute and sing good. It's the song that keeps on giving and giving and giving. I can't get that tune out of my head for hours and I don't care.  We never miss it and I enjoy it.
3. Art of Animation – I waited in a long line for this on my last 2 trips. I really enjoy drawing the Disney character and showing off my artistic ability. Strike that. I like pretending I have artistic ability. Co-workers can't believe I drew the Goofy that hangs in my office at work. I hope we draw a different character this year.
4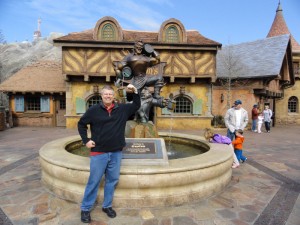 . Pictures with characters – I won't wait in a long line for Duffy but I do like to ham it up and get a few pictures with characters. When I leave work on the Friday before vacation, all seriousness of the world is turned off and I'm getting as Goofy as possible.
5. Figment – Imagination! Imagination! Come on, Sing it with me !!! You know the words. I'm a big Monty Python fan and of Eric Idle. This ride is pure fun.
6. Muppets – Remember the first time you saw Muppets in Muppet Vision. Very cool, right? I know these are characters for kids. They were a big part of my childhood with Sesame Street.
7. Peter Pan – My kids recently told my wife that they thought the Peter Pan ride was awesome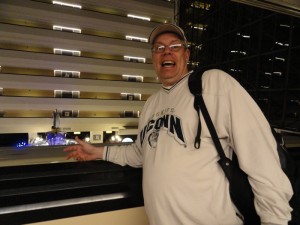 when they were little. We still enjoy the Fantasyland rides. As long as we get there early and the lines are short.
8. Electric Water Pageant – This by far the corniest of attractions at Disney World. If you stay at a Resort Loop Resort, you have to check this out. It's a series of boats that have neon lighted characters that run around Bay Lake/Seven Seas Lagoon and blast music. If you hit the hay early from a long day in the parks, this attraction will wake you up around 10pm as it goes by our Bay Lake Tower room.  We go out on our balcony and enjoy it.  It's hilarious.
9. Old time singers/dancers – I love the ol' time flavor of MK. This takes me back to a simpler time. I enjoy the old time music, costumes and fun.
10 – Googleman's, Ziti Sisters and World Showcase Players – I always look forward to see a lot of these acts and even play a role. Slapstick and the cornier the better. Hey, my favorite comedy movie is "Dumb and Dumber" and I'm a huge fan of the Three Stooges. What do you expect?
Laugh at me if you want. I don't care. You can even post YouTube video's of me doing the Hoochie Coochie with the World Showcase Players. I hope I'm chosen as "That Guy" at Monster, Inc.'s Laugh Floor. At least I won't have a sour puss like most of the guys I saw last year.   Just go with it, lose yourself and you'll have more fun too!
For more Disney favorites, memories, reviews, tips, and Walt Disney World travel stories, visit Curtis at Geekin' on WDW.com , on Facebook and on Twitter.  Be sure to download the podcast and give it a listen (I recommend Episode #5!).