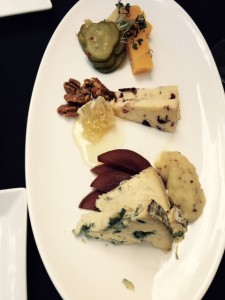 How appropriate that it was "all started by a mouse" – Walt Disney World is a great place for cheese lovers.  And we ARE.  Cheese lovers, I mean.  This would include nearly every member of our family.  Joseph's a little iffy at times with his cheese passion, but when we're at one of our favorite Disney World table service restaurants, he can scarf down cheeses with the best of us.
We sincerely hope it's not just a fad or the latest trend for there to be so many interesting artisanal cheese offerings around the World.  We love the unique selections and how nearly every cheese appetizer we've tried comes with interesting accompaniments like jams, marmalades, relishes, and more.
Walt Disney World for Cheese Lovers (here are a few of our favorites):
Flying Fish Café at Disney's Boardwalk:  Hands down our family favorite.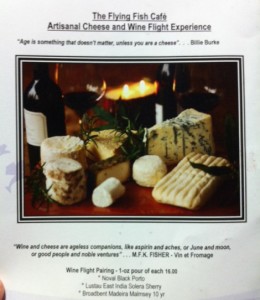 If you want a great cheese starter for an equally awesome meal, this is it!  What's so special?  It's big (to share), it's different, and it's a great way to sample "craft" cheeses of every type along with very carefully selected accompaniments for each cheese.  Just look at the menu and tell me you (if you love cheese) could resist?
Citricos at Disney's Grand Floridian Resort and Spa – Maybe not as robust as Flying Fish's offering, this is still a cheese lover's delight.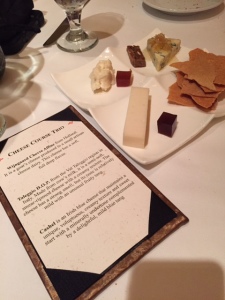 Currently $16 in the appetizer section, referred to simply as "Cheese Course" the selection is described as "Wijngaard Chèvre Affiné from Holland, One Year Reypenaer Dutch Gouda, and Cashel from Ireland served with Seasonal Accompaniments" – so, it's not a huge variety, but I can vouch for the flavors, which were all delicious!
Hollywood Brown Derby (patio dining) at Disney's Hollywood Studios – Need cheese?  In a hurry or just want a leisurely happy hour snack?  You can't go wrong with a stop in at the Studios' coolest outdoor eatery – the Brown Derby patio lounge.  When a craving for wine and cheese strikes, this is the place to be.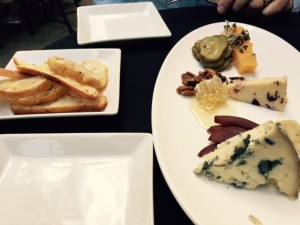 A mini cheese smorgasbord, this is what you get: "Wensleydale Cranberry, VSOP Reypenaer Gouda, Bayley Hazen Blue Cheese with House-made Pickles, Spiced Pecans, and an Apple-Mustard Marmalade".  Talk about a perfect snack!  Mmmmmm.
On our Next Cheeses to Try:
Jiko at Animal Kingdom Lodge – A family favorite, we've eaten at Jiko many times and will return there again.  The menu is so unique, we've resisted the cheeses, but next time?  We are eating their artisanal cheeses and seasonal accompaniments!  At least I am and maybe, if I'm lucky, I won't have to share.  Check out the details here.
Yachtsman Steakhouse at Disney's Yacht Club – If we can resist the lobster bisque, we are getting the cheese plate!  This will prove much harder than it sounds – the lobster bisque is SO delicious.  Okay, maybe we'll order the bisque AND the cheeses.  Mmmhumm….sounds like an excellent plan to me!
Are you a cheese lover?  What's your favorite cheese dish at Walt Disney World?