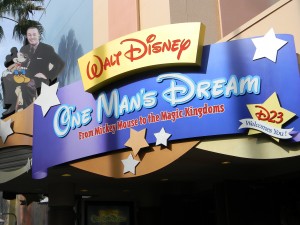 If you haven't done it before, next time you're visiting Disney's Hollywood Studios and have about 30 minutes to spare – go see the Walt Disney: One Man's Dream exhibit.  If you're a fan of all things Disney like I am – it's an amazing experience and a prime opportunity to see and hear details about Walt Disney's life and work.  It's a great way to show children that Walt Disney is not just a brand or a company or a theme park – he was a real person – one who faced many hardships during his life and overcame them by refusing to give up on his dreams.
The exhibit, located in a sound stage on Mickey Avenue, begins with a treasure trove of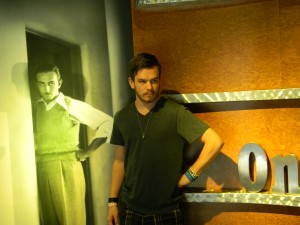 more than 400 artifacts from Walt Disney's life.  Photos, vintage toys, props, costumes, sketches, and more are cleverly placed throughout the exhibit's rooms.  There's a lot to take in and the displays are each very interesting and unique.  You can see the special camera Walt used to film the very first cartoon with synchronized sound – Steamboat Willie.  You can see the special Oscars Walt Disney won for Snow White and the Seven Dwarfs.  One of my favorite displays is of Walt Disney's office as it was at Disney Studios in California.  I also love all the Mickey Mouse Club memorabilia.  As you meander through the rooms, you move forward in time, beginning with Walt Disney's birth in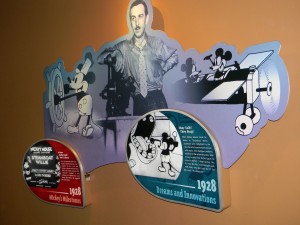 Chicago and ending with models and dioramas of modern Disney theme park rides and attractions from around the world.
The experience ends with a 15 minute film and this, to me, is the best part!  In the movie, narrated by Julie Andrews, we get to see and hear Walt Disney as he describes his life in his own words.  Never-before-seen home movies allow us to get to know the passionate, happy man who made it his life's mission to bring his own special brand of happiness to so many people around the world.  It's no wonder Walt Disney's name and legacy are still so important, playing an enormous role in our lives today.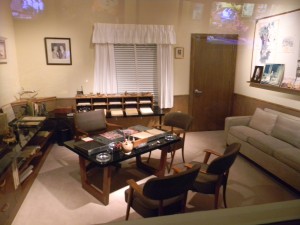 Walt Disney: One Man's Dream is a cool and quiet escape from the busy (and HOT) hustle and bustle of the Studios.  Tour the exhibits at your own pace and don't miss the movie at the end which begins every 15 minutes throughout the day.  Oh, and if you're a sappy sentimental cry baby like me, bring plenty of tissues.
Have you toured One Man's Dream?  What was your favorite part of the exhibit?