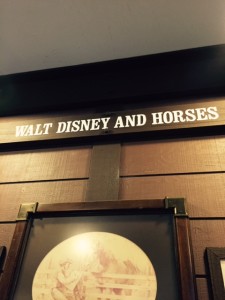 After our recent exploration of Fort Wilderness via Segway (Wilderness Back Trail Adventure), we were elated to have discovered all the amazing treasures we never knew existed at Fort Wilderness.  We also felt sorry that we'd previously only considered Fort Wilderness "the place we go to see Hoop-Dee-Doo".
One of the best tour stops was at the Tri-Circle-D stables where we had the pleasure to hear more about the amazing horses of Walt Disney World and see some incredible Disney memorabilia.  Our guide was knowledgeable and enthusiastic as he took the time to show us the wonderful treasures found there.  I can't believe we'd never heard details about Walt Disney's love of horses and how they shaped is life.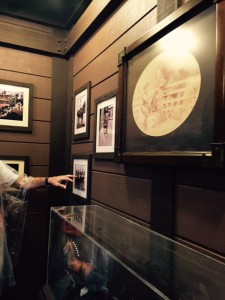 Just inside the entrance to the stable, an alcove on the right displays a variety of objects and photos.  The pictures capture a very happy Walt Disney and clearly show his love for horses.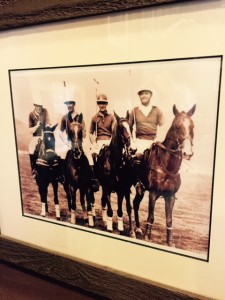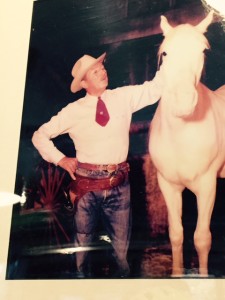 An avid horseman, Walt suffered a serious polo injury in the late 1930's that fractured vertebrae in his neck.  This injury prevented him from continuing to enjoy riding, caused him lifelong pain that worsened over the years, and culminated in Walt seeking medical attention to relieve the unbearable discomfort caused by a buildup of calcium deposits on the back of his neck.  Hospital x-rays led to the discovery of the lung cancer that brought about the end of Walt Disney's life.  A sad story, true, but seeing Walt Disney's beaming face in picture after picture with his beloved horses was unexpectedly moving.
On the left side of the stable, before the stalls begin, is an enclosed area that houses the Dragon Calliope.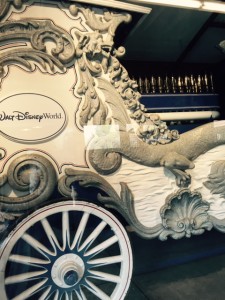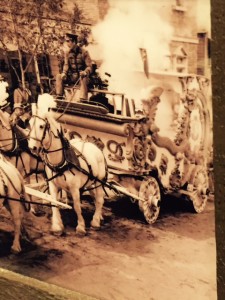 This gorgeous "vehicle" is described on the Disney website as, "the horse-drawn musical instrument that Walt Disney purchased for the Mickey Mouse Club Circus Parade at Disneyland Park in the 1950s." – It might not sound like much, but it was really beautiful in person with amazing details.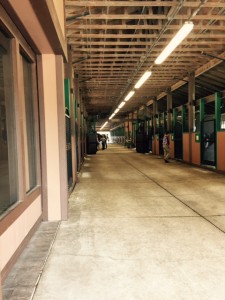 And, as you'd expect, the stables also house actual horses.  Again, from the Disney site, the horses of Disney World include, "Appaloosas, Arabians, Belgians, Clydesdales, paint horses, Percherons and quarter horses, plus Shetland ponies".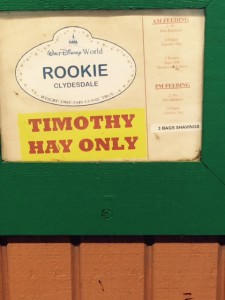 A sign on each stall displays the horse's name and any special dietary needs they possess.  Guests are prohibited from petting or feeding the horses, but that didn't keep those gorgeous animals from being friendly and curious enough to take a break from munching hay to stick their heads out and say hello.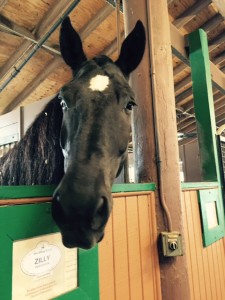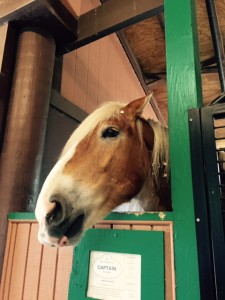 Impeccably clean and well-tended, both the stable and its residents are as perfect as they can be.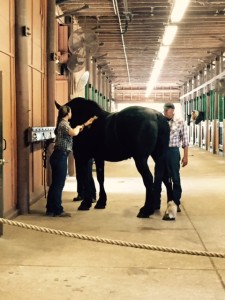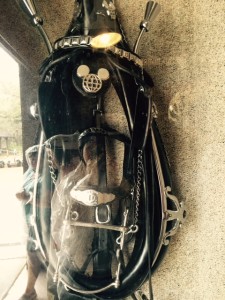 If you're planning a Walt Disney World vacation and find a free afternoon to spare, I can't think of a better way to experience some very special Disney magic than by visiting Fort Wilderness and the Tri-Circle-D Ranch.  If you're interested in horseback riding, wagon, or carriage rides, details are available here.
Have you seen the Tri-Circle-D at Fort Wilderness?  What do you remember most about it?