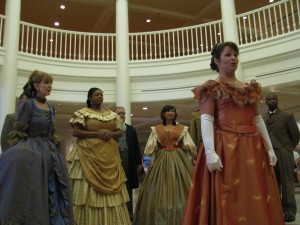 Advice about Epcot.  I like to dish out advice – one of the reasons I started my own blog probably.  I've got opinions in abundance and, on occasion, people take my advice and it works out great for them.  Really!  So today (not so different from any other if you've been here before), I'm dishing up some Epcot love in the form of this message:  Go see the Voices of Liberty.
I visited Walt Disney World many times before I saw a performance by the Voices of Liberty.  I didn't even know they existed until 2012 when I read someone's trip report on the DISboards and they were singing (pun intended) the praises of this amazing a cappella group in Epcot's American Adventure pavilion.  Summer is swiftly approaching and the season is accompanied by a series of holidays that bring out our patriotic love of the good old U.S. of A.  Memorial Day?  Good time to see Voices of Liberty!  Flag Day?  Independence Day?  You betcha!
Okay, back to Epcot…
The Voices of Liberty are simply amazing!  These performers demonstrate an incredible amount of pure talent.  Dressed in early American clothing (seems to be a mix of time periods), there's no doubt they absolutely love what they do – I'm guessing they consider their set a failure if there are any dry eyes in the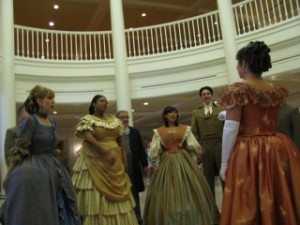 house.  Seriously – if you can hear them sing The Battle Hymn of the Republic or The Star Spangled Banner and manage not to get at least a little misty, you're made of much sterner stuff than I.
The 8-person group performs every 45 minutes throughout the afternoon (subject to change without warning), so there's no excuse not to take an opportunity to cool off inside the rotunda of The American Adventure pavilion.  The actual show only lasts 20 minutes.  If you're able, the singers will encourage you to sit on the floor surrounding them as they stand in the very middle of the rotunda – which maximizes the acoustics to great effect!
Check your My Disney Experience app!  Or better yet, check the Epcot times guide upon arrival (I'm sorry to say, the app is still sometimes slow and glitchy) – old, young, and everyone in between will enjoy hearing the majestic harmonies of the Voices of Liberty!
Sample them on YouTube here (they're much better in person!).
Have you seen a performance by The Voices of Liberty?  What did you think?