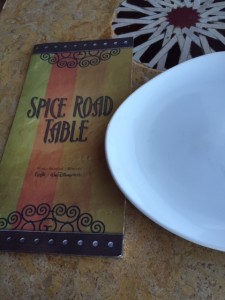 A few weeks ago, Raymond and I found ourselves in Epcot, in need of a snack, and with a bit of time on our hands.  Circumstances like these always make me want to try something new!
The Time We Almost Ate at Spice Road Table
We were enjoying a leisurely stroll through World Showcase.  We'd just left our friend Nick (yes, the Disney Musings and Disney Exchange Nick) as he headed off to meet friends in the Mexico Pavilion.  I realized I was hungry and we had quite a bit of time before our Il Mulino (in the Swan) reservation.  We needed something light – I immediately thought about the small plates at Spice Road Table and how we'd never eaten there.  We could sit and relax for a while enjoying this Morocco pavilion eatery's prime location on the World Showcase Lagoon.  We'd heard mixed reviews (many negative), but we were willing to be open-minded.  We are pretty easy to please and were only after a snack.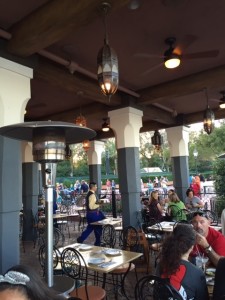 We approached the podium inside the entrance and I asked how long the wait would be.  I couldn't see much of the dining area, but there appeared to be open tables.  The host said there would be no wait and we where promptly shown to a table near the water.  We opened our menus and began discussing what we would order to share.  The weather was great and we loved our table's location.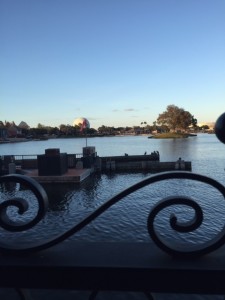 Normally, at this point, we'd expect a server to stop by and ask about beverages.  If they're busy, they'd stop by to let us know that they'll be right back.  There were hardly any other diners around us.  We talked over our options and decided on the  Hummus and Imported Olives with Cornichons and Zaatar Pita Bread ($10) and the Brie Fondue – Baked Brie with Rosemary Croutons ($10), we'd also planned to order cocktails.  We were ready!  We were hungry!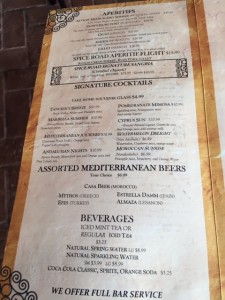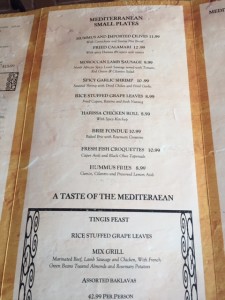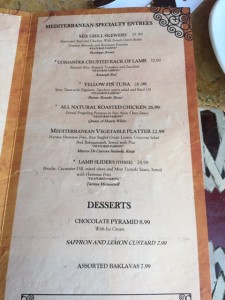 At one point during this time, we noticed a group of several women we believed to be servers congregated near the entrance to this patio dining area engaged in quiet discussion.  Certain they were deciding which tables needed attention and by whom each party would be assisted, we felt certain our order would be taken in short order.
Here's where being married for almost 27 years comes into play.  We made small talk.  I took a few pictures.  Then Raymond gave me a look that spoke volumes…This look clearly asked, "How long are we going to wait for a server?"  I, of course, was already prepared with my answer, "We've been here 7 minutes, let's give them 3 more."  Seriously, on the nearly empty dining patio, guests shouldn't have to wait more than 10 minutes to be greeted by a server.
We sat in companionable silence – Raymond with an amused look on his face as he watched me try to surreptitiously check my watch a time or two.  Finally, I burst out laughing and we got up and left.  We weren't mad, just surprised and a little disappointed (we wanted something to EAT!).  No one spoke to us or even seemed to notice our departure.  We ended up in the Japan pavilion's Katsura Grill where we shared sushi and drank sake and enjoyed being together at Walt Disney World.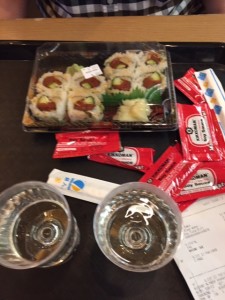 As for Spice Road Table?  There are too many other places to eat for us to try that one again anytime soon.
Have you eaten at Spice Road Table?  How did your experience compare to ours?