When Raymond, Megan, Joseph and I registered last year for the May 4, 2019 Natchez Trace Century Ride, we had plenty of time to train. With no runDisney events on our schedule, we could concentrate all of our efforts into preparing for this family outing. We imagined all the fun we'd have on regular weekend rides – welcoming springtime and enjoying the beautiful weather together. Here's what actually happened…
The Fam Rides Natchez Trace
The annual Natchez Trace Century Ride offers four different distances to choose from: 25, 50, 62, and 100 miles. Since this would be the first time for Megan and Joseph to join Raymond and me for this event, we thought the 62-mile distance would be fun yet challenging. (Raymond and I have done the 50 and the 100-mile rides before. 100 miles was hard and once may have been enough for me.)
As May 4th approached, Raymond used his time wisely, faithfully bicycling the hills of Vicksburg nearly every weekend and spending untold hours on his trainer at home. I procrastinated (no surprise) until April and had to kick it into high gear (HA! See what I did there?) – Raymond and I rode 15 miles on April 14th, 30 miles on April 21st, and 45 miles on April 28th. I added some time on my trainer between rides. Joseph rode with us once and then spent Spring Break hiking to Havasu Falls and back. After which he declared himself ready to ride. Which he was. Ah, to be young and so very in shape. (Is it wrong to occasionally consider one's offspring a jerk? Asking for a friend.) Megan was a bit of a mystery during this time. Her schedule didn't allow her time to ride with us, so she was on her own. She has a bike and a trainer and said she'd be ready. And, sure enough, she was, too.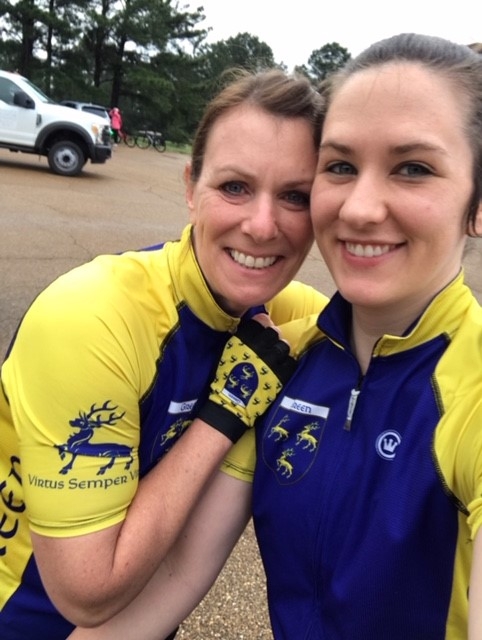 When we woke up on May 4th, the weather was not looking good for our ride. While not raining, the sky was cloudy and the forecast was grim. Taking our chances, we left the hotel and made it to the starting line with plenty of time to spare. Raymond finished some last minute mechanical adjustments to our bicycles and promptly at 7:15 we were off.
I'd surprised Joseph with a waterproof bicycle-mountable speaker so he could provide cycling tunes along the way. His eclectic taste in music was excellent entertainment. I laughed out loud as we changed places in our 4-person pace line to "Mr. Sandman".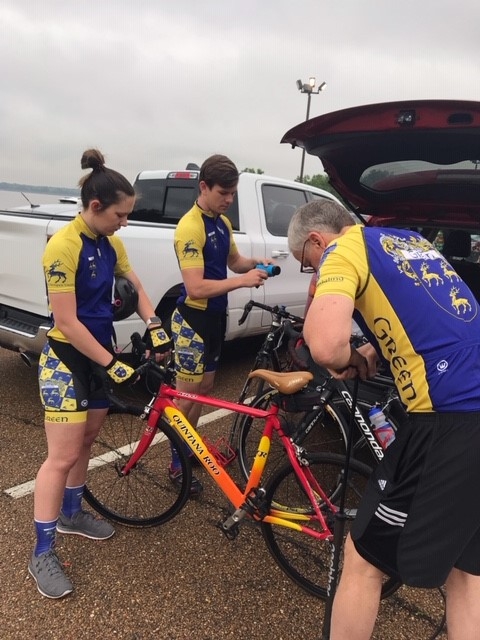 The clouds kept the temperature from getting too warm and the rest stops had great assortments of snacks. We made it to mile 30 at a very good pace – at times we were roaring along well over 20 miles an hour. The course was out and back; mostly flat with a few rolling hills on good roads. It was at the mile 30 rest stop that Raymond checked the weather radar on his phone and the four of us stared (a bit horrified) at the massive rain clouds bearing down on us. We agreed to keep going to the turn around so we could at least complete half the course.
Half-way Finished and THEN…
By the time we turned around and were passing back by that 30-mile rest stop, the rain started. At first it was light and steady but not too bad. We decided to keep going. Except for getting covered with wet road dirt from each others' bicycle tires, we were doing well and still maintaining a great pace. With just 15 miles to go, things took a turn for the worse.
As we rode along the Ross R. Barnett Reservoir, the wind and rain both picked up. A lot. At times it took every ounce of concentration to stay upright. The raindrops were huge and blowing right into my left ear. I checked our speed as Raymond and Joseph pulled ahead of Megan and me – we were pedaling for all we were worth and going just 11 miles an hour. The batteries on Joseph's speaker gave out in the middle of "Total Eclipse of the Heart".
From time to time I would worry that Megan wasn't behind me since I couldn't hear anything but the wind. Then I'd hear an oddly cheerful, "I'm here!" to let me know she was okay. Of all of us, Megan seemed to be enjoying our day the most. Nobody thought of quitting and we eventually made it to the finish line.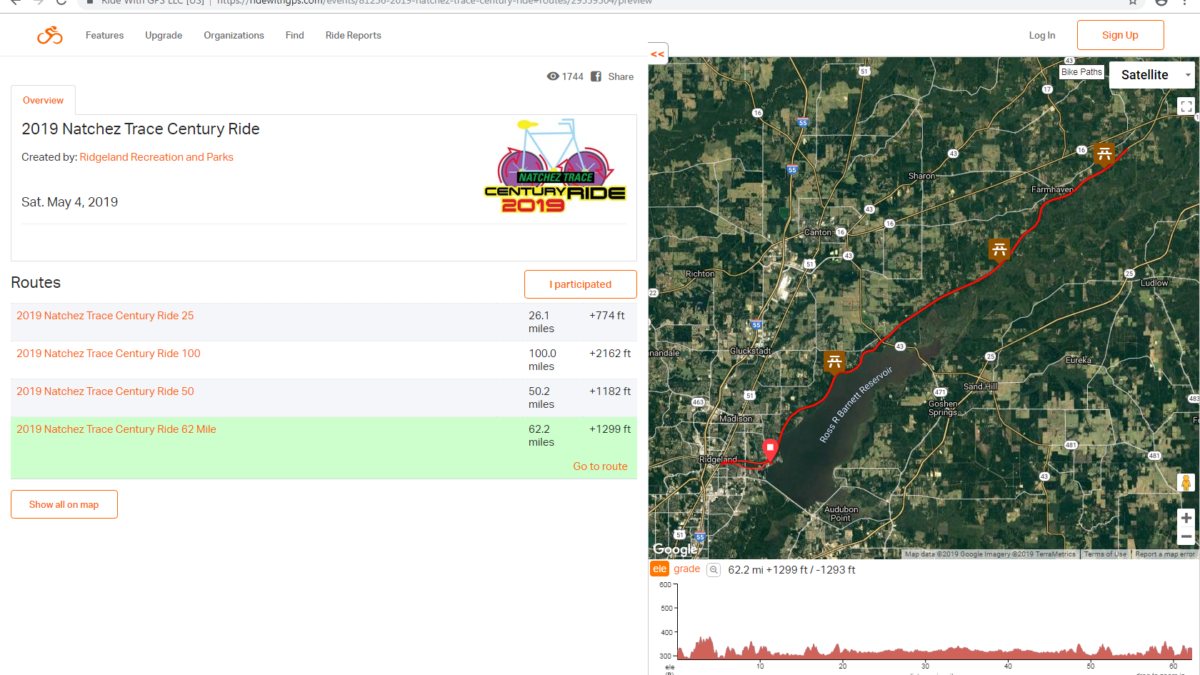 After the struggle of the last few miles, our average pace for the whole ride was 16.5 miles per hour. The weather was rotten but instead of ruining our fun, we ended up feeling an even bigger sense of accomplishment than we would have otherwise. We were completely soaked and cold, so we skipped the after-ride complimentary lunch in favor of showers and dry clothes. We celebrated our efforts with lunch at our favorite barbecue spot, The Pig and Pint – and by then the rain had stopped.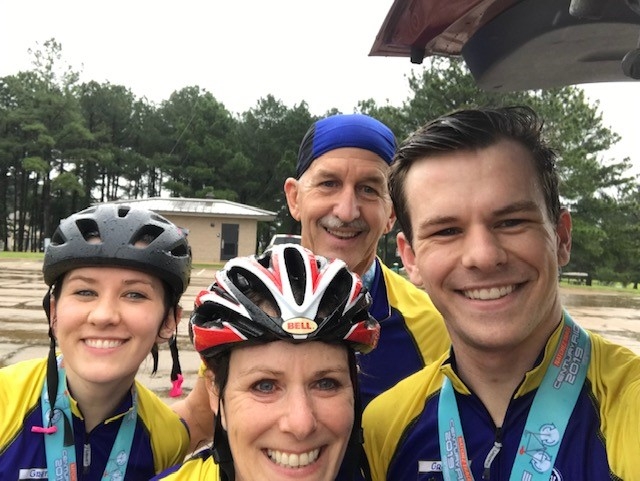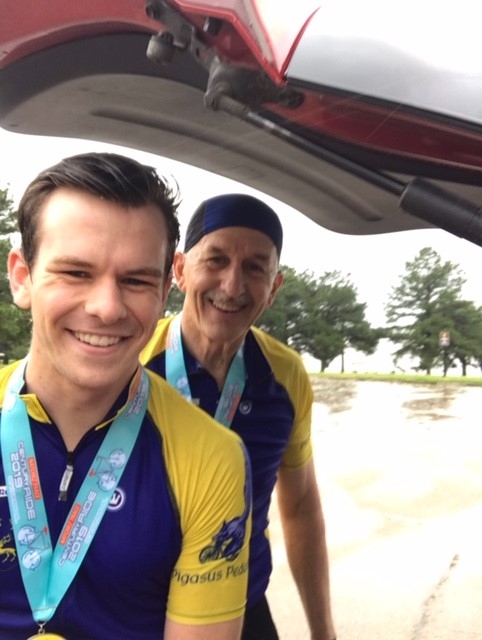 Do you bicycle? I highly recommend this ride if you're in the Jackson, Mississippi area. When the weather's good, the course is beautiful and the support is fantastic. Will we do it again next year? Absolutely!