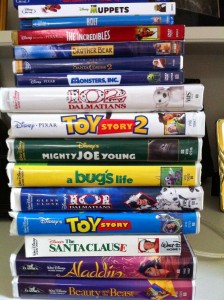 I'm sure we're not alone.  I bet a bunch of you go to the movies on Thanksgiving.  At our house, it's a very long standing tradition.  So much so, it just wouldn't be Thanksgiving without a trip to the movies.
I've done a little research and am pretty sure the list below is correct.  If a year is missing – we did not see a Disney movie – either because we had already seen Disney's most recent release OR there wasn't a new Disney movie available (we still went to the movies, but probably didn't have as much fun).
Today I'm thankful for family, health, happiness, and Disney Movies! 
Did you see any of these on Thanksgiving?
1991 Beauty and the Beast
1992 Aladdin

1994 The Santa Clause
1995 Toy Story
1996 101 Dalmatians
1998 A Bug's Life
(Christmas Day) 1998 – Mighty Joe Young
1999 Toy Story 2
2000 102 Dalmatians
2001 Monsters Inc.
2002 The Santa Clause 2
2003 Brother Bear
2004 The Incredibles
2005 Chicken Little
2006 The Santa Clause 3 – The Escape Clause
2007 Enchanted
2008 Bolt
2010 Tangled
2011 The Muppets
2012 Wreck it Ralph
2013 – Frozen
We got home from seeing Frozen just a little while ago and whoa!  That was one fantastic (very musical) Disney movie!  If you haven't seen it yet, GO – get there in plenty of time to see the short "Get a Horse" before the movie.  Also, stay through the credits for a little surprise at the end.
Normally I don't care about watching a movie in 3D, but I highly recommend it in this case.  Best movie I've seen in a long time.  Best of all – they didn't show all the best parts (or give away the entire story) in the previews.  I know you'll love it as much as we did!
Hope your Thanksgiving has been a happy (and entertaining) one!