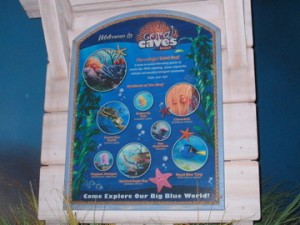 My two favorite things about Epcot's The Seas With Nemo and Friends are riding in a Clam-mobile and checking up on Epcot's manatees.  If I had to choose between the two, watching those big, beautiful, lettuce-munching manatees would be my first choice.  I'm fascinated by them!
Lou & Lil' Joe – Epcot's Manatees
Recently we had the opportunity to spend quite a while in The Seas and the timing was right!  The manatee-specialist was giving her talk about manatees in general and Lou and Lil' Joe in particular.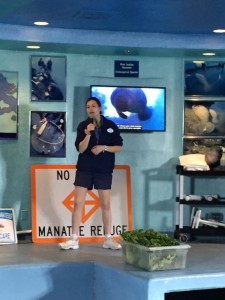 While she spoke, she tossed heads of (what looked like) Romaine in the pool.  Manatees move rather slowly compared to other mammalian water-dwellers like dolphins and seals and that's part of what makes them so much fun to watch.  They take their time passing by, giving guests great opportunities to check out their unusual features and appreciate their undeniable cuteness.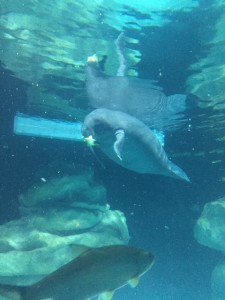 Lil' Joe was born in the wild about 26 years ago and orphaned soon after.  He's lived in a few other places before moving to Epcot and once even made a short, failed attempt at living in the wild again (he ate unhealthy things and nearly froze to death).  It seems an orphaned manatee baby cannot learn from humans what he would have learned from his mom.  It's best for Lil' Joe to stay at Epcot where his safety can be ensured.  He has a climate controlled environment, plentiful healthy food, and a buddy.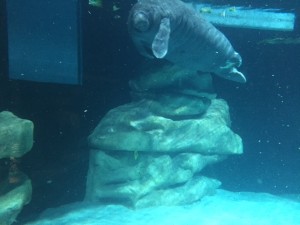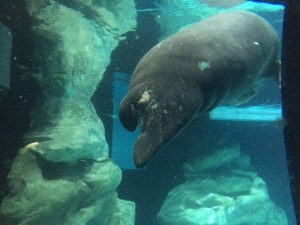 Lou has a completely different story.  He was living a happy life in the wild until a boat collision cost him his tail.  He looks a little rough, but having no tail does not interfere with his ability to get around well.  The Cast Member giving the presentation explained that efforts were being made to rehabilitate Lou for an eventual return to the wild.  Good news for Lou, but sad for Lil' Joe when that happens.  The look happy together!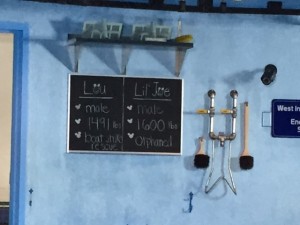 The manatee area in The Seas has two observation areas.  Downstairs, guests can watch Lou and Lil' Joe swim around in their habitat through a very large window.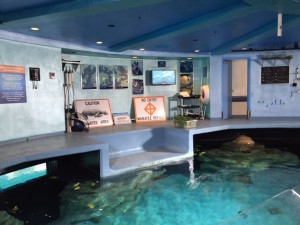 Upstairs is the manatee "lab" around an area of the pool's surface where guests can learn about these wonderful creatures.  I recommend setting aside a few minutes of your next day in Epcot to meet Lou and Lil' Joe and learn about the life of a manatee.
Are YOU a fan of Epcot's manatees?