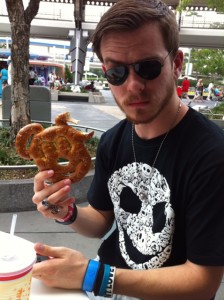 I'm not sure there's a more hotly debated food topic among Disney fans than which Disney World snacks are the best.  For many years, I was not a big Disney vacation snacker.  I chose instead to save room for the all important table-service meals.  Then I started blogging.  It's pretty hard to blog about Disney and have no game where snacks are concerned.  So I, as is my nature, embraced my new endeavor whole-heartedly.  Needless to say, once I "researched" Disney snacking, there was no going back.  Sadly, no matter how many miles you walk in a day at Walt Disney World, you cannot burn off all the calories you consume snacking with abandon.  Trust me on this.  I know.
What did I learn?  That there seem to be many more sweet snack choices than savory ones.  I must confess, I've never purchased or even tasted Disney World popcorn or a Citrus Swirl (Adventureland, Magic Kingdom).  If you are a huge fan of either of those, I'm sorry I cannot include them in this post.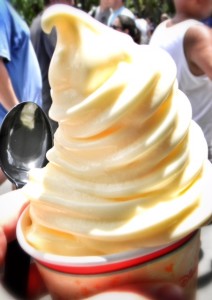 My dislike of the wildly popular Dole Whip is unfortunate, but nevertheless factual and I cannot, with a clear conscience, bring myself to tell you to rush out to get one with a guarantee that you'll love it.  I will, as a gesture of good will, offer you this article on the Dole Whip versus the Citrus Swirl for your review.
My list is in no way all-inclusive – I simply wish to offer choices and recommendations based on my own personal experiences.  In other words, I ate a heck of a lot more snacks than I'm talking about here.  Bear in mind that I don't have much of a sweet tooth and can literally go for weeks or months at a time with no cake, cookies, candy, ice cream or pie.  I did, for you, kind readers, consume an unprecedented number of sweet treats at Walt Disney World in the past 12 months, just so I could tell you what snacks I found worth trying.  With all disclosures made, I give to you…
Disney World Snacks, Sweet and Savory
Sweet Treats!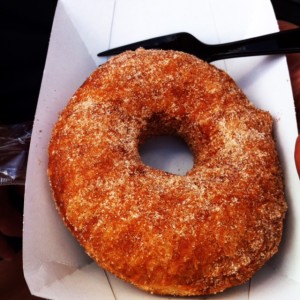 Croissant Doughnut (Refreshment Port, Epcot):  Is it a croissant?  Is it a doughnut?  Who cares!?!  It's covered in cinnamon sugar and served warm.  What's not to like?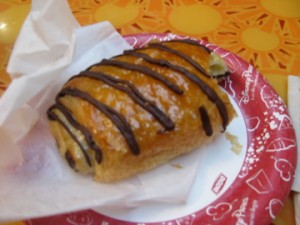 Chocolate Croissant (Sunshine Seasons, Epcot):  I love the not-too-sweet attitude of this treat.  Best as a second breakfast or mid-morning snack, in my opinion.  Flaky, buttery goodness.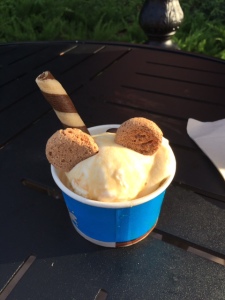 Espresso Gelato "Affogato" (Italy Pavilion, Epcot):  It has to be the strong coffee flavor with the sweet, smooth gelato and the crunch of the cookies and coffee beans in this Italian delicacy that make it indescribably wonderful.  Raymond and I shared one and thought it was perfect.  Next time, I'm not sharing.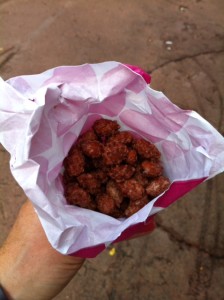 Cinnamon Glazed Almonds (Animal Kingdom):  I love these!  Crunchy, sweet, but not too sweet and served in a cute paper cone.  Great for sharing and convenient for eating while strolling along and soaking up Animal Kingdom's amazing atmosphere.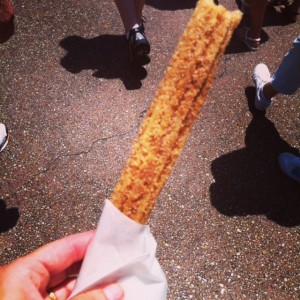 Churro (Various Locations):  This is going to sound weird (you should be used to that about me by now) but I think churros that have been under the heat lamp in the snack cart for a while taste better than when they're freshly made.  I like them super crunchy and I think that extended heat lamp thing makes them extra crispy.  Anyway they're served, though, these are about as perfect a sweet snack as you'll find.  Easy to eat on the go, not too messy, not overly sugary.
Mickey Premium Ice Cream Bar (Various Locations):  It's vanilla ice cream covered in a chocolate shell, shaped like Mickey's head.  There's nothing not to love about that.  On a warm day, you've got to eat fast or you'll drip all over your shirt, but this does not detract from this snack's simple goodness.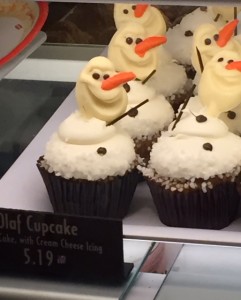 Cupcake (Starring Rolls Café, Disney's Hollywood Studios):  Butterfinger, red velvet, character-themed – doesn't matter.  These are good, if you like cake and icing.  Big enough for sharing…or not.
Savory Snacks!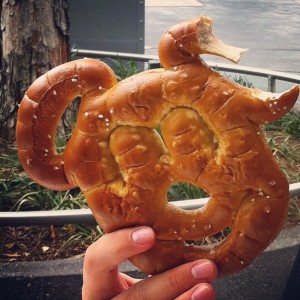 Classic Mickey Pretzel (Various Locations) – I like mine in Tomorrowland for a Magic Kingdom day snack break.  I also like to enjoy one in the Studios with a beer.  Salty, chewy, filling when your hungry, AND shaped like Mickey.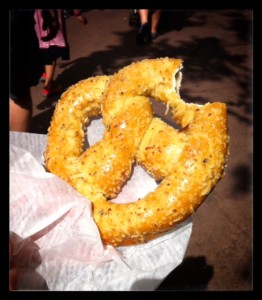 Jalapeno Cheese Pretzel (Animal Kingdom) – NOT shaped like Mickey, but these pretzels are excellent.  They're not too spicy, but there's enough jalapeno flavor to not disappoint.  A very nice choice when looking for something satisfying on the go.  Also good with beer!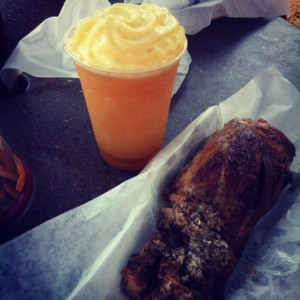 Roasted Pork Shank (Gaston's Tavern, Fantasyland, Magic Kingdom):  If you know the nutritional facts about this snack, please, PLEASE do not tell me.  It's slow roasted pork, simply seasoned with salt and pepper.  Fall-off-the-bone tender, our whole family loved it.  I daydream about this snack.  I must have it again.
Smoked Turkey Leg (Various Locations) – Even though I'm not a fan, I felt I needed to mention the Turkey Leg.  While I may not understand the draw, Joseph loves them and this hunk o' poultry has a huge and very loyal following.  This bad boy's nutritional info is enough to make me swoon – at about 1000 calories and 50 grams of fat, I just can't justify its consumption.  The pork shank probably has as many calories, but I don't care (or want to know for sure).
A Little Bit of Everything!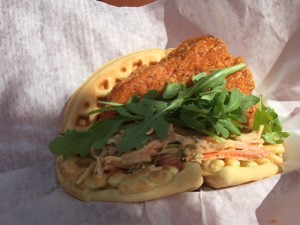 Sweet & Spicy Chicken Waffle (Sleepy Hollow, Liberty Square, Magic Kingdom) – While I wished the waffle itself would have been be a little less soggy and a lot more crispy, this was an excellent snack!  The chicken is surprisingly very spicy, which I found terrific with the coleslaw and the sweet syrup topping.  It's an amazing combination!
Which snacks are your favorites?  Which ones have you tried?  Are there any you don't like?  Which ones are on your to-try list?