There are so many Walt Disney World restaurants to choose from!  Frequent visitors, like our family, develop a passion for certain snacks, an emotional attachment to a few quick-service places, and we're downright territorial about our table service favorites!
Let's talk about Disney's Signature Dining.  If you're going to splurge on a meal either out-of-pocket or by burning two table service dining credits on the Disney Dining Plan, it's important to choose wisely!  While we haven't quite made it to all the finest dining Disney has to offer (I'm looking at you, Victoria and Albert's), we've tried a good many and have indeed developed enough of a fondness for a few to do what we can to squeeze them into our budgets for both time and money as often as we can.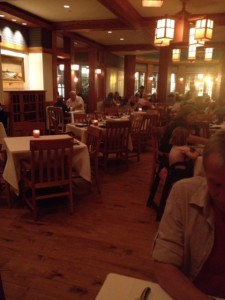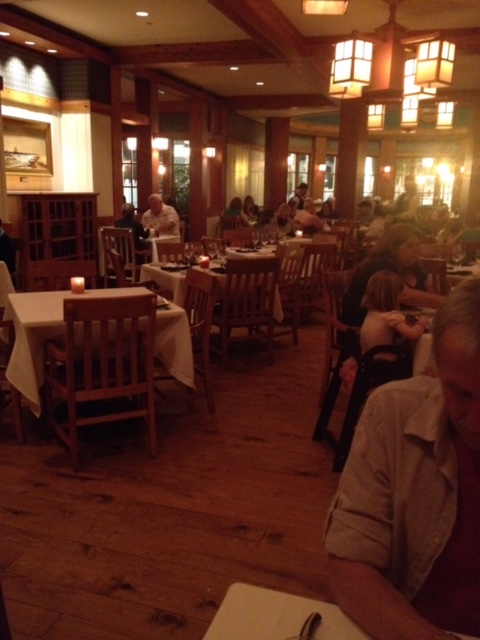 For those of you with little ones, fully enjoying a Signature Dining experience can be challenging.  You know you kids best and whether or not they'd like to sit in a fancy restaurant for a lengthy meal.  This is Disney World so signature restaurants are kid-friendly, but they are not as fun as character dining (like at Tusker House or Chef Mickey) or some places with funny servers (think Whispering Canyon Café or 50's Prime Time Café) and cool themes (Sci-Fi Dine In Theater).  These places also tend to have more "adult" foods on the kids' menu.  The list I've put together here is mainly geared towards families with older children and groups of adults.  If you've got something to celebrate, like an anniversary or graduation, signature dining is the way to go!
Disney World's Best Signature Dining
In The Resorts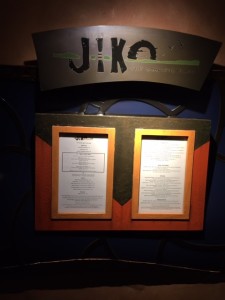 Jiko (Animal Kingdom Lodge) – Hands down this is our favorite Signature Dining Experience, but it's not for everyone!  Jiko is best enjoyed by diners with adventurous palates.  That's not to say that picky eaters won't find something to love, but it may take a little creative work with the cooperative servers and chefs.  We're game (see what I did there?) for trying exotic dishes made with wild boar or buffalo.  We welcome new flavors from African-spiced dishes of all kinds.  Options like pork and lamb shanks, beef short ribs, scallops, halibut, lobster, and vegetarian dishes make up the creative menu.  We have never been disappointed.  The wine list is as fantastic as the food.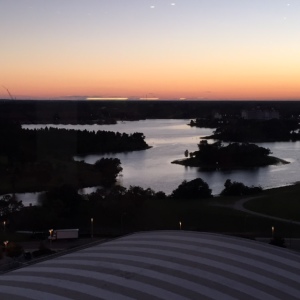 California Grill (Disney's Contemporary Resort) – The food's good, but the setting is great!  The view from the top of the Contemporary Resort is fantastic and at sunset it's downright awesome!  The California-inspired menu is broad and boasts a great selection of sushi along with other, many very complex, dishes.  Service is excellent and compared to Citricos and Narcoossee's at the Grand Floridian (also signature), California Grill manages to seem extra special.  No matter what time you have dinner, you'll be welcome to stay (or return) and enjoy Wishes (Magic Kingdom's fireworks spectacular) from the restaurant's outdoor viewing area.  We celebrated our 25th anniversary at California Grill and our experience was wonderful.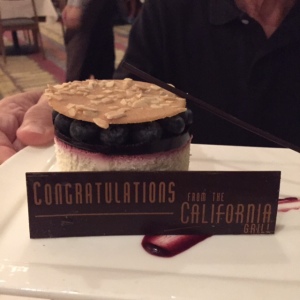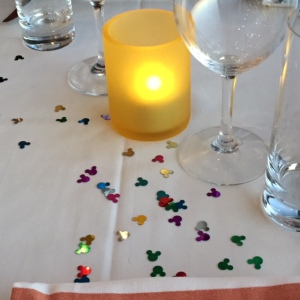 Flying Fish (Disney's Boardwalk) – Recently renovated and with a new chef, Flying Fish has an awesome location (a short walk from Epcot) and has been very popular in the past.  One of our best vacation meal memories is of dinner at the Flying Fish.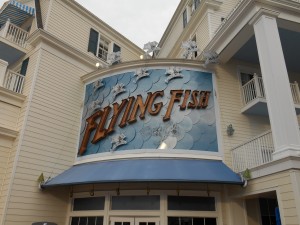 I don't know firsthand how the restaurant's new version compares to the old, but our next Flying Fish dinner is just days away.  The new menu looks fantastic (albeit expensive!) and it may well be worth two dining credits.  I'll let you know how it goes!
Yachtsman Steakhouse (Yacht Club) – A solid choice for steak-lovers, Yachtsman's proximity to Epcot makes it a stellar alternative to Le Cellier in World Showcase's Canada Pavilion.  Good service, solid menu, and the butcher/meat viewing area is cool!  We thought the atmosphere a bit more laid back than some of the other signature restaurants and that complimented, rather than detracted from, the overall experience to us.  If you're not a steak fan, there are better places to eat.  If you love a good steak, I found even the smallest one on the menu (6-ounce Black Angus Filet) to be perfectly cooked, tender, and delicious.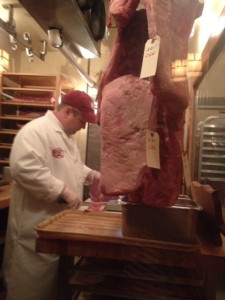 In The Parks
Tiffins (Animal Kingdom) – As I mentioned in the review I did recently, this place is probably not for picky, non-adventurous eaters.  If you love Animal Kingdom for the incredible theming and you want to feel like you're eating in an exotic far away place with amazing service, consider Tiffins.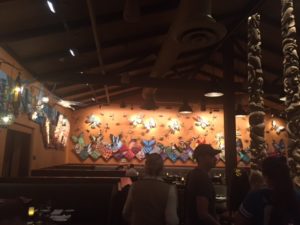 It can be a bit expensive, but is very special, so worth it in my opinion (at least once).  The menu is extraordinary and the beer and wine lists are carefully cultivated and unique.  While all signature dining restaurants try to offer exceptional service in a special atmosphere, Tiffins succeeds in a way few others manage.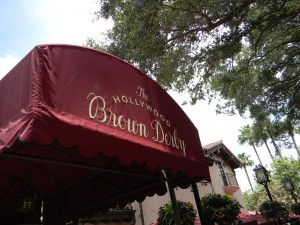 Hollywood Brown Derby (Disney's Hollywood Studios) – While this may be our least favorite of the group I've listed here today, it's worth mentioning.  The Derby has many devoted fans and it offers a wonderful respite from park noise and crowds.  The atmosphere is very cool and the menu offers a good variety.  The Cobb Salad is famous as is the Grapefruit Cake dessert.  If you're on the dining plan, don't waste two table service credits here.  If you want a nice meal at a low-ish price for signature dining and/or want the best meal in the Studios, give the Hollywood Brown Derby a try.
What did I miss?  Do you have a favorite signature restaurant that didn't make our list?