Raymond and I have been Disney Vacation Club members since 2011.  Our home resorts are Bay Lake Tower and the Villas at the Grand Floridian.  When Megan and I decided to take our mother/daughter trip to check out Pandora, we needed three nights for specific dates.  The only resort available at the time we booked our room was Saratoga Springs.  This would be our first visit to the resort and we were excited to try a new place.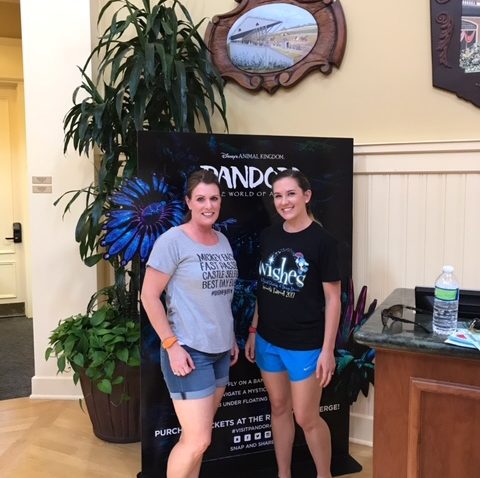 DVC Studio Review – Saratoga Springs
A bit of research helped me figure out where the best room option for us would be.  I called DVC and requested a studio in the Paddock area as close to the Congress Park section as possible.  Congress Park is popular for its close proximity to the walkway to Disney Springs, but the studios there require a higher point usage.  Because Raymond and Joseph wouldn't be going with us, it seemed best (and nicest) to conserve points if possible.  Staying Sunday – Wednesday used 47 points.  Our room request was granted and we found ourselves also close to the Congress Park bus stop.  While we weren't planning on spending any time at the resort except for sleeping, we wanted to be able to walk easily (and safely) to Disney Springs and back for our Paddlefish reservation.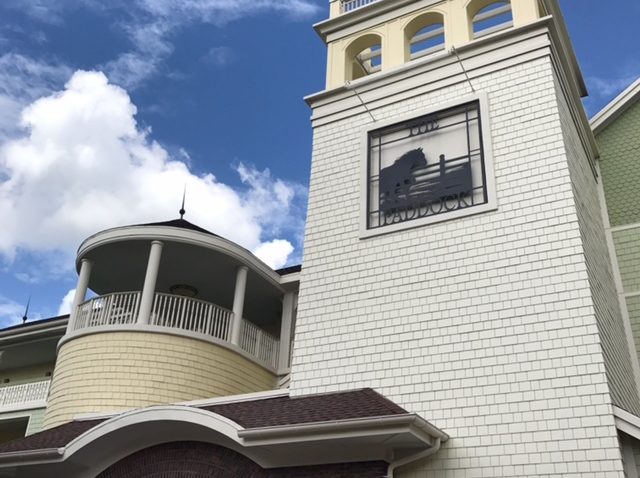 Our first impression of Saratoga Springs was great.  Upon arrival, we parked near the Carriage House to check in and found the grounds and main building to be cheerful and welcoming.  The staff was super friendly and in short order, we were on our way to studio 6612.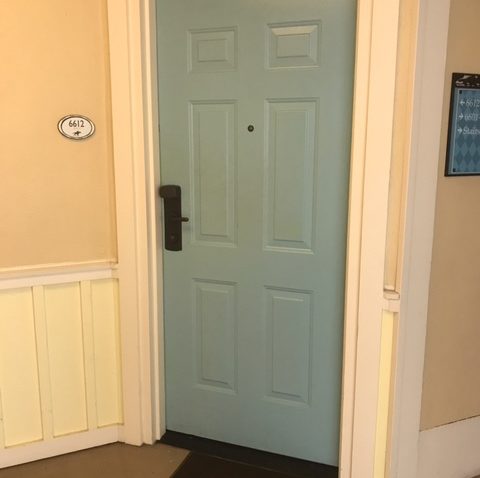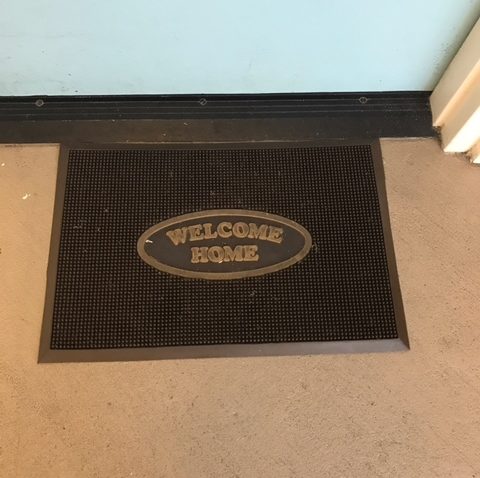 The entrance was welcoming, but the hallways and outside entrances felt a little gloomy.  Inside we found a sink/vanity area outside the bathroom (tub/shower and toilet), a queen-sized bed, a small kitchenette area, and a sitting area with a sofa, ottoman and table and chairs.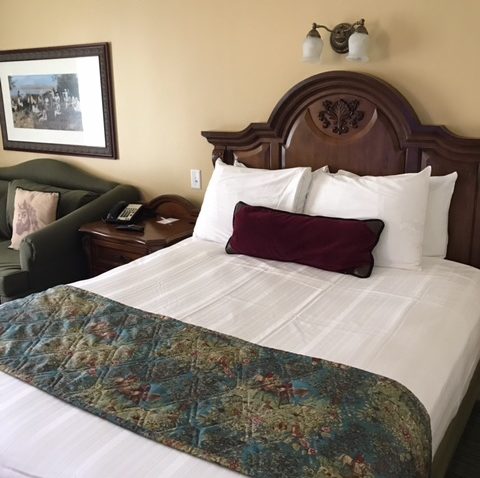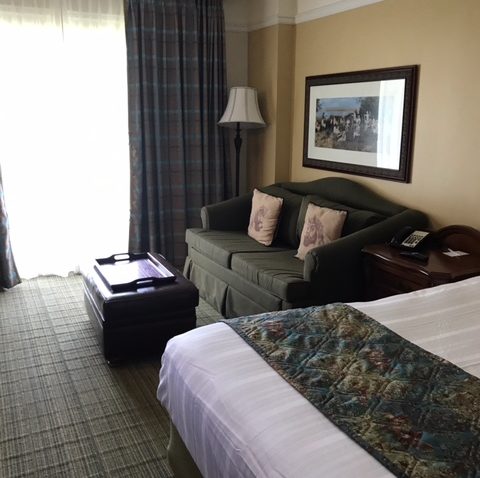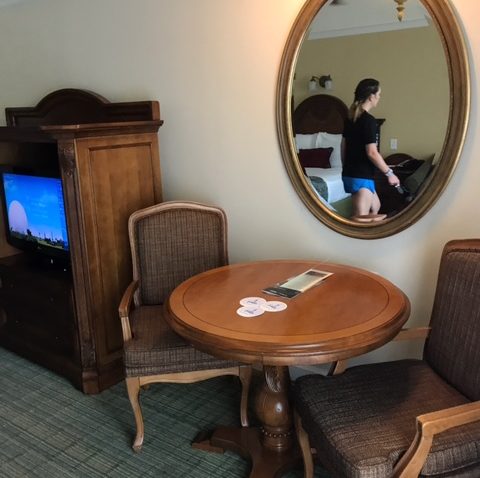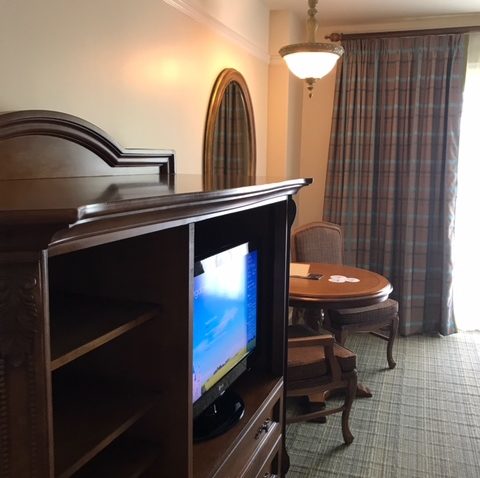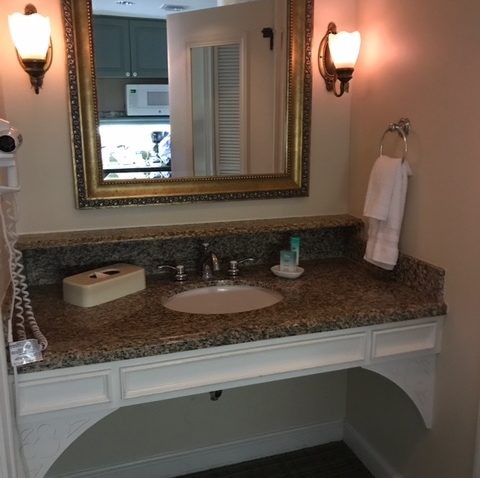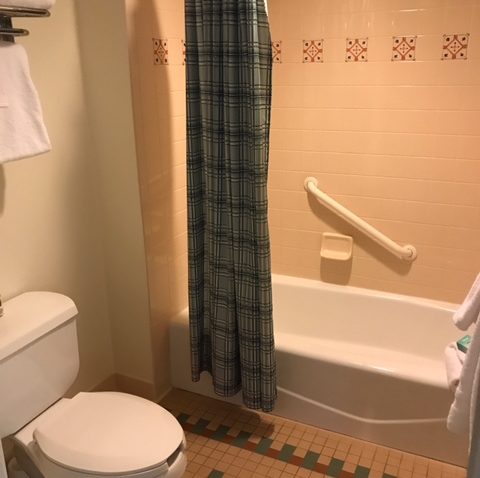 The details were charming and the space (355 square feet) was perfect for the two of us.  These studios sleep up to four with the pull-out sleeper sofa, but Megan and I thought it would be pretty crowded with more than the two of us unless the second two people were small children.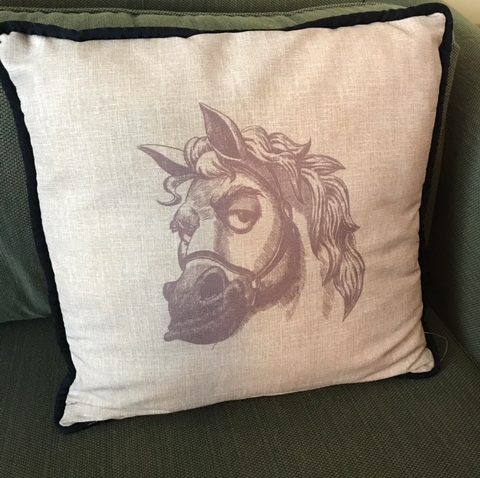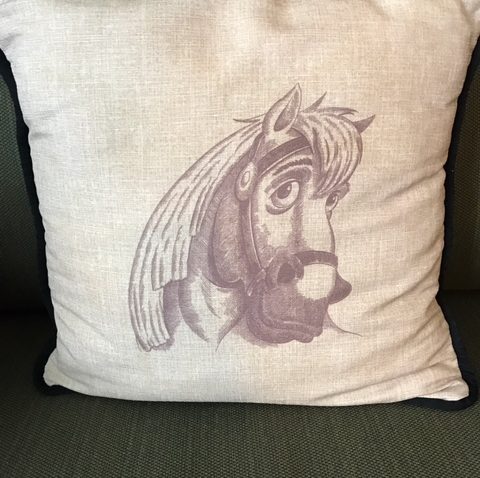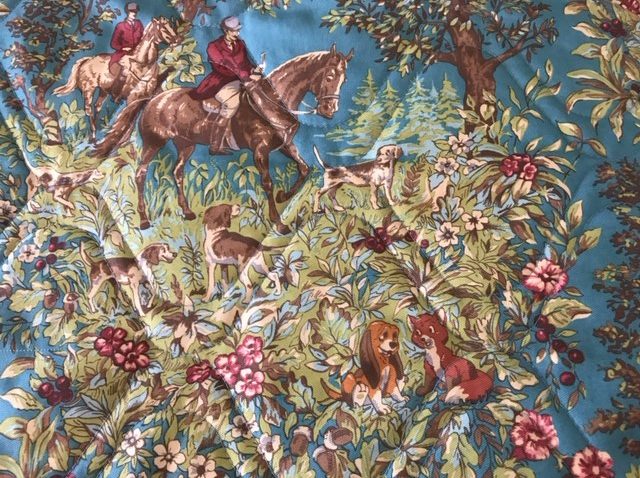 Final thoughts…
Saratoga Springs Pros –
Our location was convenient to Disney Springs and a bus stop.
We had plenty of space, were comfortable, and we liked the décor.
Our studio was quiet – we never heard any noise from neighbors.
Saratoga Springs Cons –
This resort (like Old Key West) felt more like a condominium complex than a Disney resort.  Very spread out, many rooms are far from the main building/restaurants (which was okay for this visit, but might not work well all the time).
When it rained, there was quite a bit of flooding/high water to walk through.
The busses were SO slow and crowded.  Particularly horrible leaving Magic Kingdom at the end of the night.
Have you stayed at Saratoga Springs?  How was your experience?  Do you prefer staying closer to the parks or do you like feeling like you're away from all the commotion?