When last I mentioned my future runDisney plans, I was whining about my treadmill and hoping to register for the 2017 Star Wars Dark Side Challenge.  Good news on both fronts!  I've made peace with my treadmill, have registered Joseph and I for the Challenge, and we've got just four months left before the big event.
runDisney – The Road to The Dark Side
Both of my children have started running and have frequently given their time generously to keep me company on my weekend long runs.  Megan's had some knee trouble lately, but back in the early fall, she let me run with her for her very first 5K.  I was extremely proud and know that she's got lots more races ahead of her!  She's run 9-10+ miles with me a couple times, so I'm hoping a Disney half-marathon is in her future.  Princess 2018 maybe?  That would be perfect!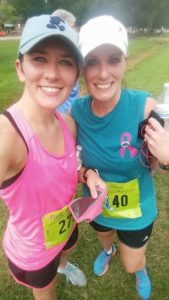 Back to the Dark Side.  When registration opened in August, I registered Joseph and I for the two races that make up the Challenge – The Star Wars 10k on April 22nd and The Star Wars Half Marathon on April 23rd.  Next we needed to find a race close to home to use for proof of time.  While proof of time is not mandatory, sending in official race results to runDisney from a 10k or half marathon helps determine a runner's starting corral.  No proof of time = start at the very back of the pack.  I found a 10k, the Black Bear Grin and Bear It, and we ran as fast as we could on a chilly November morning.  Proof of time?  Check!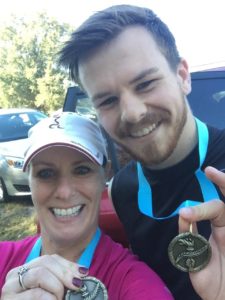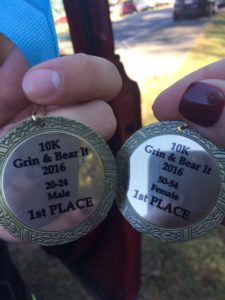 Fearing we'd lose momentum after the 10k and with the winter ahead, I found a half marathon in Lafayette, Louisiana and asked Joseph if he wanted to run it with me.  He didn't even hesitate – we were a go!  So last weekend, during an extreme cold snap, we bundled up for the race!  Raymond and Joseph's girlfriend, Lyndsey, found a spot along the race course where they'd see us three times without ever having to move.  Post-race, we spent the weekend enjoying Cajun Country and all the great food to be found there!  My friend, Karen, from Just Me and My Running Shoes (great blog for Disney fans & running moms!) also ran the half and I had a wonderful time catching up with her!  She's the sweetest!
Now I'm back to worrying about losing steam.  I've got my eye on another half marathon in February in Minden, Louisiana for St. Jude's.  I hear it's a hilly, but beautiful course.  I'm not concerned about how fast we'll run during the Dark Side Challenge, I'm more about making sure we're comfortable during the races so we can enjoy all the Disney details and soak up the atmosphere.  Keeping up a good training program will help maintain fitness and increase the chances of having smooth, easy races.  That's my theory anyway.
How about you?  Are you eyeing a runDisney event in the future?  Got any training tips for us?