For fun, here's a quick rundown of everything Raymond and I experienced attraction-wise during our very first visit to Disneyland.  (Bonus:  Comparisons to WDW when applicable)
Disneyland Attraction Reviews (by Old-ish People)
Disney California Adventure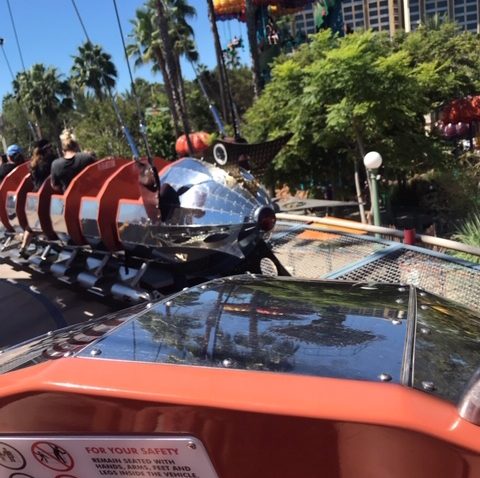 Golden Zephyr – Yes, this was the ride we chose as the first one upon arrival.  No line, great views, very sweet and gentle.  Also, not at Walt Disney World, so added bonus of being unique!  We got to see the cutest Green Army Man parade from way up in the air.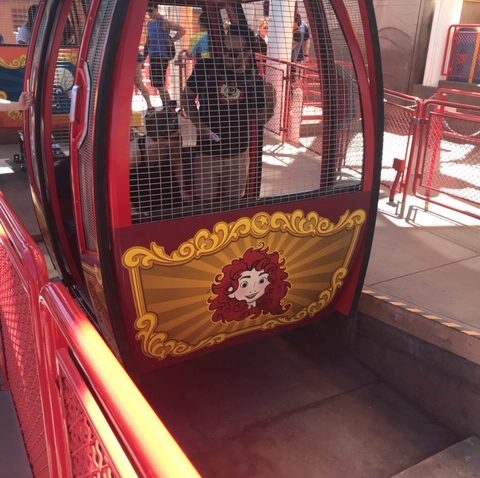 Pixar Pal-A-Round (non-swinging) – I wanted to see the sights and thought the swinging version of this would impair viewing.  It was relaxing, but the caged-in feeling detracted from my enjoyment.  I'd ride it again.  Maybe.  Raymond was likewise underwhelmed.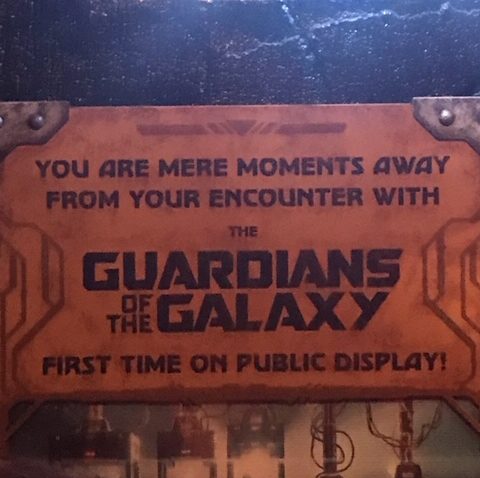 Guardians of the Galaxy: Mission Breakout (Twice!) – This was awesome!  No comparison to Tower of Terror (apples to oranges).  Everything about this attraction is amazing and we thought it was about as entertaining a ride as could be.  We loved how the experience changes (like Star Tours) and the humor was great.  The queue was excellent too.  This attraction deserves all the hype and lives up to its reputation.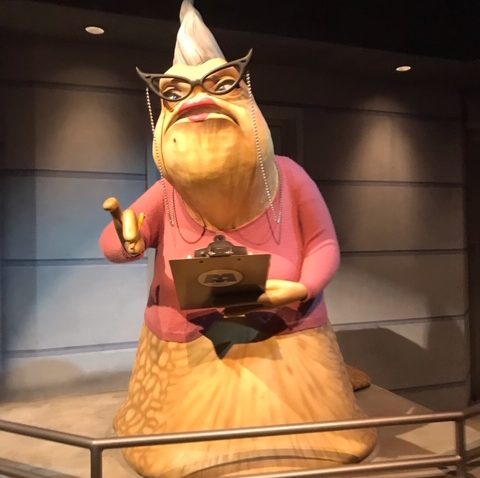 Monsters, Inc. Mike & Sulley to the Rescue – Cute!  Exactly what you'd expect and Monsters, Inc. fans are sure to be pleased.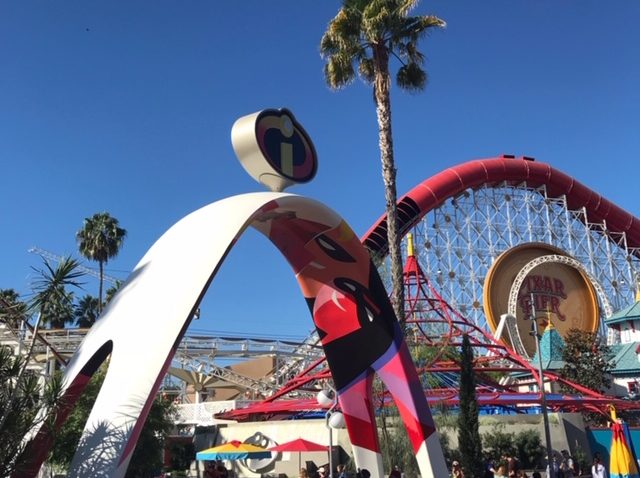 Incredicoaster (Twice!) – A bit like an outdoor Rock'n' Roller Coaster.  We love the Incredibles and are thrill-ride fans as well.  We thought this was the perfect combination of the two.  I want to be Edna Mode when I grow up.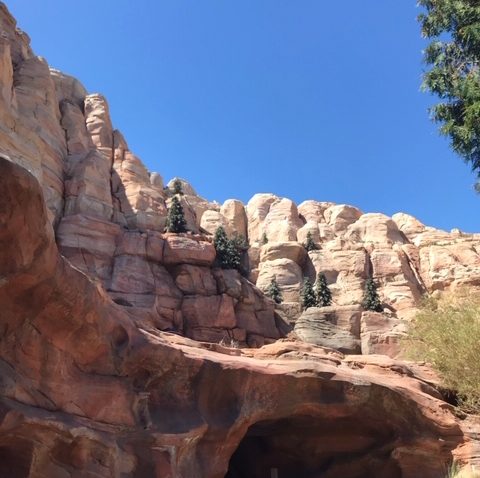 Radiator Springs Racers (Twice!) – This won my heart.  It was my favorite attraction of the trip.  We almost skipped it because it was described as being like Test Track (which we think is just meh).  It was @CaptainAlabama on Twitter who convinced us to try it and boy!  What a phenomenal experience!!!  We rode during the daytime and then again one night.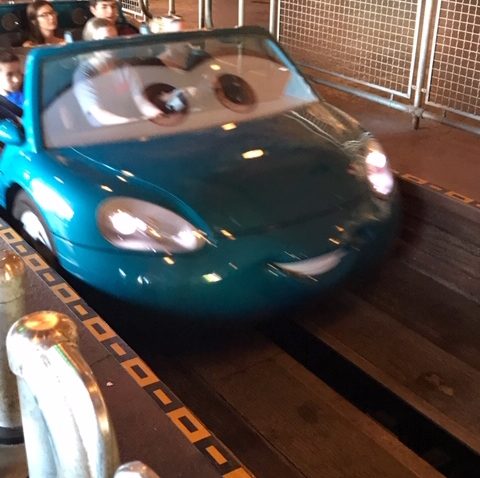 I strongly suggest, if you ever have the chance, you do that too!  Cars Land by day is vastly different from Cars Land at night and this attraction is too.  Every detail, every twist and turn, every view, each and every moment…outstanding!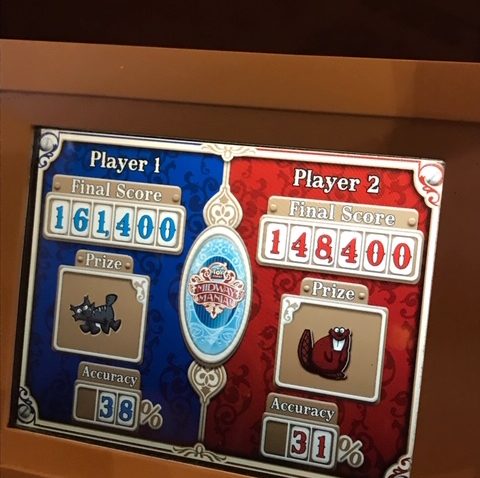 Toy Story Midway Mania – Not much different from the one at WDW.  Always a favorite.  Guess what?  No matter which coast I'm on, I always win the same prize on this ride!  Darn you, poor eye/hand coordination!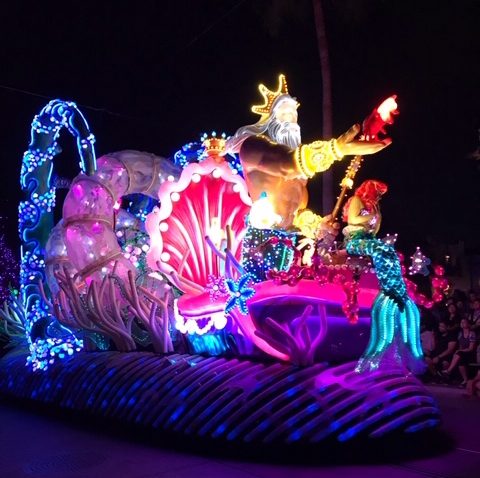 Paint the Night Parade (did a dining package for special seating) – This turned out to be one of Raymond's most favorite parade experiences ever!  It was sweet and the floats and characters were interesting and entertaining.  (More on the dining package part in a future post.)
Disneyland Park
Space Mountain – The seating really threw us at first (side-by-side), but the ride was excellent.  The "Ghost Galaxy" theme was cool!  Enough like Magic Kingdom's version to be familiar yet surprisingly different in a good way!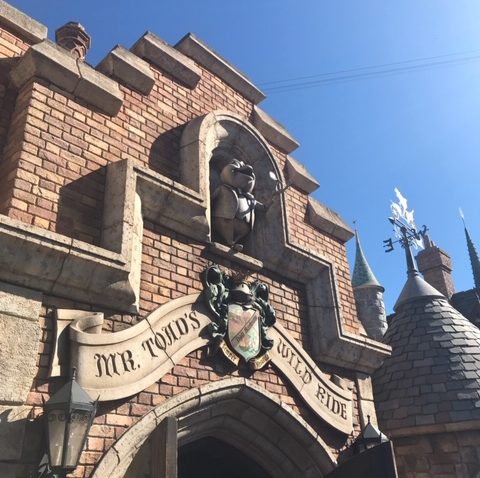 Mr. Toad's Wild Ride – Ah, nostalgia.  It was nice to see Toad again after all these years.  I missed it at WDW when it closed, but knowing the ride lives on in California did a lot to soothe my hurt feelings.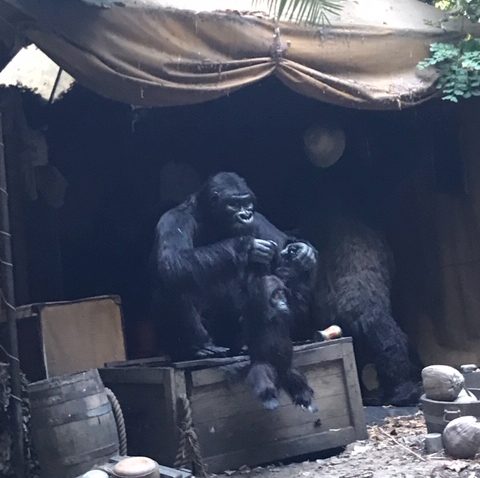 Jungle Cruise – WHOA!  This was so cool!  The jokes are mostly different, the animatronics often much better than in Magic Kingdom, and (spoiler alert!) piranhas!  There was hardly a wait for this attraction – WHY?  It's awesome and adorable!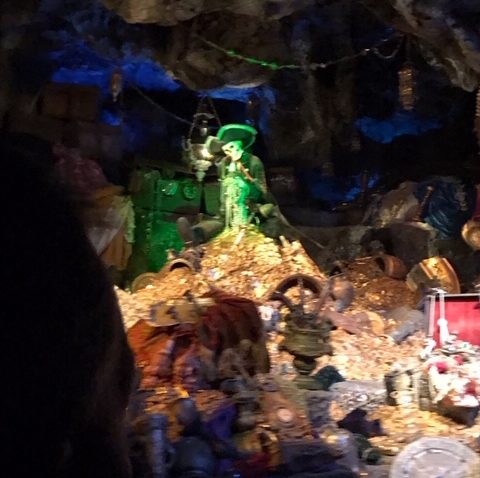 Pirates of the Caribbean – This experience did not diminish my love for WDW's Pirates in any way, but holy moly!  I loved the buildup from the bayou through all the scenes.  It felt much creepier (more creepy?) and the added length allowed more of a story to be told.
Indiana Jones Adventure – I cannot lie.  We hated it.  Go ahead with your gasps of outrage, we did not get anything out of this ride except whiplash.  We moved way to fast to actually see any of the seemingly awesome details.  Just when I'd spot something interesting to focus on – zoom!  We were gone.  I'm a huge Indy fan!  My DOG is named Henry Jones, Jr., for Pete's sake!  Maybe I was expecting too much.  It's a once and done for us.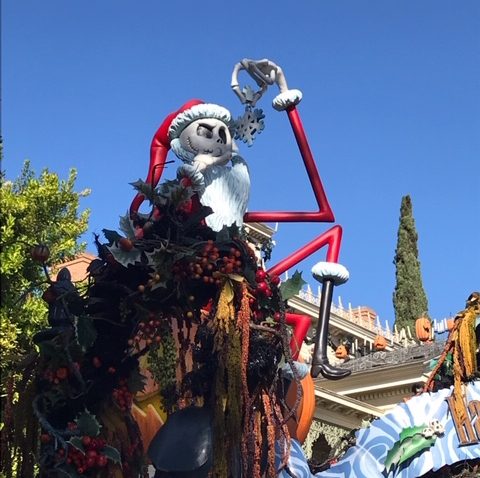 Haunted Mansion – Words cannot describe how excellent the Halloween overlay is!  The Mansion's exterior is gorgeous!  Absolute perfection that fits in very well with New Orleans Square (excellent details and theming there!).  While I would have loved to experience Haunted Mansion without the overlay for comparison purposes, we were blown away by the excessive details!  It's extraordinarily well done.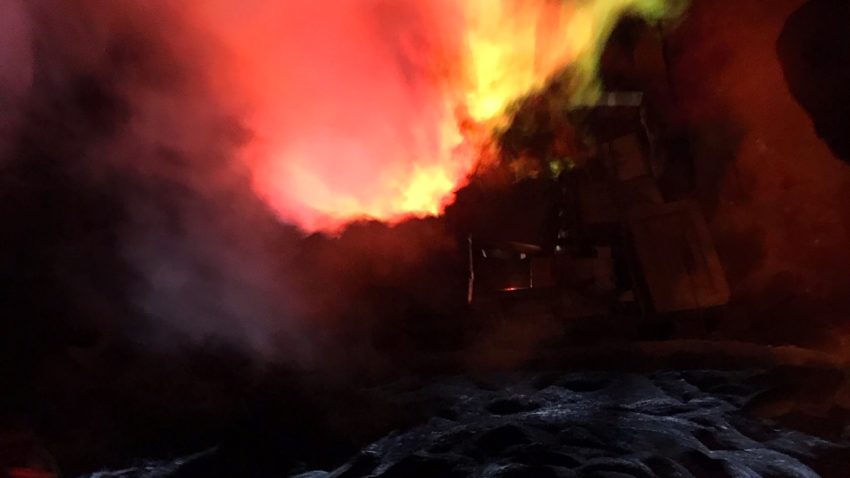 Big Thunder Mountain Railroad – Different, but just as excellent as Magic Kingdom's version.  The explosions in the mine were so EXTRA!  What a fantastic detail and we were delighted!  It's a do-not-miss for us.
Mark Twain Riverboat – Scoff if you must, but I drug poor Raymond right on board and loved every second of this!  Have I mentioned the weather?  Blue, blue sky, sans a single cloud, temps in the 80's.  How could anyone NOT love a relaxing trip around the Rivers of America?  Seriously, it's fantastic!
Snow White's Scary Adventure – Like Mr. Toad, the nostalgia factor was the draw here.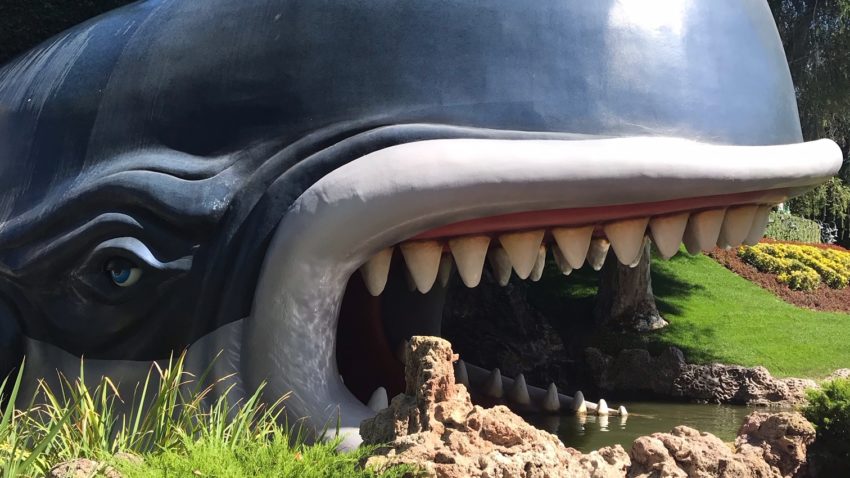 Storybook Land Canal Boats – I fell in love with this!  This attraction sounds silly and like a waste of time, but it is not!  The boats are sweetly adorable, the actual real-life human guide is an extra-special detail, and the little kingdoms and villages along the canal's shores are especially well-crafted.  See all your favorite Disney movie settings!  And ride into Monstro's mouth too!  What's not to love about that?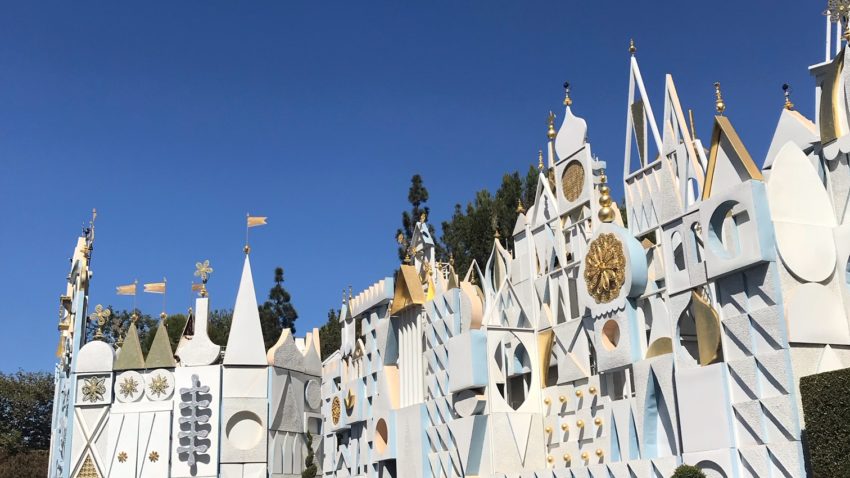 it's a small world – We were completely and totally unprepared for this.  It's HUGE!  Makes the one in Magic Kingdom feel like a rip-off.  Sure, they're basically the same on the inside (and everyone always says it's what's on the inside that matters, right?) but the exterior is so EXTRA!!!  It added to the overall experience exponentially.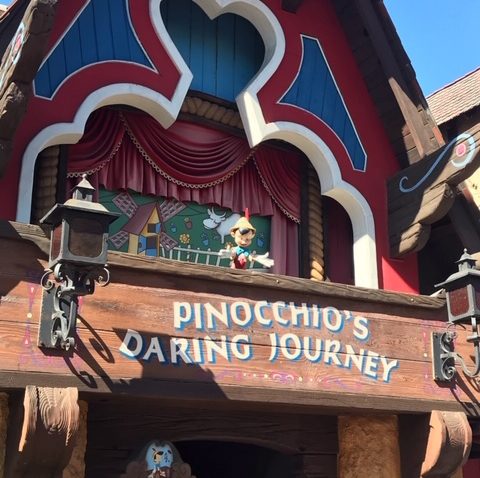 Pinocchio's Daring Journey – Well…uhm…this was certainly a tribute to Pinocchio and stuff.  I'm afraid it felt a bit outdated.
Splash Mountain – I have to say it.  Magic Kingdom's version is much better.  Three things ruined Splash for us here.  One, the boat was much rougher and bashed into the sides of the "river" violently several times.  Two, the boats moved so fast we didn't have time to enjoy the scenes and the adorable furry animals.  Three, there's a pitch black section in which we were completely drenched with ice-cold water from head to toe.  We were saddened by the experience.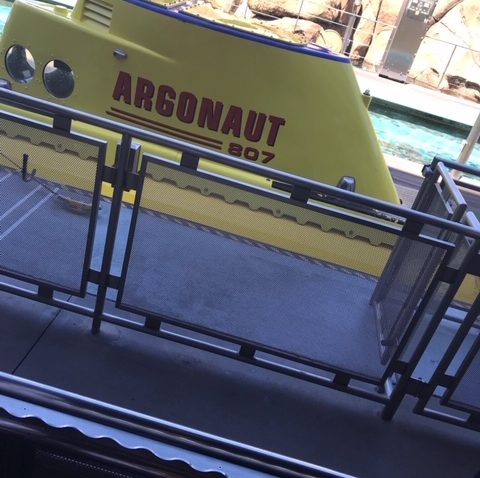 Finding Nemo Submarine Voyage – We thought this was precious and it brought back fond memories of the old 20,000 Leagues Under the Sea.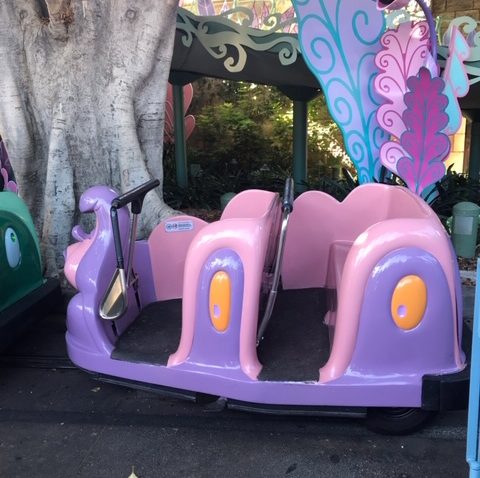 Alice in Wonderland – This one was among my favorites.  Recently refurbished with added projection effects, we were charmed by the whimsical details.
The Disneyland Story Presenting Great Moments with Mr. Lincoln.  I liked this very much…better than Hall of Presidents, honestly.  They said no pictures and I took it seriously!  I did get a nice picture of this sign though…enjoy!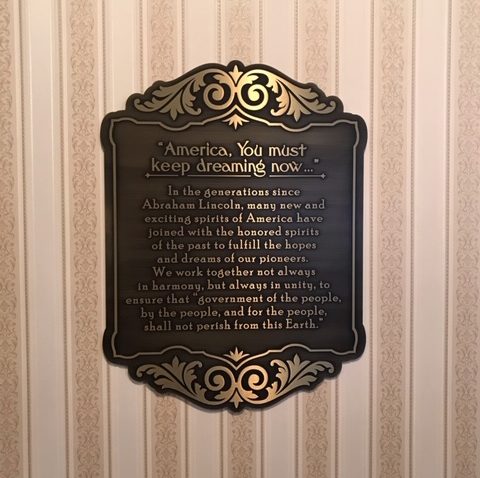 A word about wait times.  There were hardly any at most of the attractions.  In fact, not all Disneyland attractions have posted wait times.  Unlike Disney World, only the most popular attractions have/need FastPasses.  Interspersed with all those attractions, we had plenty of time to snack, grab a beer or glass of wine, and soak up the outrageously perfect weather and Disney's magical details.
Attractions we skipped were mostly by design.  Some would have been exactly like their WDW version (Soarin' and Star Tours), some would have meant we didn't get to ride our favorites twice.  Matterhorn Bobsleds – closed for refurb, disappointingly.  I was conflicted about the decision to skip Grizzly River Run, but after the complete soaking on Splash, we thought it for the best.  Hopefully, there will be a next time!
Okay, let me have it!  Agree?  Disagree?  Bit of both?