Disney Cruising – Concierge on the Wonder
We splurged for a cabin in the concierge category on our recent Disney cruise. Let's talk about what amenities we enjoyed (and which ones we skipped) and the bottom line:  Was it worth it and would we do it again?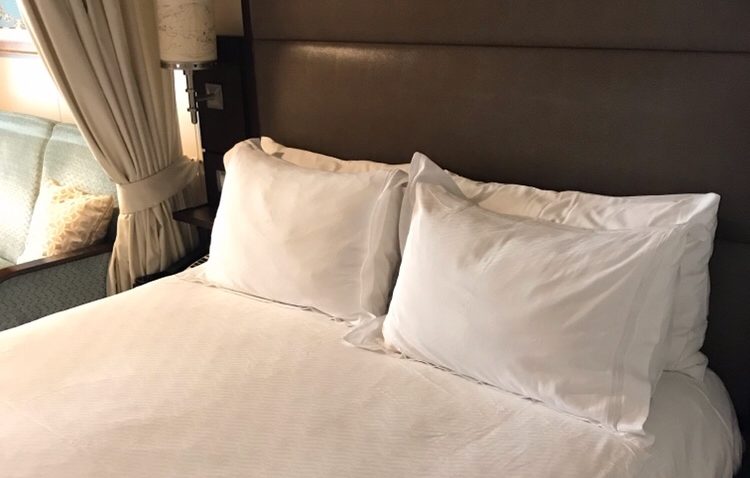 It was a short (four night) repositioning cruise from Vancouver to San Diego with one stop in Astoria, Oregon. This cruise was perfect for us as it gave us the opportunity to celebrate our 29th anniversary in a special way while avoiding the unfriendly East Coast hurricane season.  It was also the right length to allow us to add a 3-day visit to Disneyland to the end of our trip.
Pre-Cruise
We booked cabin 8044 and, having never splurged on concierge before, didn't exactly know what to expect. We were pleasantly surprised to find out that the excellent service begins long before the actual cruise!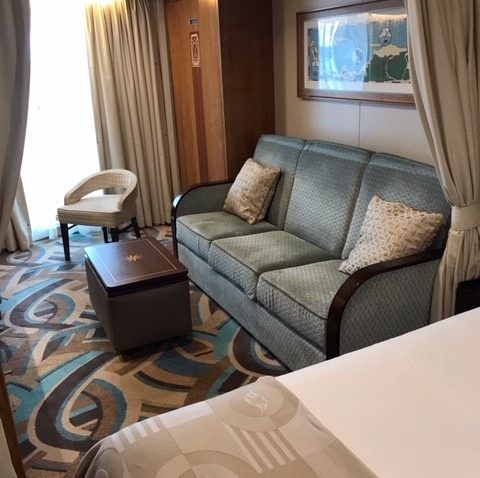 The concierge team called us and asked us what activities and dining we would like them to book for us. This was just about our favorite perk since we take our cruise activities seriously and do whatever it takes to get what we want including setting our alarm for middle-of-the-night online booking.  We asked for Palo dinner and brunch, the bicycle tour in Astoria, and both a whisky tasting and a chocolate and liquor tasting (we'd been trying to do this one for several cruises).  Everything we asked for was magically taken care of when the booking window opened without any extra effort on our part.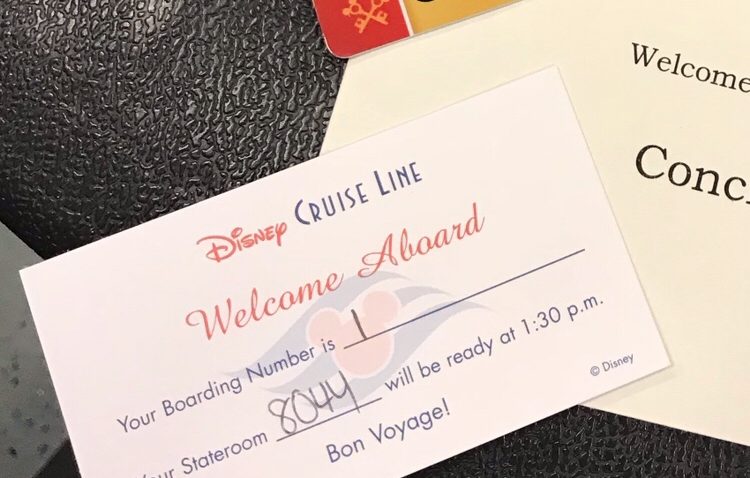 When we did our online check-in for the cruise, instead of getting a boarding time, we were told to arrive at the port whenever we pleased and that's just what we did. We took our time getting ready and right at the Fairmont Waterfront's checkout time, we walked across the street, down the ramp, and into the cruise terminal.  After making our way through an uncrowded, but lengthy trek through customs, we found the concierge waiting area.  This was not fancy, just a bunch of folding chairs in a separate, closed off area.  After a short wait, it was time to board the Wonder and concierge guests are the first to get on.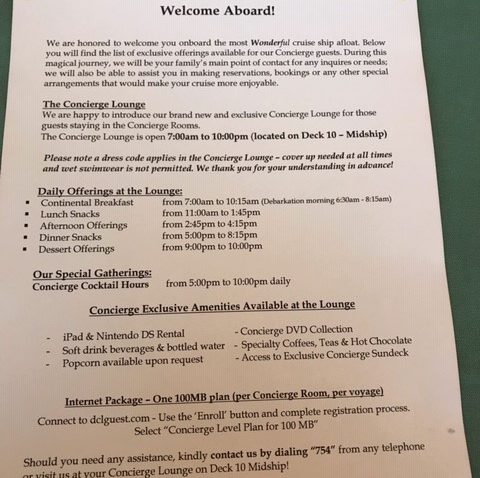 Setting Sail
The onboard concierge team was made up of three Cast Members: Glenn, Selena, and Cristelle.  Glenn was in the lobby to greet us and direct us to Tiana's Place for lunch.  While in Tiana's we enjoyed complimentary adult beverages with our meal and Glenn came around with personalized folders for each family.  The materials included a customized itinerary and information about concierge amenities.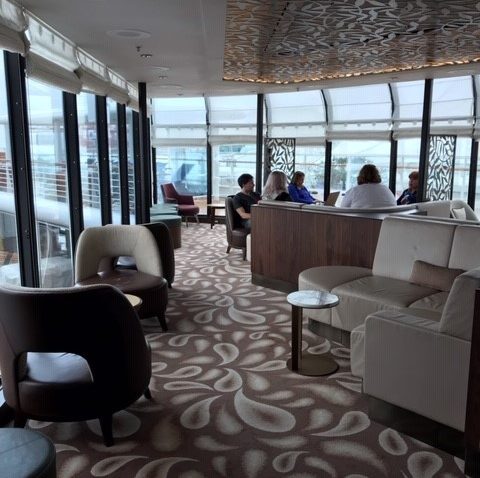 The Concierge Lounge
Once lunch was over, we checked out the concierge lounge on Deck 10 where a representative from the spa helped Raymond book a massage for later that afternoon. The lounge offers food (coffee/tea, non-alcoholic specialty drinks, light breakfast items, sandwiches, fruit, sweets, and snacks) throughout most of the day and in the evenings serves cocktails from 5-10 pm.  We did take advantage of breakfast, some of the lunch offerings, and bags of free popcorn.  Surprisingly, we never made it to the lounge in the evenings.  We did attend a special character meet & greet there one afternoon.
Our Cabin
Stateroom 8044 was located midship. It was in great shape and very clean.  There were two TVs – one larger one in the sleeping section of the room and another, smaller, in the seating area.  Our veranda was used quite a bit and we loved the toiletries provided.   As an extra-nice touch, we received a pre-soaped loofa-like sponge for the shower that was great.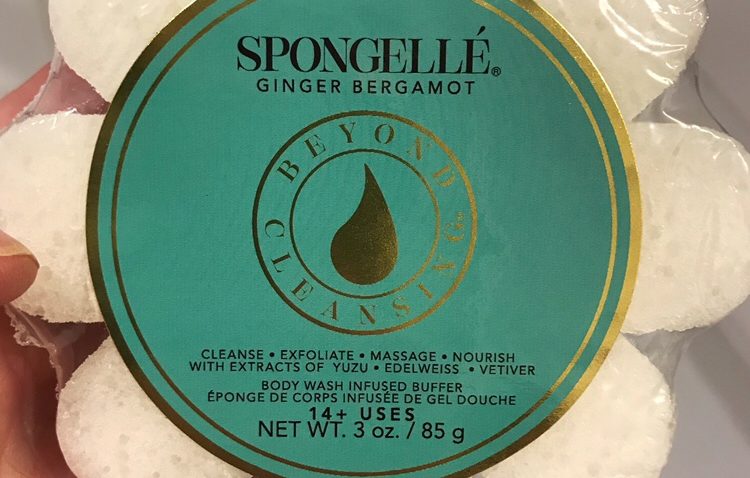 When it came time to disembark on the last morning, we took our luggage up to the concierge lounge with us and, after enjoying one last breakfast, were escorted down to deck three and sent on our way with a warm goodbye from Glenn. The concierge staff was professional, friendly and helpful in exactly the Disney way one would expect.
Bottom Line
So, while we opted out of a few opportunities for group activities and amenities, we enjoyed our first experience with Disney Cruise Line's concierge level. For just the two of us, I'm not sure we'd splurge on it again.  I could see, absolutely, wanting concierge level if travelling with our entire family…IF we could afford it.  Sailing concierge added convenience and time-savings, some nice extras, and expedited boarding and disembarking.  For Raymond and I, it didn't make this cruise any more fun or magical than the 8 that came before it.