Disney churro fans, this post is for you.  I've only recently joined your ranks, but am proud to count myself among you as a lover of this deceptively simple yet delicious and popular snack food.
Favorite Disney Snacks – Churro!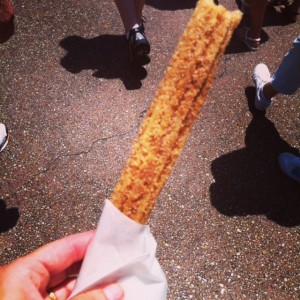 Let's go back in time a bit to the beginning, shall we?  The churro's origins, while not exactly shrouded in mystery, are a bit controversial.  One story has the churro born of Portuguese sailors and the discovery of a certain recipe in China for a food called Youtaio (fried flour stick).  The Chinese, being very secretive with their cooking methods during this time, left the sailors to figure out the precise cooking technique on their own – their efforts resulting in the very first churros.
The second prominent story (and my personal favorite) holds that churros were invented by pastry-craving nomadic Spanish shepherds.  Pining for baked goods, these clever shepherds – who, according to this version of history, were tending Churra sheep, invented a sort of bread stick that could easily be prepared and fried over a campfire.  These bread sticks were often rolled in cinnamon sugar and their shape was said to resemble the horn of their beloved livestock, the Churra.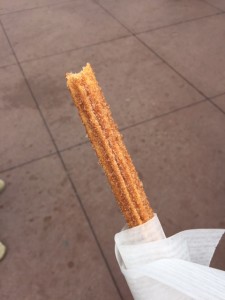 It wasn't until later that the standard churro preparation changed to have the churro batter extruded into hot oil through a star shaped tip which creates the crunchy on the outside / tender on the inside texture we now adore.  These snacks caught on and became so popular, they made their way to the New World with Spanish explorers and are still a staple of Spanish street foods – especially for breakfast (dipped in chocolate).
I've heard that in much of the United States, churros can be found at state fairs, local carnivals and amusement parks – not true in our neck of the woods.  We get elephant ears, roasted corn, candied apples, cotton candy, funnel cakes, and a staggering variety of deep fried foods like Snickers, Twinkies, and the like.  Until a couple of years ago, I'd heard many Disney fans wax poetic about churros, but thought they looked rather plain and boring compared to the other awesome Disney snacks I love.  I realized, though, that to be a well-educated, trusted and faithful sharer-of-all-things-Disney, I'd have to broaden my snack experience…so I purchased my first churro.  It was at the Frontierland churro stand in Magic Kingdom and I remember it well.  Since that day, churros have become one of my favorite Disney vacation foods.
First of all, the churro is highly portable.  Easy to eat while walking, very compact and neat, churros do not melt, crumble, or spill.  Perfect for being not-too-sweet, but still tasty and satisfying, a warm churro is practically the definition of comfort food.  The texture is wonderful and while easy to consume is neither too chewy nor too fluffy.  Clean-up's a breeze – just dust a little residual cinnamon sugar off your fingers and chin.
Interesting churro tidbit – When enjoying Tivoli Gardens in Copenhagen earlier this year, we noticed many similarities between this amusement park and Disney parks at home.  This included many of the same snack choices…including churros!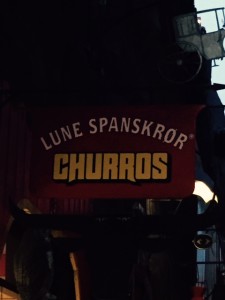 Churro fans!  Raise your hands!!!  Tell me your favorite churro moments – where's your favorite churro stand?  When do you most like to enjoy this snack?  What makes the churro one of your favorite Disney vacation foods?