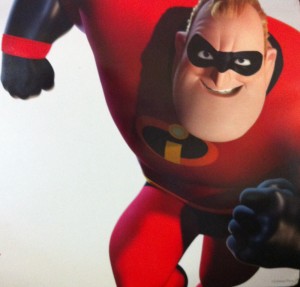 Do you have a wild imagination?  I certainly do – it runs away constantly imagining all sorts of fantistic things.  So, my imagination and I got to thinking this week – What if we had superpowers, but only while at Disney World.  What would they be?  What superpower would be the most useful?  The most fun?  The most diabolical?  WHOA!  So, I put the question out there – I asked The Fam, the Facebook Peeps, and the Twitter Followers – What superpower would you most want at Disney World. Kudos to you all!  Some of you have imaginations every bit as wild as mine.  Let's take a look at some of my favorite answers:
"To be able to teleport from park to park and anywhere in Disney" was Megan's answer, but variations of that idea were very popular.    @BerryMary92 on Twitter also wanted teleportation abilities to "go from park to park in a nanosecond!".  Joseph voted "instant park hopping" as one of his superpower possibilities (the other being the ability to sit in the front of every ride) and Ashli was also a fan of teleportation, but would possess "fast pass boosters" with it.  There's certainly something to be said for not dealing with busses, boats, or cars – the waiting and walking or the parking.
@dolewhipdaily and @1MinDisneyDream who are both (coincidentally) hosts of The Enchanted Tiki Talk Podcast had the same idea.  Invisibility.  Invisibility would eliminate having to wait in line (just walk past everyone to the front), but typical of these two – there was a more diabolical benefit – they both, along with Twitter buddy @dabenter, would use the invisibility superpower to hide in the Haunted Mansion and scare people!  No wonder I love Enchanted Tiki Talk!
"Super speed" was another popular response.  @CheshireCanuck voted for super speed "so I could do all the rides in one day."  Dave of @thedislife (The Dis Life) was a fan of this idea as well.  If you had the super speed superpower, it would certainly come in handy – especially if you also had the super-power our next participant came up with…..
@ISIParksBlog suggested "levitation, to move the SLOW people!" as a handy superpower at Disney World – you know, get the "clueless folks and the browsers out of the way for quicker movement".  I thought that one would also have the added bonus of being very entertaining to watch.
Both @scottcampbell and @DisDreamGirls wanted the ability to stop time.  For the Disney Dream Girls, this would mean "vacation never ends", Scott just wanted to eliminate having to hurry – vacation where "Lines don't matter.  Would be so enjoyable."
The Pixie Dust Princess (@PrincessofPD) put a lot of thought into her answer – when I first posed the question early one morning, she said she'd think about it and get back to me.  Later that day, in the evening, she came back with "some type of food superpower.  Because I get full kinda fast, and I want to be able to enjoy all the yummy food Disney has."  So we discussed this back and forth for a while – I am totally loving this idea.  It would be like those super skinny people who always win the food eating contests!  You could keep eating and not gain weight and not get full too fast.  That would be a nifty superpower to have indeed!
Twitter follower @ERNava simply wanted a superpower that would "make all rides walk-ons" and Theresa on Facebook would have "VIP Line Skipping Powers" – I think that one would have to involve the ability to "disappear" most of the other Disney park guests – another superpower!
This one cracked me up – @YoPaulieNJ wants a "Guest Pleasantness RayGun" – now wouldn't that be something.  Especially in July!
@elby2007 voted "Time Machine.  Takes the park you're in back (or forward) to the year of your choosing".  Wouldn't that be fantastic!  We could all find out if our favorite rides from the past were as good as we imagined (Mr. Toad's!) or see how Avitarland will turn out at Animal Kingdom.  Just imagine!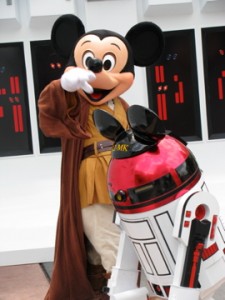 Sandy on Facebook would have "Super bladder control".  Hmmmmm.  Hadn't thought of that one, but I can see how (for some people) that would be a good superpower to have.  I did point out that the new Tangled-themed restrooms in Fantasyland are supposed to be spectacular.  Just sayin'.
Personally, after all of that – and I loved all the answers! – I would have Jedi powers.  Think about it – at rope-drop, find the right Cast Member and do that Jedi thing, "We are the Family of the Day".  Cut to the front of the line, waive of the hand and "We were here all along" or "You don't notice us".  Could be a little evil as well – "You want to give us free food" or "All this merchandise has already been paid for" – Think of the possibilities!