If you ever have the opportunity to eat at the Animal Kingdom Lodge, jump on it!  We eat there every time we're at Disney World and have enjoyed every single bite.
The lobby of the Animal Kingdom Lodge is worth a visit even without the delish food!  It's HUGE and themed extremely well.  PLUS, you can walk right out onto the savannah for a look at the many different African animal species that roam all around the Lodge.  You know how I feel about Kilimanjaro Safari, so you can just imagine how much I like the savannah overlook area.  There is usually at least one castmember from Africa out there to answer any and all questions you might have about their homeland.  Raymond and I spoke to a young man from Botswana for quite a while one evening and enjoyed hearing him talk about Africa and what it was like growing up there.  Topsy from South Africa was there on our last visit.  She was so funny when we introduced her to Perry the Platypus.
Okay, back to the food.  We've eaten at The Mara (quick service), Boma (buffet) and Jiko (table service), but I'm sure Sanaa (maybe next visit) is equally as fabulous.  It's Boma and Jiko that keep us coming back – the food is unlike any other found at a Disney World resort and the service is always top notch.
Let's just focus our taste buds on Boma.  The African-flavor-inspired dishes on this buffet are so plentiful, everybody finds something to love.  As with all Disney buffets, there are plenty of options for less-adventurous diners like mac-n-cheese and pasta.  Boasting an impressive variety of salads (oh, that watermellon rind salad is to die for!), several soups (thus, today's Salute!), and main dishes (rice dishes, ribs, chicken, beef at a carving station, and much more)  to choose from.  And lets not forget about dessert and Boma's famous Zebra Domes (little striped cake bites from heaven)!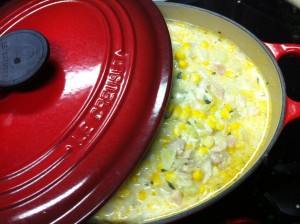 I found the recipe for Boma's Chicken Corn Chowder at Magical Recipes.  The weather here has finally cooled off a bit and that always puts me in the mood for soup.  We (Raymond and I of the empty nest) particularly like this soup because it's not only satisfying, but it has a spicy kick that makes it not-just-another chowder.  Bread and a side salad make it a meal.  Since this post is a tribute to Boma's recipe, I made it exactly as written.  I did specifically use Tobasco brand sauce because to use anything else in Lousiana is at least a sin (if not illegal).  The result?  Mmmmmmm…Good!
What's your favorite place to eat at Disney World?