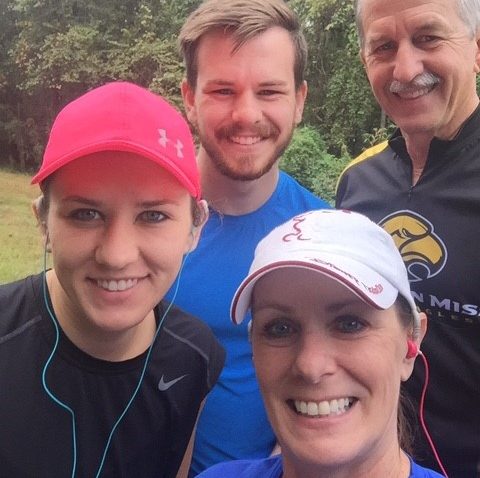 Before I review the races in 2017's Dark Side Challenge, I have to thank the people who got me there.  Having been a runner for nearly 20 years, I can say emphatically and honestly that I could never and would never have achieved what I have without the support of my family.  From the first step, Raymond has been my biggest fan and has done everything possible to help me succeed.  Primarily by believing in me most during the times when I had the least faith in my ability to go on.  He's seen me through hundreds of training miles, two full marathons, 10 half marathons, more than 30 triathlons, countless local 5K and 10K races, two bicycle wrecks, and one trip to the hospital.  He custom built my dream bicycle, taped my injuries, calculated race times, studied course maps, endured countless hours of waiting on race courses, and produced magical words that kept me going when I needed it the most.  All that, and so much more.
runDisney – Getting to the Dark Side
Setting the example for Megan and Joseph, Raymond taught them the importance of supporting your loved ones' efforts and they've risen to the standards he's demonstrated throughout the years.  From cheering me on to dog- and house-sitting while we were away at races to finally running with me, I'm a proud and incredibly fortunate mom who cannot wait to see what the future holds for us.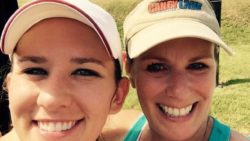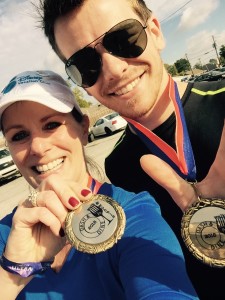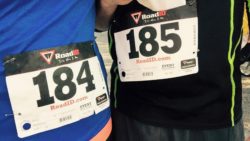 Much mother/child bonding has gone on during long, hot runs in the Louisiana sun and I've gotten to know the adult version of my children – their dreams and plans – better for the miles we've struggled through together.  While we're running, Raymond uses that time to ride his bicycle so win-win for the entire family.  Plus, all this training has meant that we all see each other every weekend and after putting in the miles, we've cooked up some delicious meals together.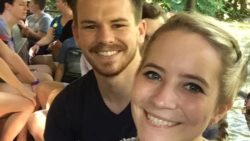 Joseph's girlfriend, Lyndsey, has even succumbed and started running with us (though I have it on good authority that the real draw for her may be the food).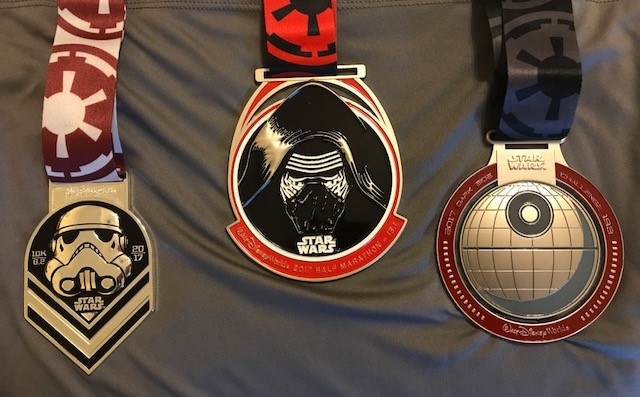 Completing the Dark Side Challenge with Joseph was unbelievably fun, but we missed Megan (who selflessly stayed home with Junior).  I'm pleased to announce that next February, Megan will make her runDisney debut with Joseph and I when we take on the 2018 Fairy Tale Challenge.
Why did we choose the Princess races instead of returning for Star Wars?
I'll be giving more detail on the Star Wars 10K and half-marathon over the next few days, but we may have completed our one-and-only Dark Side Challenge for a couple of reasons.  One:  The weather was unseasonably warm and humid.  February is a much less risky choice for good running weather.  Two:  Fewer people dressed up, there were fewer characters and photo ops on the race courses, and the general excitement and celebration that is evident everywhere during Princess Half Marathon weekend seemed to be lacking during the Star Wars events.
For Joseph's first runDisney events, the Dark Side Challenge was perfect and he thought the races were well-organized and loved the characters and extra Disney magic along the way.  I'll be curious to see how he feels about the Princess races and how they compare.  As for Megan – I've got her working on costume ideas for the three of us.  296 days to go…let's get running!