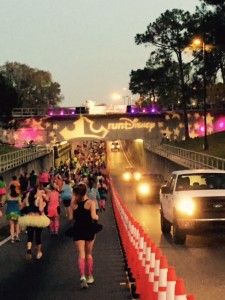 If you're considering a runDisney event and have checked out the website, you probably couldn't help but notice that folks dress a bit differently for these races.  Part of what makes a runDisney event so special is how runners show their DisneySide through their running wear.  Even if you're not the tutu or sparkly-skirt-wearing kind (I am SO not wearing a tutu), you'll want to sport a themed outfit of some sort.  No, it's not mandatory and your are certainly welcome to just wear regular running clothes, but to fully enjoy the excitement and magic of a runDisney event and look extra special in those awesome race photos, you should at least give your Disney race-wear some special consideration.
RunDisney Events – What to Wear
Personally, I prefer my Disney race wear to pay tribute to something Disney (character or attraction, for example) rather than be a full-blown costume.  Disney has recently updated their costume policy, so it pays to take a peek at the do's and don'ts.  I'm all about comfort. The last thing I want to worry about is fancy accessories and trimmings or any sort of prop.  What I do enjoy, honestly, is seeing people who go all out!  Just because at my (sort of) advanced age I'm more into comfort than runDisney fashion, I totally appreciate the time, effort, and creativity that is required for the fancier, more elaborate outfits donned for those awesome Disney race courses.  Here are some of the best costumes I saw during the Glass Slipper Challenge in 2015: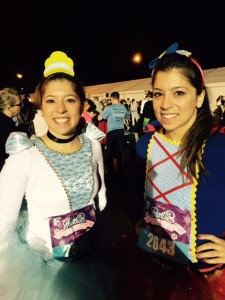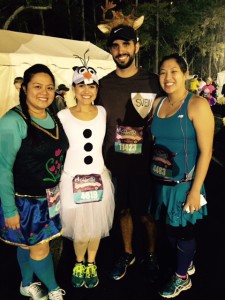 Last year for Princess Half Marathon Weekend I wore outfits that paid homage to Minnie, Donald, and the Evil Queen – all three ensembles were easy to assemble!  I planned them out many months in advance and  I was completely comfortable while running.  Most importantly, I felt like I was truly participating in each event to the fullest extent possible.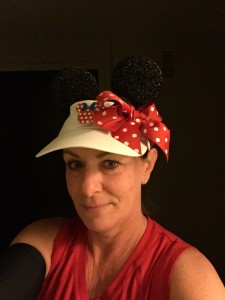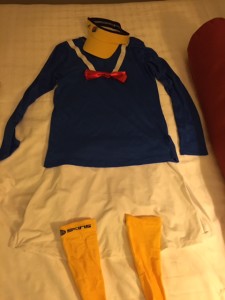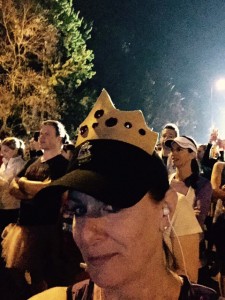 This year I'm not running the 5K so I only had to worry about what to wear for the Enchanted 10K and the Princess Half Marathon.  This trip snuck up on me!  I didn't really think about what I could wear until early January and then I had to act fast since I wanted to order several items online.  Before I reveal the chosen themes, I should explain that I pretty much always wear a cap or visor when I run.  When I'm running, sunglasses bother me so I rely on the bill of a cap to shade my eyes.  After 18 years of running, this has evolved into some weird lucky superstitious quirk.  Gotta have a visor!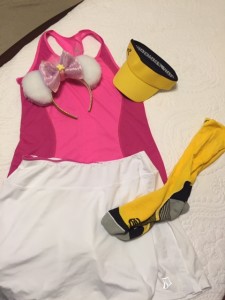 First up is my homage to Daisy outfit!  I found the fabulous Daisy-themed ears on Etsy and already had the skirt, socks, and visor from last year.  I picked up three different pink shirts from the after-Christmas-super-sale at our local sporting-goods store – tank, short-sleeved, and long-sleeved versions to cover any weather conditions possible.
For the half-marathon, I'm going with a tribute to that most iconic Disney attractions, Haunted Mansion!  The Hatbox Ghost ears are again from Etsy, the mansion wallpaper tights from an online store, and the shirt from the Disney store.  I added a black running skirt and the mandatory visor and ta-dah!  I'm pretty happy with the final look.  I'll try to find a Haunted Mansion pin to add to the visor if I have time.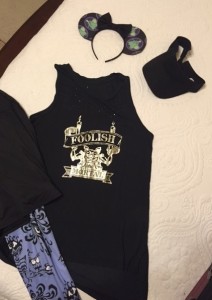 Not too fancy, didn't have to sew anything, and I'll be comfortable yet stylish.  I'm ready!  Our plane leaves tomorrow morning at 6:00 am…Glass Slipper Challenge, here I come!
Have you participated in a runDisney event?  I'd love to see your costume pictures!!!  Feel free to post them on our Facebook Page.