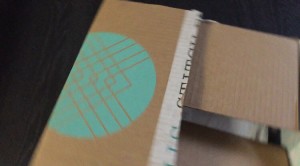 This post doesn't have anything to do with Disney, but it does involve an important aspect of Living a Disney Life and that is time management.  I enjoy writing this blog!  I love planning Disney vacations (currently, I'm working on the next three) and I am thrilled to be a co-host on The Disney Exchange Podcast with Nick and Dave.  All this Disney happiness during my non-working hours is taking a toll on my ability to enjoy one of my other favorite pastimes, shopping.
I can't think of a single time in my life that I haven't absolutely loved shopping.  I'm good at it, it's fun, and retail therapy is an important stress-reliever for me.  Lately, though, between Disney-related hobbies, Megan's wedding-planning activities, business and leisure travel and training for another half marathon – I've found I need some help with filling in gaps in my wardrobe.  Thus, I have jumped on the clothing subscription box bandwagon and have been receiving Stitch Fix boxes for the past couple of months.  As with most things in life – the results have been mixed.  I've put together some pros and cons for clothing subscription boxes in general and I'll sprinkle those in throughout this…
Random Stuff:  Stitch Fix Review (YouTube Video for Fix #3 HERE.)
In a nutshell:  You complete an online style profile (you can link to a Pinterest board showing your fashion preferences and other social media if you like), pay a $20 "styling" fee (which goes toward the price of any item(s) you keep, wait impatiently for the email that says the box of items selected especially for you has shipped, then wait (with more impatience) for the delivery.  You can get clothing and accessories – you decide how much you want of each.  If you keep all the selected items, you'll receive a 25% discount on your Stitch Fix box.  Pro:  Convenient and also fun to open the box and see what surprises are in there!
Your Stitch Fix box will always contain:
Five items (clothing and accessories)
A postage-paid return shipping bag (for anything you don't want to keep)
An invoice detailing each piece and the total with discount (less $20 fee) for keeping all items
Style suggestion cards showing photographs of each item with complete outfits/accessories
A note from your stylist
A 3-day time limit to decide what to keep. (Con:  Busy schedule may mean difficulty finding time to try on all the items and see what's already on hand for mixing/matching.)
My first box arrived – I'd been styled by a person named Heather.  My box contained a silver statement necklace (Romolo Hawkins Metal Feather Collar Necklace, $34), a black dress (Datherine Barclay Mallie Silk Dress, $104), a cream knit 3/4 sleeved shirt (Fate Celaya Mixed Material Knit Top, $54), a pair of distressed boyfriend jeans (Kut From the Kloth Kate Boyfriend Jean, $78), and a sleeveless blouse (Collective Concepts Lydia Floral Print Key-Hole Blouse, $68).  Honestly, I didn't love anything and only liked the necklace enough to keep it so I wouldn't completely lose my $20 styling fee.  Some of the items I actually hated passionately.  I'm all for trying new things – and I did try each item on with an open mind. Con:  Many of the items are pretty pricey for what they are.  Pro:  Getting to try everything on in your own home with items you already own!  Here are the results: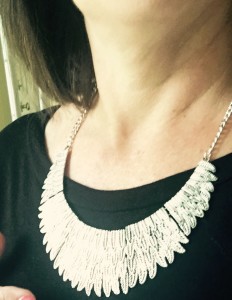 My thoughts: The necklace is fine for both work and casual wear. I like silver.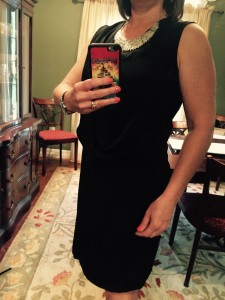 The black dress made me look like a box and to make matters worse, it had this giant flap of fabric dangling over the waistband in the front which was both strange and unflattering.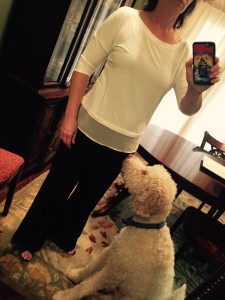 The cream knit top was thin, short, and, as you can see, even Junior thought it left a lot to be desired.
The boyfriend jeans were heavy, thick denim with baggy knees – there was nothing good about them.  I'd seen them in other reviews and on Pinterest and wanted to try them…they were just not for me.
The blouse was busy!  And it had that ONE medallion right over…well you can see in the picture.  I thought maybe I should edit my style profile and give the process another go and maybe I needed to pin more stuff on my Pinterest board, so I did that as well.
In a few weeks, Stitch Fix round two arrived.  This time, I had a different stylist, Lana,  who seemed to understand me better…I was prepared to dislike the two items I ended up loving from that box.  Yes, I kept TWO things this time.  Here are the results: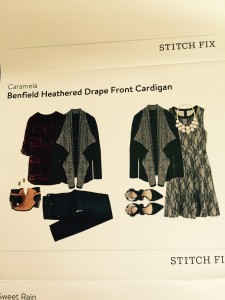 There are no pictures of me in this cardigan ($58) – it was absolutely huge and while it would have been great for our Disney cruise in Norway, I looked like I was playing dress-up in it.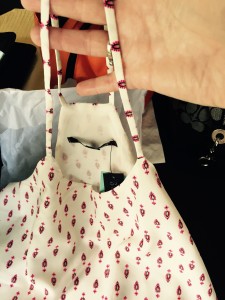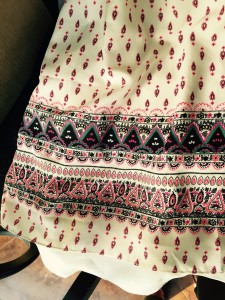 This blouse (Sweet Rain Pax Chiffon Trim Blouse, $38) was very pretty, but I want wider straps!  At this point in my life, strap-less bras are not my friend.  Plus, if I have to wear a tank under a shirt to make it work, it's too hot to wear here in a Louisiana summer.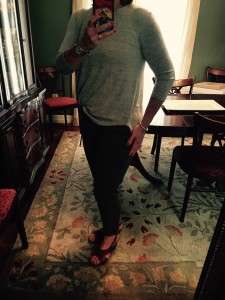 In this dark, poor picture (I'll do better, I promise) you cannot see that the pants are olive (Kut From the Kloth Siena Capri Pant, $58), super lightweight, and adorable (kept!).  The gray shirt is a thin, heathered sweater material – dressy enough for work, but also perfect for casual wear (RD Style Keira 3/4 Sleeve Split Back Knit Top, $48).  The split back is fun and interesting.  I wore this on the Disney cruise and it was very soft and comfortable.  Then I wore it to work and got a ton of compliments on it.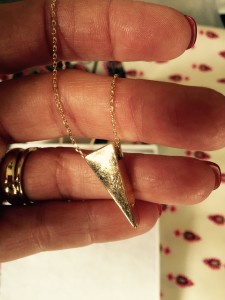 This gold necklace looked cheap (Zad Winnie Pave and Spike Necklace, $28).  It also reminded me of either a wedge of cheese or a slice of pie and I couldn't imagine ever wearing it…so, back it went with the print top and cardigan.  My hopes were high for round #3.
June Stitch Fix (#3) – Look!  The photos are fancier and I used them in this YouTube "Unboxing" video (if you want to check it out).  This time I was styled by Kristen M.  She had the right idea, but sadly, the fit was poor on all three of the shirts in this fix.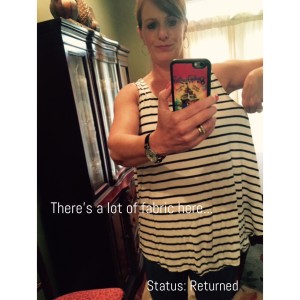 I like tank tops for summer, but this one was ill-fitting and made me look HUGE!  (Hem & Thread Aldwick Swing Knit Tank, 38)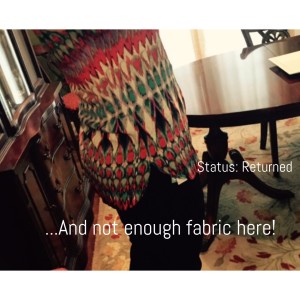 This top had lots of color and would have been versatile if it had fit around my hips, but it was too tight.  (Market & Spruce Coval V-Neck Top, $44)
This green tank had a beautiful back detail, but was not for me!  It wasn't just a little bad, it was horrible.  It did look better under the navy blazer, but then the back would be hidden. (19 Cooper Marlow Crochet Back Detail Top, $48)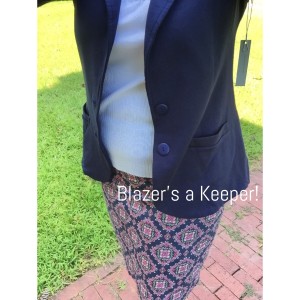 The navy knit blazer is a perfect year-round staple – plus it's super soft and comfortable. (Tart Kaylie Solid French Terry Blazer, $128)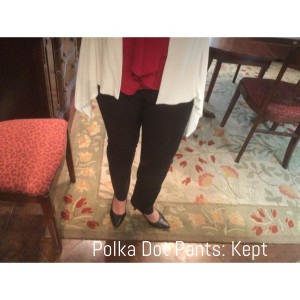 Yes, they are ridiculously expensive for pull-on pants, but the picture cannot do justice to the flattering fit of these britches!  I felt 10 lbs lighter!  Plus, they're very comfortable and multi-seasonal. (Margaret M Emer Polka Dot Print Hight Waisted Cropped Pant, $98)
All in all, I'll be giving Stitch Fix at least a couple more tries.  This time I fine-tuned my style profile a little bit more and tried asking for specific items like a white jacket or cardigan and dark-wash jeans.
If YOU are interested in trying Stitch Fix and you use my referral link, I will receive a $25 credit.If you have any questions, I'll do my best to answer them.  Thanks for reading!