Please note: The advance purchase price for Memory Maker has increased to $169 (from $149) since this post was originally published.
As you may be aware (it seems to be all I talk about lately) – The Fam and I are headed to Walt Disney World next month.  ADRs (Advance Dining Reservations) have been booked for a while, FastPass+ rides and attractions have been selected, touring plans have been meticulously mapped out.  Park tickets have been purchased – annual passes for Raymond and I, 6-day park-hoppers for the offspring.  Everything and everyone has been entered and linked in My Disney Experience.  All set.  Until Raymond said, "What about Memory Maker? Do we want that?"  Oh, Gosh, I'd overlooked it – completely forgot that PhotoPass had been replaced with the new Memory Maker program.
Did we want to fork over the advance purchase price of $149 (buy early and save $50, purchase at Walt Disney World, $199) for all the theme park photos we can gather?  That's a pretty steep price.  The Disney photographers are variable in their photography skills – some are super awesome and some are just okay.  We'd have to take the time to have a big bunch of pictures taken for a decent chance of getting $149-worth of good pictures.  What's the most I've spent on PhotoPass photos in the past?  About $50 – not counting the photo book I ordered for $75 for Father's Day a few years back. So, back to the question at hand – to shell out some pretty substantial clams or not.
I actually didn't hesitate.  YES!  We must have Memory Maker!  And do you want to know why I enthusiastically insisted we part with the cash immediately?  Ride photos (which we rarely buy) and PhotoPass pics are practically the only ones we have with ME in them!  No kidding.  I take nearly all the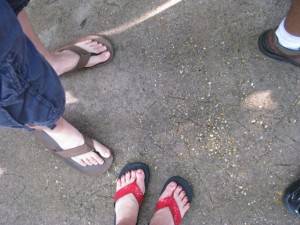 pictures – there are literally thousands of pictures of Raymond, Megan, and Joseph.  Pictures of me? Yeah…not so many.  I've resorted in recent years to taking pictures of my feet and my shadow sometimes – proof that I was actually there.  Once in a while, someone will offer to take a picture, but not very often and I have been reduced, in a desperate moment, to taking the dreaded selfie – I never like the odd angles and how close up they are – I'm no spring chicken and those close-ups are NOT flattering.  Maybe my arms are just too short.  So – off we go next month to rack up hopefully a hundred pictures in which I will appear!  Me!  As seen on vacation with my family!  And that will be, as they say in a certain television commercial…Priceless.
So what about YOU?  Who takes your Disney vacation photos?  I'd love to see one, so go share on Living a Disney Life's Facebook page, okay?