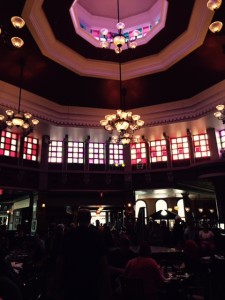 With all the new shops and restaurants opening in Disney Springs/Downtown Disney, it'd be easy for most people to pass up an old favorite and try someplace new, I suppose.  Not for us, though.  We'd have to put aside a many-years-long vacation tradition to visit Disney's shopping and nighttime entertainment center and not stop at Raglan Road.
At first glance, Irish Pub and family friendly seem a strange and unlikely combination, but that's the draw of Raglan Road to us.  It really is a great place to enjoy excellent food and fantastic entertainment – for the whole family!  If you've read my dining reviews before, you know I want a good place to sit, decent service (at a leisurely pace), and great food.  Raglan road has never let us down on any of those criteria plus they have the added bonus of some fun and wonderful entertainment.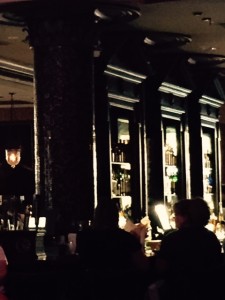 A couple of months ago, we visited Raglan Road once again and, to me, we had the best seats we'd every had.  We got there early and stayed late – our only goal for the evening was to be back in the Magic Kingdom for Wishes and the Main Street Electrical Parade.  Plenty of time with an early 5pm ADR (advance dining reservation) to relax, eat too much, and enjoy some excellent music and watch some fun and lively Irish Dancing.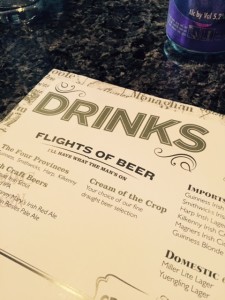 We arrived to find we were a few minutes early and there was plenty of room open at the bar.  We checked in at the reception desk first, picked up our pager, and selected a couple of beers to enjoy while we waited.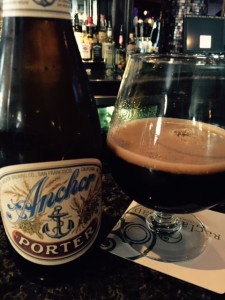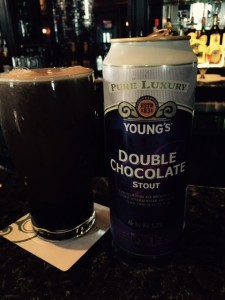 In no time at all, we were being shown to our table…and an excellent table it was.  To the right of the stage, we had excellent seats to see and hear the live music and dancing.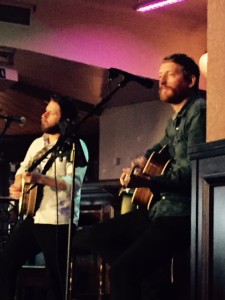 Our server arrived promptly and (let me just disclose now that we were hungry…very hungry) took our appetizer order.  If you've never had the ribs at Raglan Road, I feel sad for you.  "Heaven on Earth – Baby back ribs tossed in a Guinness glaze." – they are both sweet and savory, tender and crispy, perfect bites of meaty goodness.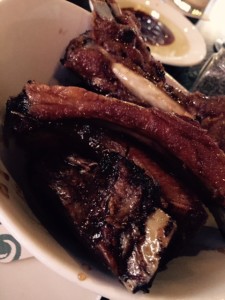 We also enjoyed (we always do) the bread and dipping sauce.  This sauce, like the ribs, makes use of a Guinness reduction.  Words cannot describe, so trust me when I say, the hearty bread and the slightly sweet, dark sauce combine perfectly.  If I could only duplicate it at home…wait, no, that would be bad and counterproductive to my weight management goals.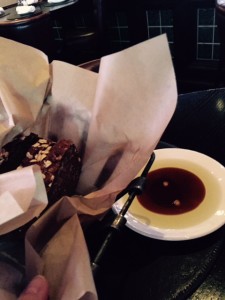 We ordered a salad to share.  Did I say we were hungry? "Cashel Castle – Crumbled Cashel blue cheese, caramelized pecans, grape tomatoes, raspberries, pancetta crisps, crostini's & raspberry vinaigrette."  You can add shrimp or chicken, but we just wanted the salad as is.  The flavors sounded like a wonderful combination – and they were!  Ribs, bread, salad, and still hungry.  Time for the main course!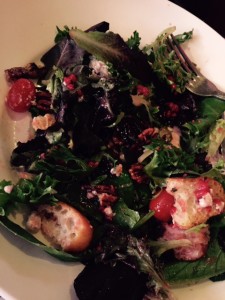 Raymond chose the ham and I chose the lamb.  Honestly, I was totally shocked by my sweet, but kind of picky, husband's decision to order something with cabbage in the description:  "Kevin's Heavenly Ham – Irish Mist glazed loin of bacon with savoy cabbage, colcannon potatoes, parsley cream sauce and a raisin cider jus."  Must have been the description of the ham that sealed the deal and, sure enough, he was quite pleased with his choice.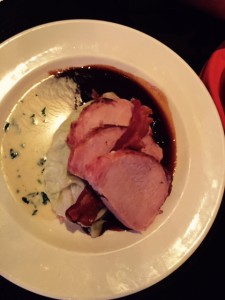 Upon our server's recommendation, I ordered the lamb – " Lambo – Lamb shank braised in rosemary jus with mash, leeks, shitake mushrooms & baby carrots."  This absolutely yummy dish did not disappoint.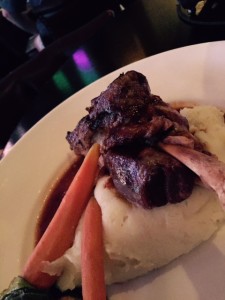 Full as can be, don't ask me why, we got a little crazy.  Must have been the music, but we decided to stay for dessert.  We still had plenty of time to spare, so with dessert we ordered up a couple of Irish coffees.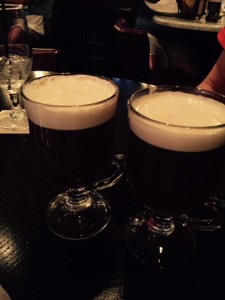 I'm so sad I could not do justice to my selection!  The menu said, "Ger's Bread & Butter Pudding  Like no other pudding you have ever tried.  Believe us." – and the menu was right!  Holy Moly – that concoction was nothing short of amazing!!!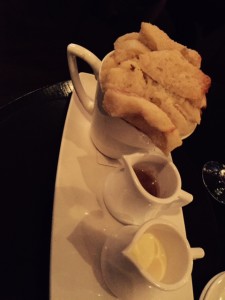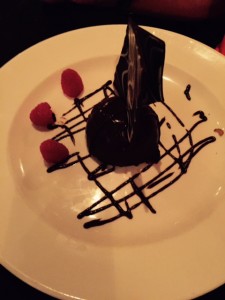 In fact, I took a picture of Raymond's chocolaty plate, but I have absolutely no idea what he ordered.  I wasn't sharing mine, so I certainly wasn't going to ask for a bite of his.
I'm not exaggerating when I say we could barely waddle out of Raglan Road that night, but we had an absolutely wonderful dinner.  AND we made it back to Magic Kingdom in plenty of time to lower our overly-full selves down onto a Main Street curb in plenty of time to see both Wishes and the Electrical Parade.
Have you eaten at Raglan Road?  What did you enjoy most about it?