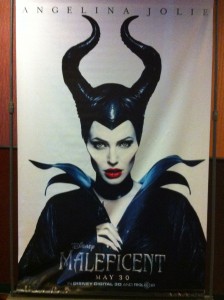 It's a fairytale, people!  Please keep that in mind when/if you see this movie.  I avoided reviews and comments about Maleficent prior to seeing it (promptly upon my return from Walt Disney World).  Then, afterwards, I let myself check out the widely varying opinions of others – and there are gobs of them that range from "loved it" to "it was complete trash" (or worse).
I'm not hard to please.  I like my fairytale movies to have plausible (yet completely impossible) elements – based on whichever reality in which the story takes place, characters with lots of flaws, valuable life lessons, good versus evil (and the blurry spaces in between) – all tied up with a nice neat happy ending.  If you fall in a similar entertainment-viewing category, you will like Maleficent just fine.  Oddly enough, the entire story reminded me of a gigantic episode of ABC's Once Upon a Time – which was a plus since I'm just wild about that show!
I saw it in 3D and contrary to some other viewers' opinions (really raging, angry opinions, to boot), I was not at all bothered by any of the CGI effects.  Quite the opposite, in fact.  I didn't scrutinize them at all, but rather accepted the CGI characters and scenery in the spirit in which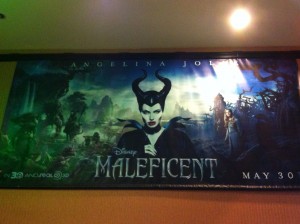 they were generated – to create a wonderful fantasy land in which our characters could carry on their story.
The casting was just fine overall.  Angelina Jolie was stunningly beautiful as Maleficent – breathtaking!  She owned that role completely from her gorgeous red lips to her perfect tone of voice – delivering each line precisely with the perfect amount of emotion – I could have closed my eyes and imagined exactly how she was feeling at any given time, but to look away from that face during the movie would have been impossible.  Maleficent-the-being grabs you from the first and pulls you in completely – to understand her, to know her, to love her.  Elle Fanning as Aurora was well done and I completely disagree with ridiculous reviewers who didn't think her beautiful enough – she was.  Inside and out…the character was supposed to be a beautiful soul as opposed to simply a visual stunner.  Elle Fanning captured that perfectly.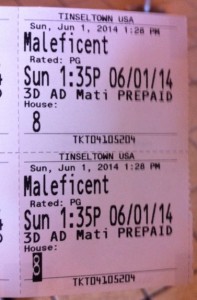 There were a bunch of reviews that groused about the plot – perhaps they searched too hard for pro-feminist politics or a deeper meaning for "true love's kiss".  I liked the story – I "got" the plot and felt it was neither too deep nor too shallow.  I found (this is me and my opinion) the movie to be visually stunning and thought provoking to just the right extent.
If you are looking for a deeply moving social commentary on women's roles or unresolved childhood issues – please pass on Maleficent.  If you're looking for a stunningly presented fairytale with all the right elements, interesting characters, and the perfect ending – dish out the $$ and see Maleficent on the big screen – in 3D if you can.
Have you seen Maleficent?  What's your impression of the movie?