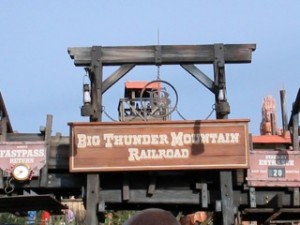 "Howdy, folks! Please keep your hands, arms, and legs inside the train, and
remain seated at all times. (Laugh) Now then, hang onto them hats and glasses,
'cause this here's the wildest ride in the wilderness!" – Big Thunder Mountain's Prospector
Frontierland in Walt Disney World's Magic Kingdom is chock full of action-packed, fun-filled excitement.  So much to see and do packed into one place – Tom Sawyer Island, Country Bear Jamboree, Frontierland Shootin' Arcade, Splash Mountain – and the attraction I want to talk about today….Big Thunder Mountain Railroad,  There is SO much to love about this ride – it's an absolute "must do" for every Disney World visit.
Since September of 1980, Frontierland guests at Magic Kingdom have been hopping aboard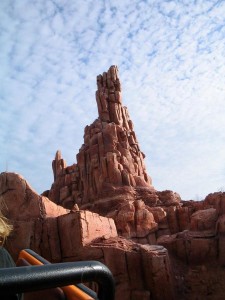 this runaway mine train in the Wild Western landscape (based on Monument Valley in Arizona) for a super-fun, thrill-filled ride.
What's so great?  That's easy:
The music!  The setting is the gold rush era of the late 1800's and the music fits the times.  Personally, I love the song "Big Rock Candy Mountain".  Listen carefully and you'll also hear "Buffalo Gals", "Pecos Bill" and more!
The Prospector!  Isn't it always the little details that make Disney attractions so fantastic?  The announcer on this ride is every bit as loveable as Haunted Mansion's "Ghost Host" or Dame Judy Dench in Spaceship Earth (Epcot).  Voiced by the late Dallas McKennon, the prospector (and his safety warning) is an essential part of the experience we've grown to love at Big Thunder Mountain.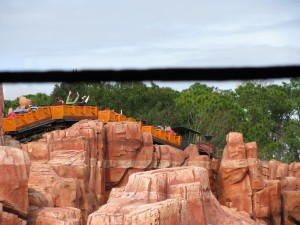 The dips and curves, the drops and tunnels!  It's not just any old mine, but a haunted one in the American Southwest.  This ride's got a lot of thrills, but in a middle-of-the-road way.  Not as tame as Barnstormer (Magic Kingdom, Storybrook Circus) nor as extreme as Expedition Everest (Animal Kingdom, Asia) – Big Thunder's perfect (and not too jerky) for most thrill ride fans.  Yes, that's my opinion – your actual experience may differ.
The length of the ride!  For riders (over 40″ tall) there's a LOT to enjoy during the very impressive nearly-4-minutes it takes to ride this attraction.  That's a long time!  Even then, it'll leave you wanting more because…
There's so much to see!  The scenes, the scenery, the characters – all so cleverly crafted!  Ride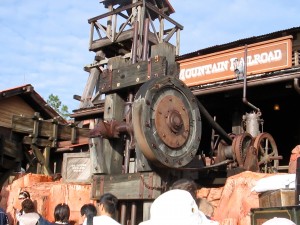 again and again – you'll have a hard time taking it all in during just one or two times around.  Personally, I love the mountain goat, the dinosaur bones, the guy in the bathtub, and the mule!
The Fam and I have not ridden BTMRR since before it's 2012 rehab and are rarin' to go on our next visit to the World later this spring.
When's the last time you rode Big Thunder Mountain Railroad?  Is it one of your "must-do's"?