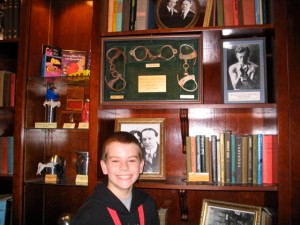 Gone but not forgotten!  The magic store (Magic Masters) in Downtown Disney was, hands down, one of our top must-do's on every Walt Disney World vacation.  Easy to find along the West Side shopping district, the giant top hat and magic wand on the store's front were iconic.  When we heard that the store would not be renewing their lease and would leave forever in September, 2011, we were crushed.  Oh, the fun times we'd had in that store!
Designed to look like the library one might find in a magician's home (Houdini's to be exact) – complete with fireplace and bookcases, and enchanted tools of the trade, this store was…well…magical.  No matter when we visited, a magician was on hand to demonstrate sleight of hand.  Those magicians were true showmen.  Not only would they flawlessly amaze and astound onlookers with their magic, they were true performers…drawing audience members into their show skillfully and cleverly until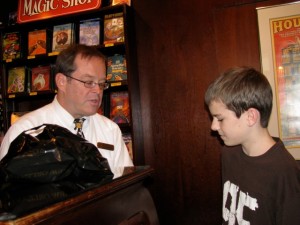 every single person in that tiny, crowded space was breathlessly hanging onto the magician's every word and gesture.  Then…presto!  The line at the cash register would form…as if by magic!
So many tricks and tools of the trade could be purchased in the confines of that enchanted store!  We never, ever left empty-handed.  The beauty of the whole setup was that you could see a real magician perform a trick flawlessly – then learn the secret!  When you purchased tricks, you received coaching right then and there on exactly how to get it right.  With a little practice at home, friends and family would be genuinely impressed by your skills in prestidigitation.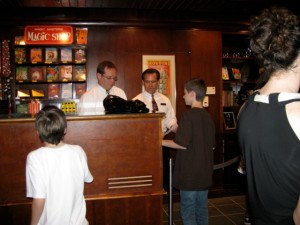 After TEN years, Magic Masters in Downtown Disney closed its doors.  Of all the things that have come and gone at Walt Disney World, this one shop, which had meant so much to our family during each of our visits, was one that had a huge impact on us.  We miss it still and will certainly reminisce about the happy times we had there for many years to come.
Do you remember Magic Masters?  What former Walt Disney World store or attraction is the one you miss the most?