In the weird way of coincidences, Nick, Dave and I recorded episode 153 of The Disney Exchange on my 53rd birthday.  I was filling the guys in on my recent trip and afterwards remembered a story I meant to share about one particularly awesome Disney moment in a vacation chock full of them.  Before I tell you all about it, let me emphasize something…
Magical Disney Moments are Alive and Well
In my last post, I mentioned the perfect same-day FastPass I managed to snag for Tower of Terror while we were finishing up our touring plans at Magic Kingdom.  Raymond and I hopped to the Studios, arriving about an hour before our FastPass window opened.  
We took our time soaking up the Christmas-y atmosphere on our way to 50's Prime Time's Tune-In Lounge for a beer.  It's our go-to place now that Min & Bill's Dockside Diner doesn't carry good craft beers anymore.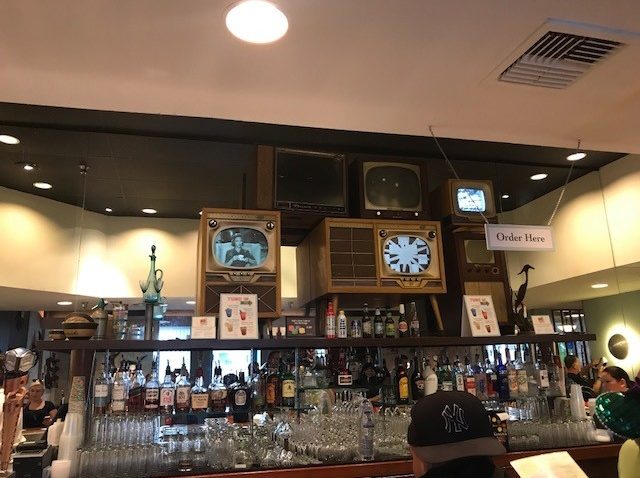 We couldn't have been happier or feeling more Disney-ish.  Peppy Christmas music was playing and one of us might have actually been dancing down the street in joy.  I was wearing my favorite Darth Vader holiday shirt.  As we made our way along, we spotted a couple of Storm Troopers on patrol.  I've been super excited about Galaxy's Edge and have loved the build-up to it with more and more Star Wars action in the park.  I soon found myself walking right behind one of the Storm Troopers and quietly said to his back, "I'm with the Resistance."
Much to my surprise, he heard me!  Before I took another step, that Storm Trooper spun around and jumped back, pointing at me!  Very loudly, he informed me, "The Resistance will be crushed by the weight of the First Order!"
I can't imagine what my facial expression must have been.  I was shocked!  I was thrilled!  And slightly embarrassed (I actually blushed).  What a cool thing to happen!  Then the Trooper abruptly spun back around and continued on his way.  I looked at Raymond and found him very clearly amused at this unexpected turn of events.
To remember the occasion, we made sure to get a picture of us channeling The Force in front of Tower of Terror.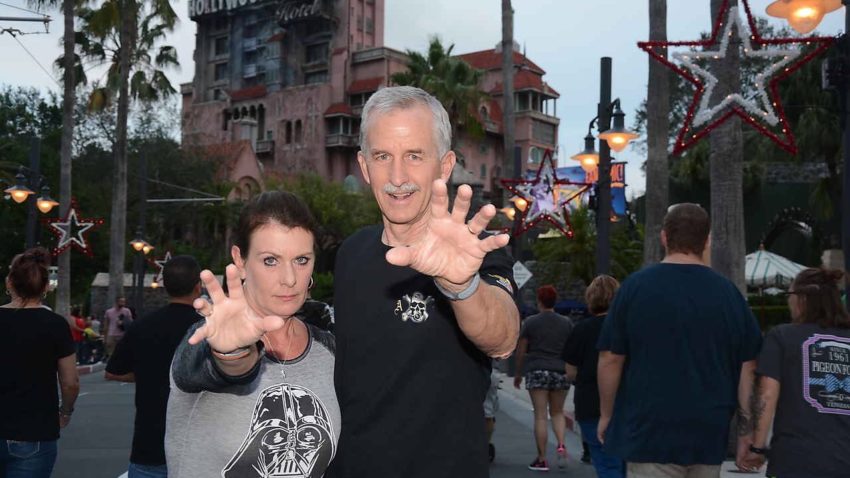 In case you've heard some negativity lately about the decline of Disney magic at Walt Disney World, I'm happy to say that it's alive and well and still making us happy after nearly 30 years of visits.  When we arrived at Tower of Terror, a bellhop named Michael was so amazing, he had the entire group in our service elevator laughing hysterically before the doors closed.  It's still there, the magic, you just have to watch for it!
Have you had a magical Disney moment lately?