A couple of common mottos or sayings apply to me.  We might call them "Lisa's words to live by".  They are:  "Go big or go home" and "If you can't run with the big dogs, stay on the porch".  The latter being one I learned shortly after moving to Louisiana in 1988 – I love that one!  I want to go big!  With everything I do – I'm all in.  I want to hang with the cool kids and I'm not watching from the porch!  Now that you know those little quirks, lets go back to early last year when I saw a slew of posts on social media about something called a #DisneySide @Home Celebration.  Those posts were everywhere!  Twitter, Facebook, Instagram, YouTube even – tons of bloggers in general and fellow Disney fans in particular were talking about their #DisneySide parties – I confess I was a little envious and a lot curious.  I felt left on the porch.
It didn't take me long to figure out how to throw my hat in the ring – I registered at MomSelect (BSM Media) and indicated my interest in hosting a party at home.  Then I got busy with an eventful rest of the year and didn't think about the party again until December when I received an email inviting me to apply to become a host.  I applied and was notified that I'd been selected as a party host a couple of weeks later.  Why, you may be asking, would someone have to apply to host a party at their own expense?  What's the deal?  What's in it for the hosts?  Good questions!  If you are selected to host a #DisneySide @Home Celebration, you receive a big box of party supplies and other assorted goodies and samples based on information you provided on the application about what type of party you'd like to have.  On my application, I indicated that I have grown children and would like to host a multi-generational party for extended family and friends.  If you apply and are selected, you must agree to host your party in January or February…this is where, for me, this adventure gets a bit dicey.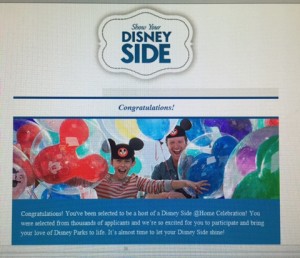 As I type this, I'm checking my UPS delivery app to track my very own box of awesomeness (in transit).  I'm sitting in a hotel room in Baton Rouge where I'm staying on business.  I'll be here again next week for a couple of days – and yet again the week after that.  I also have that little trip to Walt Disney World coming up in four weeks to run the Glass Slipper Challenge.  To pull of the most awesome party possible in the middle of all this craziness, I needed to jump the gun and choose a party theme, party date, and mail invitations – all before actually receiving the party supplies!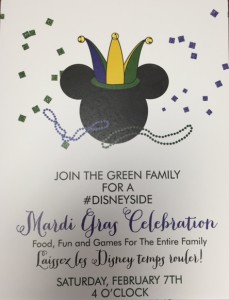 There's no better time to have a #DisneySide party in Louisiana than during Mardi Gras season!  Disney and New Orleans have been intertwined for many years and I'm having an absolute blast planning every detail of my own tribute to that old and established relationship.  The date has been selected (February 7th). The invitations have been printed and mailed.  The menu has been planned and the decorations have even been going up.  Mardi Gras colors are green, purple and gold – they will play a big role in making this celebration a success.  Stop back here and watch as events unfold.  Also, I'll be posting on Facebook, YouTube, Twitter, Instagram and Pinterest if you want to follow along in any of those places.   Laissez les Disney temps rouler!