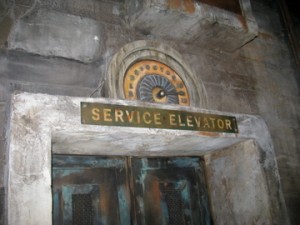 Back in 1990 when I first visited Disney's MGM Studios, it was just 8 months old.  Fresh, new, exciting – I was amazed by its unique charm and the surprises it seemed to cram into every alleyway and corner.  I liked its more adult humor and how it felt like a real working studio.  A lot has changed in 25 years!  "MGM" is gone and so are some of the coolest things from way back when, but Disney's Hollywood Studios is still a great place to visit!  There are a few naysayers in the Disney community who don't like the studios, think it's a half-day park and needs improvement – they're certainly entitled to their opinion.  And, if you want to focus on the way things used to be, the good ol' days always seem better – as nostalgia tends to provide a glossy coat of perfection.  Personally, I'm still crazy about the Studios!  I think the park has plenty of entertainment to offer guests of every age.  And so, on this very special occasion, I give you…
25 Things to Love about Disney's Hollywood Studios:
1. Walt Disney: One Man's Dream – For true Disney fans, this is a must-see exhibit; sure to bring a tear to your eyes.
2. Do Not Pull Rope – I love this little surprise over by the Indiana Jones theater.  If you've not had the pleasure, go ahead, pull the rope – you're bound to get a kick out of what happens.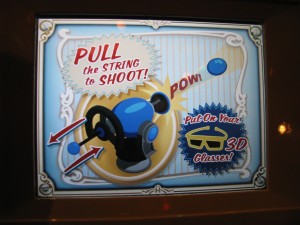 3. It's Not About the Score – I know I've complained about the standby line for Toy Story Midway Mania, but I LOVE this ride!  Launching all those virtual missiles and wreaking havoc on the midway makes me irrationally happy!  Even if my score is notoriously low.
4. Pixar Place – It's fun!  A bit of a hidden surprise if you don't know what to expect as you're on your way to ride #3  – I like that!
5. Foot and Hand Prints – If you didn't get to visit in the early years, pre-giant-Sorcerer's-Hat, the Chinese Theater was the main attraction!  Before you head inside to the Great Movie Ride, take a minute to enjoy the collection of famous foot and hand prints in the cement outside the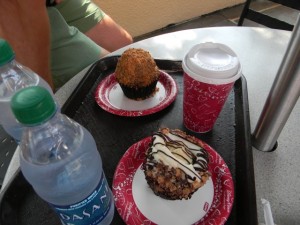 theater.
6. Starring Rolls – This stellar café, located on Sunset Blvd is the perfect place to stop for breakfast, lunch, or a snack.  Butterfinger cupcake anyone?
7. Random Drop Sequences – Everything about the Twilight Zone Tower of Terror is perfect to me, but the ride's random drop sequences – which ensure every visit to the tower is different – are what makes the trip in the service elevator so fantastic!
8. Fantasmic – It is great.  Nothing else to say.
9. Aunt Sandy – and ALL the other waitresses and waiters at 50's Prime Time Café!  You've got to dine here at least one time – but you'll be back for more.  A word of caution:  Don't put your elbows on the table or fail to eat those veggies!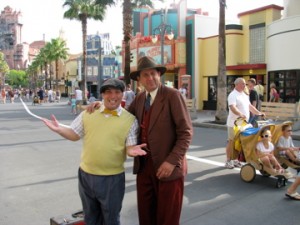 10. Streetmosphere A.K.A Citizens of Hollywood – This is a huge part of what makes the Studios so special and charming.  If you can spare the time, do not miss an impromptu performance of these amazing characters if you see one taking place.
11. A Net Full of Jello – I'm sure it takes an above average intelligence to appreciate all the puns and sight gags in the Studios and that explains why they're my absolute favorite details.  Inside the MuppetVision 3D building's pre-show area, look up for this tribute to one of the very first Mouseketeers on the Mickey Mouse Club – Annette Funicello…get it?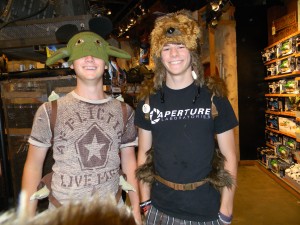 12. Star Wars Weekends – Compared to others, I'm not a huge Star Wars fan, but the excitement in the air in the Studios during weekends in the late spring is irresistible.  So much fun!  I'm pretty stoked about the special fireworks during this year's festivities – Symphony in the Sky.
13. Munchkins – People are always saying the Great Movie Ride is outdated, getting old, needs an update, young folks don't "get" the movies referenced – Pfffft!  Heck no!!!  You young'uns, so fond of stuff like Netflicks, need to get some classic movie education and THEN you will better appreciate the perfection of each scene.  Oh, hush up about the guides and their cheesy skit – this is GREAT!  Best part is the Wizard of Oz scene, no?
14. Toluca Legs – I've dissed the legs here for their fat gram and calorie count, but they sure do smell delicious!  Everything in moderation, right?  Maybe just a bite.
15. Remnants of Roger Rabbit – Back when the Studios was a brand new park, Roger Rabbit was in his heyday.  Tons of movie memorabilia and merchandise could be found all over the place.  Then almost all evidence of Roger's existence was annihilated.  So sad.  Detailed information can be found in this Mouse Planet article by Jim Korkis (why Roger disappeared) and this one by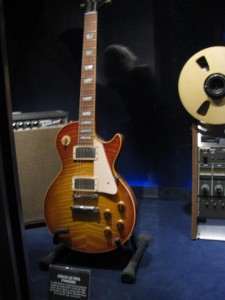 from the Mickey Mindset blog by Mitchell Stein (where to find the remnants).
16. Love on a Roller Coaster – Step back from the actual ride itself – it's often too much thrill for a lot of folks on the spiraling super-fast Rock'n' Roller Coaster – and just take in the details!  Special version of a classic Aerosmith song recorded JUST for this attraction…I think that's cool.
17. Osborne Family Spectacle of Lights – Holiday dancing lights from early November through Early January…amid rumor's of its demise, this attraction has become tradition for so many families!  If the rumors are true, the holiday season at Walt Disney World just won't be the same.
18. Min and Bill's Dockside Diner – I go for a beer.  Makes me happy.  'Nuff said.
19. The (Once) Glorious Studio Backlot Tour – It really was the best attraction in the park.  Don't dismiss it because it's not as special now – it's still pretty good.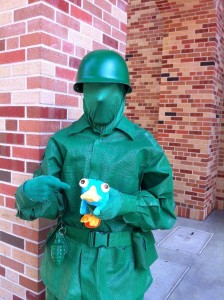 20. Characters – They're just so special in the Studios.  Changing all the time and different from the ones you find at the other parks – I'm partial to the green Army Man in Pixar Place, but have had meet and greets with many really great characters over the years – most of the time purely by accident.
21. Miss Piggy as The Statue of Liberty – Outside the MuppetVision 3D theater is this fountain.  If you haven't really taken a good, close look…it's worth a visit.
22. The Nostalgia of Indiana Jones – Those naysayers who spout negativity about poor Indy's Epic Stunt Spectacular aren't watching it with my 50-year-old eyes.  The nostalgia of this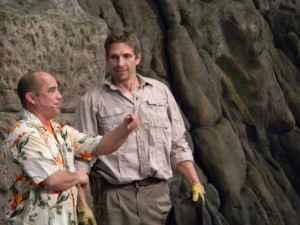 attraction!  Takes me right back to the summer of 1981 when Raiders of the Lost Ark was the best movie I had ever seen.  Ranked right up there with Rocky and Star Wars.  Seriously.
23. The Rebel Spy – Star Tours was, you know, just okay before its upgrade – now it's a LOT of fun.  Especially when an unsuspecting member of your party is the Rebel Spy!  I love it.
24. Gertie the Dinosaur – On the shore of Echo lake, Gertie's an important fixture.  There's speculation she'll have to go if the park expands – I'll be pretty sad about that if it happens.  The Studios just wouldn't be the same without her.
25. The Fountain from Splash – Again, unless you remember when the movie Splash came out (Ron Howard directed, Tom Hanks and Daryl Hannah starred along with John Candy and Eugene Levy) in 1984, you might not appreciate how very cool it is that the famous fountain from the movie is sitting right there near the Studio Catering Co.
Happy 25th Anniversary Disney's Hollywood Studios!
I'm sure you can think of a few things you love that didn't make this list.  What would you add?