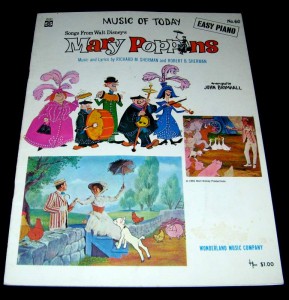 I have a special attachment to Mary Poppins.  And it's not just because the movie and I are the same age.  Oh, I've seen the movie a time or two – but not as many as you'd think, considering.  I will tell you that I know the words to most of the movie's songs.
I have strong childhood ties to those catchy, cleverly composed Mary Poppins tunes – wonderful memories that are among my happiest of all – because when I was little, my mother loved to play the piano and I loved to sing along.  At some point when I was very small, my mom bought the songbook of sheet music from Mary Poppins.  I can remember her telling me a song's  words then letting me sing them while she played each line – so this must have started before I could read.  I have vivid memories of sitting on the piano bench next to my mom (on her left) while she played.  Following along, belting out those Poppins tunes for all I was worth in my little-girly voice – "With tuppence for paper and strings, you can have your own set of wings.  With your feet on the ground you're a bird in flight with your fist holding tight to the string of your kite…"
I've promised myself a treat today if I cross off everything on my to-do list – I'm going to try to see Saving Mr. Banks this afternoon – I'm a little worried about my sappy sentimentality kicking in and making me cry, but I really want to see it, so I'm willing to take my chances and bring plenty of tissue.
So off I go – gotta get busy making a quick grocery run, baking some cookies, wrapping gifts, putting this messy house in order – you get the idea.  Wish me luck!  If I do make it to the movie I'll let you know what I thought about it.
List of Songs from the "Songs from Walt Disney's Mary Poppins" easy piano song book:
Chim Chim Cher-ee

Feed the Birds

Jolly Holiday

Let's Go Fly a Kite

(A) Spoonful of Sugar

Stay Awake

Step in Time

Supercalifragilisticexpialidocious