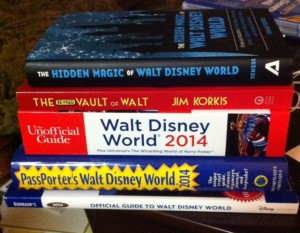 I did an earlier post about Disney resources available online, detailing websites that I believe are excellent for researching all manner of Disney travel information – specifically Walt Disney World trip planning tidbits.  Today I want to talk about some of my favorite Disney resources of the old-school variety – the ones you can carry around with you, the ones that have pages you can touch and turn.  Ones that you can enjoy for hours and they will never give you a "low battery" warning.  Strange as it may seem in this day and age of technology, I still love books and find them invaluable as Disney vacation planning resources.
Maybe I'm old fashioned, although I do possess mad internet searching skills, wicked Pinterest pinning prowess, and ingenious Instagram involvement.  I think books are still useful and important to my everyday happiness.  I currently have in my Disney planning arsenal three excellent, hot off the presses, up to date Walt Disney World informational books…but I promised you FIVE Disney resources and I'll deliver, but the last two are less travel planning info and more trivia, stories, and historical information-type books that I believe are excellent entertainment.
Here we go:
1.  Birnbaum Guides 2014 Official Guide to Walt Disney World – "Expert Advice from the Inside Source" (for Kingdom Keepers fans, this book has tie-ins to that book series).  With only 275 pages, this Official Guide has some good, well-organized information – all will be 100% positive.  The glossy pages and beautiful pictures bring Walt Disney World to life in your hands.  Looking for balanced feedback?  Look someplace else.  Just the happy facts here, but the information on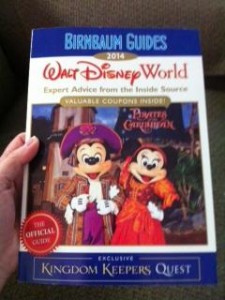 things like budgeting, vacation planning (6+ month plan), sample park schedules (one-day and half-day versions), transportation and dining is excellent and well presented.  In each park's section, there's a "Park Primer" page that consolidates useful information like the location of baby facilities, disability information, lost and found, ATMs and more. The resort-finder matrix pages allow resort comparisons at a glance and the book's color-coded easy to navigate sections are really packed with excellent, useful information at a very reasonable price.  MSRP $17.99 U.S.
2. The Unofficial Guide Walt Disney World 2014, by Bob Sehlinger & Len Testa – Before the Appendix and Index, this baby packs a whopping 774 pages with mostly Disney information.  No glossy pages or colorful photographs here (only the occasional map or cartoon), this book is 100% information and does make an effort to provide balanced feedback.  The section on "How to Evaluate a Walt Disney World Travel Package" gives the lowdown on how to get the most for your money.  The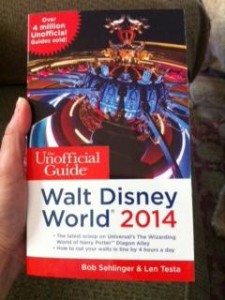 Disney property hotel section is very thorough and also (like book #1) has comparison tables for quick reference.  Extensive park touring plans, feedback/reviews from "real" vacationers (both positive and not-so-positive) and a section called "The Ecstasy and the Agony" gives sincere and helpful advice on the reality of vacationing at Walt Disney World with children – Let's face it, those Disney commercials make Walt Disney World look like such a magical vacation spot that everyone is happy and having fun 100% of the time – tips and tricks for managing expectations (and helping children and parents have a great vacation) are what make this particular book super helpful.  For research purposes, this book gets a double thumbs up – be prepared for NO pictures, no frills.  You can also find tips/details on hotels and restaurants (and even some rides) outside the Disney bubble.  MSRP $19.99 U.S.
3. Cross book #1 and book #2 and you get PassPorter's Walt Disney World by Jennifer Marx, Dave Marx, and Alexander Marx.  292 pages before the index (plus post-index bonus features), this book does have glossy pages and lovely photographs plus some very unique features not to be found anywhere else.  I must confess, I did receive a review (free) copy of this book, however, if you've read previous posts you'll know that I, a) have an abundance of opinions and am not afraid to share them and b) tend to be…well…brutally honest.  The wear and tear on my 2009 edition of PassPorter's WDW can attest to how much I've relied on this tome in the past for assistance with trip planning.  The fact that I didn't pay for this year's version won't keep me from telling you how I really feel.  Back to the book review:  In addition to the well-organized, easy to read information, this book has fold-out maps (plus mini maps of each resort), and pockets in the back for organizing/storing paperwork, maps, tickets,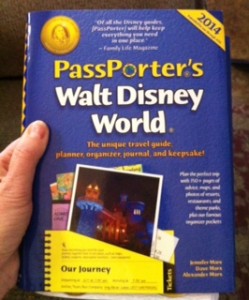 reservation information, etc.  These pockets allow space for 10+ individual days-worth of documents AND on the outside of each pocket, provides places to makes notes, plans, record reservation numbers, travel time schedules, and more.  The book's cover folds out to encompass the contents and has its own attached elastic strap to hold it all together…pretty darned NIFTY!  The sections are easy to navigate and each restaurant, attraction, show, etc. is given a rating by three different reviewers (on a scale of 10) – so, yes, an attempt is made to provide balanced reviews.  However, please DO NOT rely heavily on these ratings – they're the reviewers' opinions – I like to form my own opinions on things and encourage you to do the same.  For example, the book's ratings for the Columbia Harbour House restaurant in the Magic Kingdom were a 5 and two 6's.  We LOVE Columbia Harbour House and eat there at least once every time we visit Walt Disney World – our ratings would be much higher.  The book's reviewers gave Lights, Motors, Action! Extreme Stunt Show at Disney's Hollywood Studios scores of 7, 8, and 8 – we thought that show was just so-so (or maybe not even that good) and wished we hadn't wasted the time…our scores would have been considerably lower.  Don't let the ratings in the book keep you from trying something you're really interested in.  In the "Planning" and "Getting There" sections, PassPorter's offers excellent money-saving, budgeting, and packing tips, and resources.  MSRP $24.95 U.S.
4. The Hidden Magic of Walt Disney World by Susan Veness – "Over 600 Secrets of the Magic Kingdom, Epcot, Disney's Hollywood Studios, and Animal Kingdom" – Raymond picket up this little book for me as a birthday gift back in November.  While, after many visits and much pod-cast listening and blog-reading, I was familiar with many of the magical facts and trivia the author shares in this book, there were plenty of new/unusual things to discover.  It's an easy, fun read, I could see how sharing the bits and pieces of Disney magic pre-vacation or while traveling to Walt Disney World would be a great way to pass time and get everyone excited to see it all!
5. The Revised Vault of Walt by Jim Korkis (forward by Diane Disney Miller) – This little book is jam-packed full of short stories about Walt Disney, Disney movies, Disney parks and more.  There are even recipes for some of Walt Disney's favorite foods!  If you've ever had the pleasure of listening to Mr. Korkis talk about anything/everything Disney-related, you'll know how passionate, sincere, and fascinating he can be.  This book gives readers new insight on the man behind the theme parks, movies, TV shows, and characters that we grew up with and have loved all our lives.
Now it's your turn!  What are your favorite Disney books for travel planning or just plain fun?