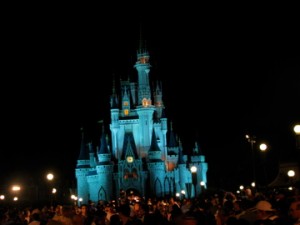 The results of this week's Disney Plan-a-Palooza?  Pretty successful!  I thought I'd go ahead and share our plans as an example for you if you're planning a trip and haven't yet used Magic Bands or FastPass+.  This will be our first time to use the new system and I'd love to hear some honest feedback.  Do you think this plan is solid?  Bear in mind, we are (have always been) diehard, commando-style Walt Disney World vacationers – but I still feel this plan has enough free time built into it for us to stop and enjoy the Disney magic.  Post dinner hours are unplanned so we can decide last-minute if we want to try to take in a show (Fantasmic, Wishes, or Illuminations).  For sure we will see Wishes and the Main Street Electrical Parade at the Magic Kingdom at least twice.
We arrive on Sunday, leave on Saturday.  We're staying at Old Key West – we've never stayed there before, but it's an extremely economical use of our DVC points.  Most of our points are being used at Bay Lake Tower for our (Raymond and I) 25th Anniversary trip in October for Epcot's Food and Wine Festival.  Note:  In these plans, FastPasses (FP+) are listed by start time only, we have an hour once the start time begins to use them.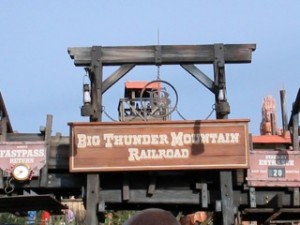 Here's the plan:
Sunday afternoon:  Magic Kingdom – Lunch / Snack on the run. FP+'s:
Space Mountain (1:50 pm)
Journey of the Little Mermaid (2:50 pm)
Big Thunder Mountain (4:50 pm).
Then we'll walk around and enjoy being in the Magic Kingdom until we have to leave for dinner.  Dinner is at 7:30 in Downtown Disney at Raglan Road.
Monday Morning:  Extra Magic Hour (EMH) – Animal Kingdom at 8:00 am.  Planning to ride Expedition Everest, then the Kilimanjaro Safari, then take it easy and play it by ear until after lunch (counter service). Eat a fairly early lunch and park hop!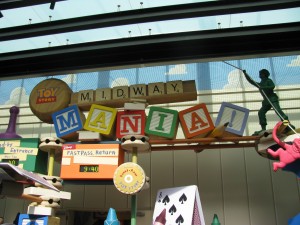 Monday Afternoon:  Disney's Hollywood Studios – FP+'s:
Toy Story Midway Mania (1:30 pm)
Twilight Zone Tower of Terror (3:13 pm)
Star Tours (4:15 pm).
Dinner is at 7:30 on the Boardwalk at the Flying Fish Cafe.
Tuesday Morning:  Extra Magic Hour (EMH) – Epcot at 8:00 am.  Planning to ride Soarin' then leisurely enjoy the morning doing whatever appeals to us until enjoying an early lunch (counter service).
Tuesday Afternoon: Back to Animal Kingdom!  FP+'s:
A quick bus ride away, we'll enjoy dinner at Boma in the Animal Kingdom Lodge (7:00 pm).  Pre-dinner animal viewing on the savannah overlook is a must!
Wednesday Morning:  EMH – Disney's Hollywood Studios at 8:00 am.  Planning to ride Toy Story Midway Mania and Rock'n' Roller Coaster first then relax and see what the wait times are for MuppetVision 3D, The Great Movie Ride, Tower of Terror and more.  It's Raymond's birthday, so we'll defer to his picks – he LOVES Rock'n' Roller Coaster – it's his most favorite ride in the World.  Won't surprise me if we ride it more than once if the standby line wait time is not too terrible.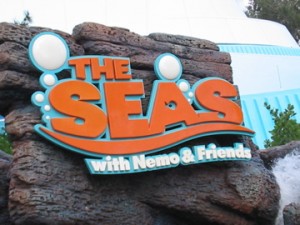 Wednesday Afternoon:  Epcot – FP+'s:
The Seas With Nemo & Friends (2:45 pm)
Soarin' (3:55 pm)
Spaceship Earth (5:00 pm).
Dinner in Epcot's World Showcase at Tutto Italia (7:15 pm).  After Spaceship Earth we can pick up a cold beverage to enjoy as we may your way to the Italy Pavilion.
Thursday Morning:  EMH – Magic Kingdom at 8:00 am.  Our plans are to ride the Seven Dwarfs Mine Train first.  It should be open by then and if I can score a FastPass for it on Sunday or Friday afternoon, I'll do that for sure.  After the Dwarfs, we'll be free to do what we please – Haunted Mansion, Pirates, and Jungle Cruise are must-do attractions for us, so we'll be trying to fit those in.  This is where the longer-than-ever-before standby lines will cause us the most pain.
Thursday Afternoon: Epcot – FP+'s – Don't laugh.  We only really needed/wanted one FastPass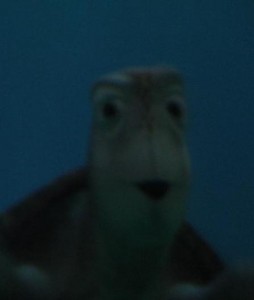 this day, but felt obligated to select three so…
Journey into Imagination with Figment(2:00 pm) – I KNOW!  You don't have to say it.
Test Track (3:00 pm)
Turtle Talk with Crush (4:20 pm).  I don't care if it's supposed to be for little kids…I LOVE it.
After that we'll scoot on back to our resort so we can relax before getting cleaned up for our 7:45 ADR at 1900 Park Fare.  I want to get some great pictures at this character meal (Cinderella, the Prince, Lady Tremaine and the Step Sisters) and would prefer The Fam look a little less park-worn for the evening.
Friday Morning: Disney's Hollywood Studios – 8:00 am.  It's Star Wars Weekend!  This will be our day to do as we please while enjoying the festive party atmosphere that Star Wars Weekends always bring.  Of course we'll dash for either Toy Story Midway Mania or Rock'n' Roller Coaster first thing, but after that, we'll be taking it easy and soaking up the sights…that is until we enjoy our noon ADR at Hollywood Brown Derby for lunch.  Then we hop!
Friday Afternoon:  Magic Kingdom – FP+'s are for…
Splash Mountain (3:15)
Space Mountain (4:15)
Big Thunder Mountain (8:00)
Being our last day, we'll be trying to make the most of it.  Counter Service for dinner will allow us more time to walk around and say farewell until next time.
So, if you were taking this trip, what would you change?  If you've got any pointers or tips to share about Old Key West, I'd love to hear them – especially pertaining to which bus stops are the best!