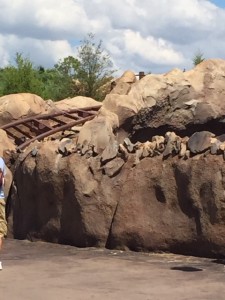 About six months ago, I visited the Magic Kingdom's newly expanded Fantasyland to ride the much touted and highly anticipated Seven Dwarfs Mine Train.  During that first experience I was admittedly underwhelmed.  I'm 100% certain is was due all the build up and hoopla leading up (for a couple of years) to the ride's opening and the subsequent realization that it is, in spite of all that hype, still a kiddie coaster.
I like to believe I'm a fair person and am pretty self-aware.  I knew I'd had my expectations too high for those poor Dwarfs and their train – the ride is literally two minutes long.  How much pizazz was I expecting in 120 seconds?  I rode it once and, boom! just like that, it was over.  I had to give the attraction a second chance.  A do-over.  A mulligan, if you will.  The second time, I'd know the ride's length and what to expect so I could pay much closer attention to each and every detail.
While first impressions may make or break a relationship – not so with Disney attractions, I'm happy to report!  Attitude adjustment and FastPass+ firmly in hand, we made our way into the Seven Dwarf's queue – it was a hot day and a couple of Cast Members were handing out cups of ice water to guests as they entered the attraction (nice touch!).  Remembering the somewhat tricky lap bar (be careful not to pull it down too far – it's easy to do because it "glides" into place and stays there).  We climbed into our train car and waited for clearance to go.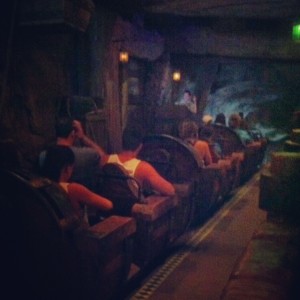 On the first ride, I was disappointed by how "firm" the cars were.  Rather than freely swinging from side to side as I'd expected, they felt stiff and barely moved.  By the second try, I noticed right away there was a lot more movement adding just the right amount of extra action to what is an amazingly smooth and quiet ride.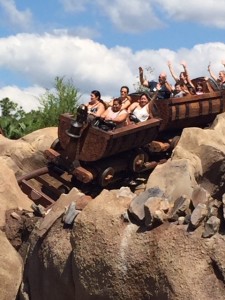 When the train slowed down to enter the mine, I was ready!  I took in many more of the details the second time around.  This part of the ride is just fantastic!  The change from outdoor coaster, riding through the trees and hills, to a slow trip past the Dwarfs as they work is what makes this attraction so unique.  If you've not ridden this coaster before, be sure to pay close attention to this part!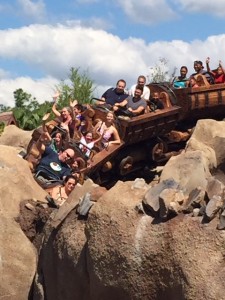 I still didn't get a good look into the Dwarf's cottage at the end of the ride, but did notice a few more details that I'd missed before.  I guess I'll just have to ride it again next time I visit the Magic Kingdom.  Since we'd purchased Memory Maker, we got the Seven Dwarfs Mine Train video as a souvenir and it's very adorable.
Have you ridden Seven Dwarfs Mine Train? What did you think of it?