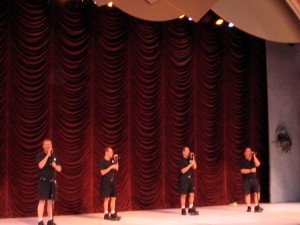 Once upon a time….there were Four for a Dollar…
Do you remember the incredibly entertaining a cappella quartet that used to open for the Beauty and the Beast show at Disney's Hollywood Studios?  These guys were fantastic!  If you happened to get to the theater early and were just enjoying the shade and a chance to rest your feet, you would be treated to one of those particularly magical Disney surprises that makes your visit to any Disney park extra special.
So, a guy would walk on stage and the audience members who hadn't seen the act before were completely surprised by what happened next.  The Four for a Dollar performers would trick the audience into believing they were stage techs setting up and testing the sound system.  Dressed in a uniform of black shorts and shirts, they were funny, cute, and remarkably talented.  They made you laugh and drew you in…then blew you away with their singing!  Visitors of all ages adored Four for a Dollar and our family was no exception – we were absolutely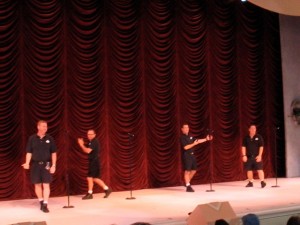 delighted.  Unfortunately, the act was discontinued a few years ago (2008) after an outstanding 14-year run and, like many changes that Disney makes, this one has been a sore spot for many, many fans.  A Facebook page was active for a while (until last year) called "Bring Four 4 a Dollar Back to Walt Disney World".  To this day, once I'm seated for Beauty and the Beast, this missing pre-show seems a big, glaring mistake.
Post Studios, the group continued to appear in the Orlando area by their non-Disney name, Return 2 Zero.  They performed once more at Walt Disney World last spring (as Return 2 Zero) at the American Adventure in Epcot.  I would have loved the opportunity to see them again.
About the Group:  Members Andrew White, Sammy Pawlak, Marshall Webb and Doug Teel began performing together in the early 1990's and it's was no surprise for me to read on their website that they'd won honors in the group and arrangement categories of national a cappella competitions.
Catch Four for a Dollar on YouTube here.
Visit the Return 2 Zero website here.
Did you ever get to see Four for a Dollar?  Did you love them as much as we did?