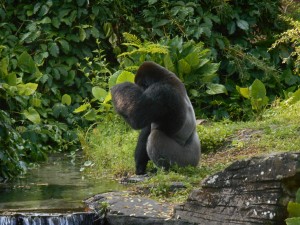 I'm a little perplexed about something.  (If you can clear up my confusion, please do!)  Why do so many people skip the exploration trails at Disney's Animal Kingdom?  Is it because they think it'll be too much like a typical zoo experience and they want more "Disney" things to do?  Maybe some folks are afraid there will be unpleasant animal smells? (There aren't)  Is it because there are so many other things at Animal Kingdom to see and do they think they don't have time? (That one I could sort of understand)  I have a theory about it…I think people skip the trails because they don't think they'll be exciting or that there's nothing new or different to see.  Of course, if that's the case, they'd be WRONG!  Perhaps I could dispel that nasty rumor once and for all…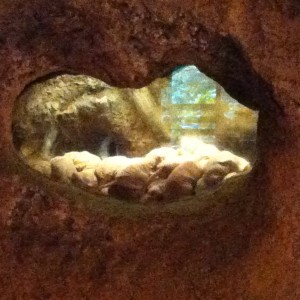 Ladies and Gentlemen, I give to you, FIVE great things about The Pangani Forest Exploration Trail:  (Don't worry, I will devote an entire future post to the Maharajah Jungle Trek).
1.  Naked (Nekkid!) Mole Rats.  Somewhat (okay, VERY) disgusting, always fascinating!  Along the trail you'll come to a research building full of fascinating exhibits – none more interesting than those mole rats!  They're like some sort of horrible oddity – you know what I'm talking about – the kind of thing you can't look away from but you're freaked out by.  Want to know more?  See these Fun Facts at the Smithsonian's site.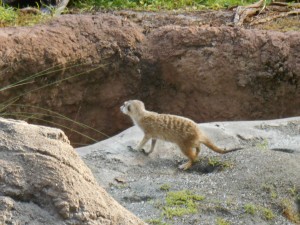 2.  Meerkats – These little guys (and girls, I suppose) are so fun to watch!  Popping up and down, playing sentry for their mob.  They are cute and funny and wonderful to see.  Why would anyone pass up this opportunity?  Need more convincing?  Check out National Geographic's Meerkat facts for kids here.
3. Hippos!  There's an underwater viewing area.  You can see hippos in the water on Kilimanjaro Safari, but seeing them from below the water's surface is just spectacular!  Really!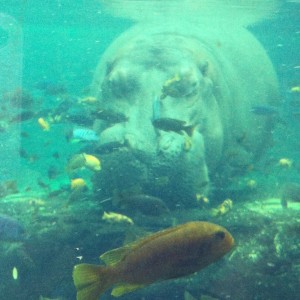 4. The Aviary – Birds take so many different shapes and sizes!  They're also smaller than some of the other animals on the trail, so the stroller set may find them more interesting.  Of course, if you're scared of birds you should avoid this area at all costs!  Me?  I think they're just ducky.  (See what I did there?)
5.  THE very best part of this experience – Western Lowland Gorillas.  Incredible.  Fascinating.  Also so fun to watch as they go about their day – and seem to be interested in watching you go about yours.  If you've ever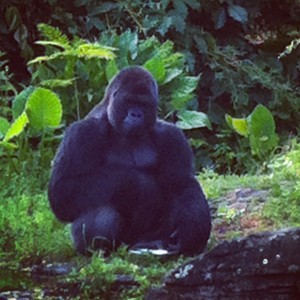 been to a stinky primate house at a zoo, forget about it!  These amazing creatures are right there in front of you – with no bars or glass obscuring your view.  See the gorilla in the picture?  He had a metal dish/bowl for drinking water, but he stopped drinking to stare at me…while I looked at him.  I think we really connected there for a while.
So, those are my reasons for visiting Animal Kingdom's Pangani Forest Exploration Trail on every visit.  You should give it a try!  Especially if you're looking for any sort of educational opportunities on vacation (if you took the kids out of school to visit Walt Disney World, these trails are the stuff research reports are made of!)
Have you explored the Pangani Forest trail?  What was your favorite animal along the way?