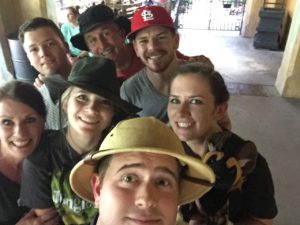 I'm well aware there are certain people who do not appreciate Disney's Animal Kingdom as a full-day park.  My family and I are not among them.  We were thrilled recently by the opportunity to spend 12+ hours in the amazingly themed, action-packed,  fun-filled Animal Kingdom.  From rope-drop to park closing, we had an amazing day and still did not see and do it all.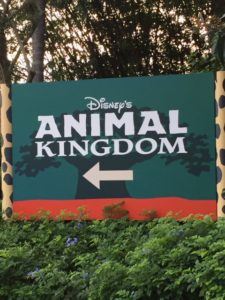 Disney's Animal Kingdom – 12 Hours of Fun!
Pre-planning:  We booked two ADRs (Advance Dining Reservations) at 180 days pre-vacation at Tusker House for breakfast and Tiffins for an early dinner.  If, by some miracle, Rivers of Light would have come online for our trip, we were ready to turn one of these meals into a dining package.  As it turned out, Rivers of Light was still a no-show.  No matter, we enjoyed both of these restaurants and were very pleased with the choices.  We had also booked three FastPasses:  Expedition Everest, Kilimanjaro Safaris, and Primeval Whirl (Dinosaur was under refurbishment).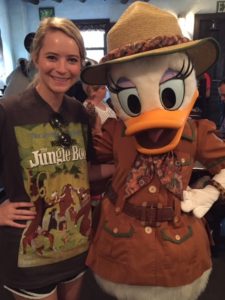 What we did for 12+ Hours
Morning:  We arrived early for breakfast and enjoyed Tusker House's buffet which had both unique and traditional breakfast offerings.  We met Mickey, Minnie, Donald, Daisy, and Goofy – all were awesome and spent plenty of time with us for pictures.  As much as I love Donald, Goofy was extra entertaining.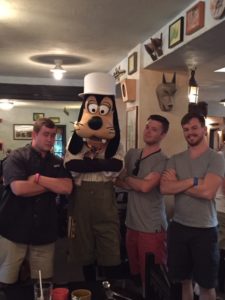 After breakfast, we waddled over to Kilimanjaro Safaris and visited with the friendly Cast Members there while we waited for the attraction to open.  Our group of seven and a family of three were the only ones on our safari and it was, hands down, the best experience we'd ever had on this attraction…even though the giraffes (except for one) and elephants seemed to be sleeping in that morning.  We were very excited to have an excellent view of the new African Painted Dogs!  Gorgeous!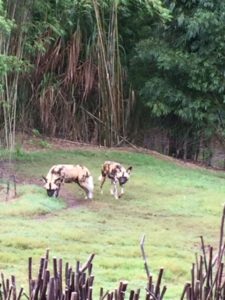 Post-safari, we explored the Gorilla Falls trail, used our Expedition Everest FastPass, strolled the Maharajah Jungle Trek, caught It's Tough to Be a Bug, and took another safari (with FastPass) to see the previously missed close-up giraffes and elephants.
Afternoon:  We stopped by the Harambe Market in case anyone was hungry, but we only got drinks.  I guess we were still full from Tusker House.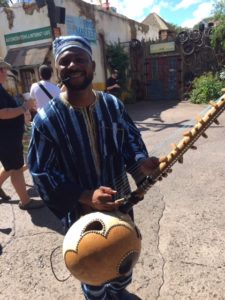 While we were enjoying our beverages of choice, we were serenaded by a musician and it was wonderful!  He was very talented and made us feel special.  Then we explored Zuri's Sweet Shop where we all bought souvenirs.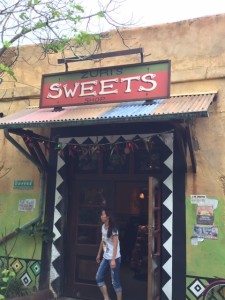 Hats, toy Komodo Dragons, and stuffed African Painted Dogs were popular items with our group.  After that we hopped the train for Rafiki's Planet Watch.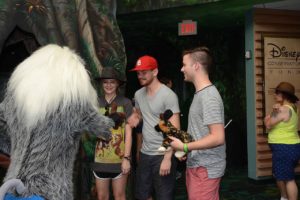 While there was not a lot going on in the animal care area, the Cast Members were chatty and informative, the animals in the petting area were cute, and Rafiki himself made an appearance and was very charming!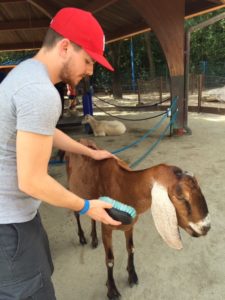 We could have seen Festival of the Lion King instead, but Rafiki won out in the group vote and we were happy with our excursion to this seldom-visited section of the park.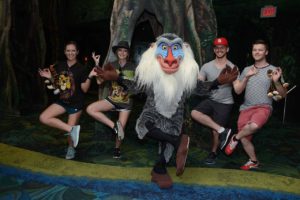 As we took the train back, we noticed the sky was darkening.  By the time we exited the train and donned our ponchos, a torrential downpour was upon us and all areas of shelter nearby were packed.  I decided we should take a chance on Nomad Lounge (by Tiffins), hoping nobody else would realize it would be open.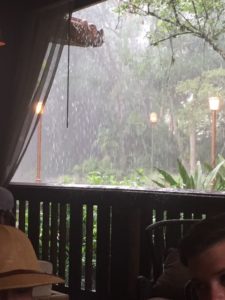 YES! The place was virtually empty.  We found a table on the patio and ordered drinks and snacks which we made short work of as the rain let up and we headed back out for more fun.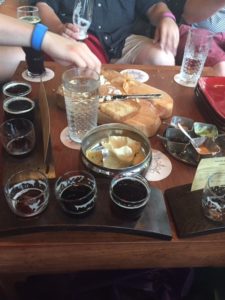 We wrapped up the afternoon with a series of rides on Primeval Whirl since there was no wait.  Before long, it was time to return to Tiffins for our early dinner reservation.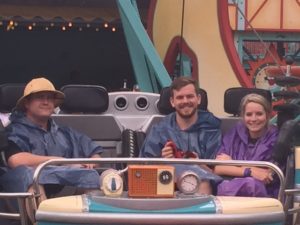 Evening:  Tiffins, which I will give a full review for soon, was delightful and delicious (truthfully, it was incredible)!  Once the sun began to set, we began what was the completely-new-to-us time of the day – we'd never been able to stay at Animal Kingdom so late before.  The park wouldn't close until 8:30 and we were going to take advantage of every minute.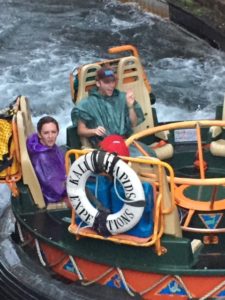 First, everyone (except Raymond and I) took multiple trips down Kali River Rapids (no wait).  Then we enjoyed Expedition Everest at night…amazing!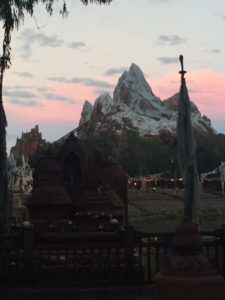 We took our third Kilimanjaro Safari of the day to see the hyenas and all the nighttime effects before wrapping up this epic day by watching the Tree of Life awaken.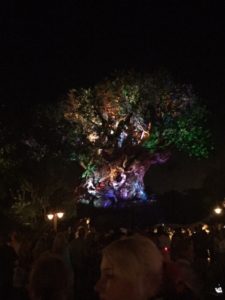 More than 12 hours after we arrived, we caught the bus back to Bay Lake Tower.  Sure, we skipped things like Finding Nemo The Musical, Festival of the Lion King and Flights of Wonder, but we rode awesome thrill rides multiple times (no wait), had all the safari experiences possible, enjoyed some fantastic food and soaked up all the incredible theming and ambiance Animal Kingdom has to offer.  When the World of Pandora opens and Rivers of Light finally launches, we'll have to make multi-day plans here on every visit!
What are your favorite things to do at Animal Kingdom?  Are you looking forward to the parks upcoming additions?