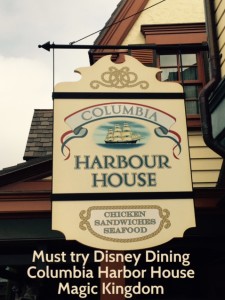 Magic Kingdom is SUCH a great park!  Fantastic lands, awesome theming, wonderful attractions AND pretty darn good food!  Snacks aplenty, ask any Disney World fan and they'll tell you that the popcorn on Main Street, the pretzels in Tomorrowland, the churros in Frontierland, and the, dare I say it? Dole Whips in Adventureland make Magic Kingdom the very best park for snacking.  Snacks are all well and good, but when I want a quick meal on the spur of the moment?  I'm choosing Columbia Harbor House in Liberty Square.
Disney World Dining – Columbia Harbor House:
As you may expect, I can share FIVE great things about dining at Columbia Harbor House for you to consider:
1. Location!  You think it doesn't matter?  Oh, but it does to us!  When Magic Kingdom opens, we head on over to Frontierland to ride the two mountains there first:  Splash and Big Thunder.  What a way to start the day!  Then we have some leisure time (built into our plan, which I highly recommend).  We can see the Country Bears, tour the Haunted Mansion, chillax in the Hall of Presidents and, hungry now, are perfectly poised for an early lunch at Columbia Harbor House!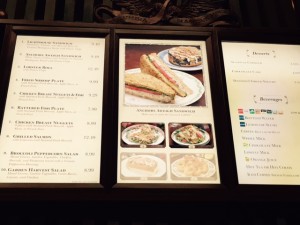 2. Variety – CHH has an excellent, broad menu – sure to please everyone in your party.  From the Disney website, " Reel in fried fish, shrimp or chicken baskets, lobster rolls, New England clam chowder, grilled salmon, vegetarian chili and salads. Specialty sandwiches include the Anchors Aweigh, made with white tuna, and the Lighthouse, made with hummus and broccoli slaw. Kids can enjoy macaroni and cheese, chicken nuggets and more. Top off your meal with seasonal cobbler, yogurt and fountain drinks."  Me?  I'm partial to the Anchors Aweigh and will split a sandwich if Megan is with me to save room for snacks or a table service ADR (advance dining reservation) later in the day.  Raymond and Joseph love the fried fish basket.  We've never left unhappy.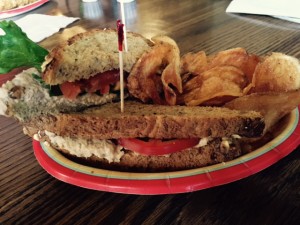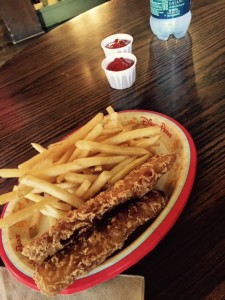 3. Quality – The food is consistently good.  We've enjoyed lunch at Columbia Harbor House many times over the years and have never had an "off" meal.  For an eatery to reliably deliver exactly what we expect, every time we visit, that's what keeps us coming back!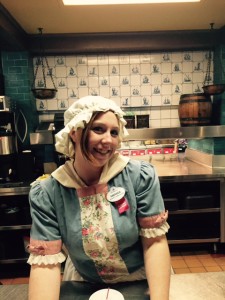 4. Service – Sure it's counter service restaurant, but the folks are swell!  Friendly staff, clean dining area, and a sense of urgency to keep the line moving – these make for an excellent experience and get us back out into the park pronto!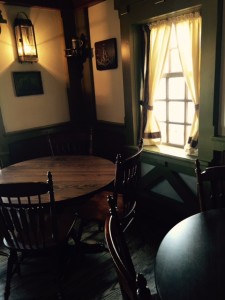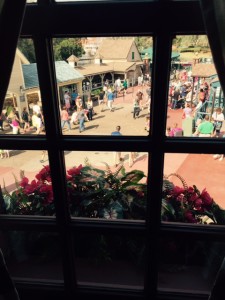 5. Seating – There's ample seating both main floor and upstairs.  We always head on up to the second level where it's usually a little quieter and, if we get there early or are especially lucky, we can find a table with a view!  Yup, window-side seating gives guests an awesome view of Liberty Square's goings-on.  Except for the inside of Beast's Castle at Be Our Guest, what other lunch place can boast a better view?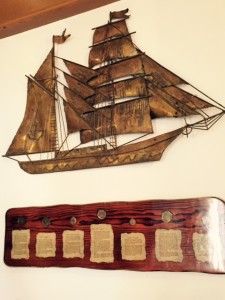 Is Columbia Harbor House one of your must-do's?  What other Magic Kingdom counter service restaurants do you love?