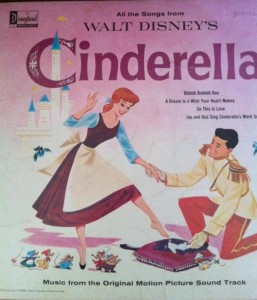 Dipping once again into Joseph's vast collection of Disneyana, today I've chosen another album.  This delightful treasure from 1959 is the "Music from the Original Motion Picture Sound Track" for Walt Disney's Cinderella.  "Featuring members of the original cast including Ilene Woods, Don Barclay, and Verna Felton.  Songs by Mack David, Al Hoffman, and Jerry Livingston.  Background music by Oliver Wallace and Paul J. Smith".
Nine songs make up this LP – including my two favorite Cinderella songs:  "The Work Song"  (Jaq and Gus and the Mice) and "Bibbidi Bobbidi Boo" sung by Verna Felton as Fairy God Mother.
Let's talk about Verna Felton (July 20, 1890 – December 14, 1966 – yes – that is one day before the date Walt Disney passed away) for a minute.  Mrs. Felton enjoyed a long career (began performing publically at age 10) – first on stage and radio- before moving on to film.  She was well known (and in demand) for her distinctive voice and no-nonsense attitude.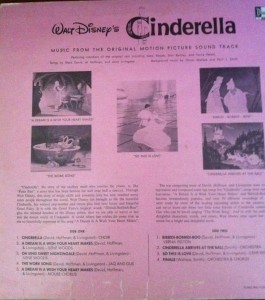 You may have known this already, but I was surprised to find out just how many other Disney roles that Verna Felton also voiced beside Fairy Godmother in 1951:  Dumbo – 1941 (Elephant Matriarch),  Alice in Wonderland – 1951 (Voice of Queen of Hearts.  Sings "Who's Been Painting My Roses Red"),  Lady and the Tramp – 1955 (Voice of Aunt Sarah.  Sings "Rock-a-Bye Baby"), Sleeping Beauty -1959 (voices of Flora and Queen Leah), and The Jungle Book – released after Mrs. Felton passed away, 1967 (Winifred the Elephant, sings "Colonel Hathi's March").
Okay – back to the record.  From the album cover's reverse side:  "…Walt Disney has brought to life the beautiful Cinderella, her wicked step-mother and sisters plus that very funny and forgetful Good Fairy.  It is with the Good Fairy's magical words "Bibbidi-Bobbidi-Boo", plus the talented brushes of the Disney artists, that we are able to travel at last into the dream world of Cinderella…"
Song List (Side One, songs 1-5 / Side Two, songs 6-9):
Cinderella
A Dream is a Wish Your Heart Makes (Ilene Woods)
Oh Sing Sweet Nightingale (Ilene Woods)
The Work Song (Jaq and Gus)
A Dream is a Wish Your Heart Makes (Mouse Chorus)
Bibbidi-Bobbidi-Boo (Verna Felton)
Cinderella Arrives at the Ball (Orchestra)
So This is Love (Ilene Woods)
Finale (Orchestra and Chorus)
If you just have to have a copy of your very own – try eBay and Etsy.  Prices range from $5-$17.