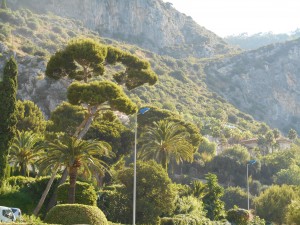 Or maybe I should call this post, "A Disney Souvenir More Naturally Permanent."  You be the judge.  We live in the country, The Fam and I (well, mostly just Raymond, Junior and I do now).  When I say "the country" I mean we live on a farm – the kind with crops instead of animals, but it is totally normal for me to take the dog out in the morning and hear both roosters crowing and cattle lowing or mooing or complaining – whatever you want to call that boisterous bovine nonsense at 5:00 am.  Our neighbors do raise livestock.
What does living in the country have to do with Disney souvenirs?  Thanks for asking!  I'll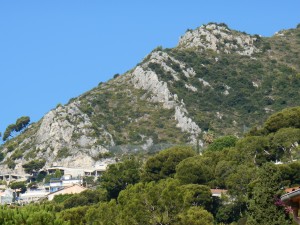 tell you about it.  In August, 2013 – after dreaming about it for many years – we took a Disney cruise in the Mediterranean.  As you might expect, we did and saw some wonderfully amazing things.  Oh, the places we went!!!  While we were in there, we noticed some very beautiful pine trees.  They were almost everywhere and looked a bit like cartoon trees – shaped like umbrellas, their lovely arched branches atop tall, tall trunks, provided shade in a way we found charming and so different from anything we'd seen before.  We asked our guide in Florence, Italy about them and were told they were simply "Mediterranean Pines".  Back home, a little Google research revealed they may also be "Umbrella Pines" or "Stone Pines".  Whatever their name, I thought they were lovely.
Raymond, being the agricultural expert in the family, took it upon himself to surprise me with some actual Mediterranean Pines to grow in our very own backyard, side yard, adjacent field, and so on.  He ordered both seeds and saplings from a couple of different suppliers in far away places like California.  He carefully nurtured the tiny trees and carefully tended the seeds when they sprouted.  The net result is that now, after a year, we have some half-a-dozen baby Mediterranean Pines well on their way to providing some beautiful umbrellas of shade from the hot Louisiana sun.
So, the point of all this is to say – sometimes a tee shirt is a great souvenir.  Sometimes something that will last for years and years while reminding you everyday of one of the most wonderful experiences of your life – all while keeping you cool in the summer (eventually, anyway) – is the very best souvenir of all.
What's your favorite Disney vacation souvenir?
If you want to read all about our adventures on the high seas in the Mediterranean, start here.