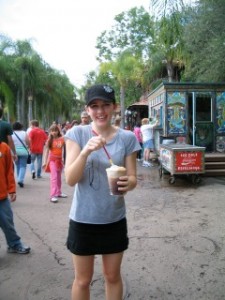 I read lots of Disney blogs.  Disney snacks are a hot topic!  Disney bloggers and their readers are very opinionated about their favorite, must-have Disney vacation snack.  You know, that one food item that calls to you and when you bite into it, you know you're at Disney?  Having no shortage of my own opinions, I'm wading into the fray.
I know there are big-time Disney churro lovers, and soft Mickey pretzel fans, folks that dig those frozen lemonades, and those who consider the chocolate croissant or a Mickey shaped ice cream sandwich a must.
As for me, even born without a sweet tooth, it's the Mickey ice cream bar – all the way!  I must have one at some point on my Disney vacation.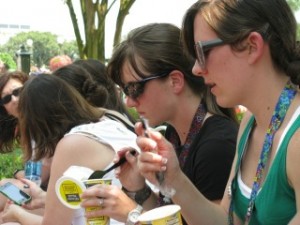 Personally, I think they taste the best when eaten under a blue, sunny Florida sky while walking in Future World at Epcot.  While I wait in line to make my purchase, I can just imagine how the chocolate will feel when I take the first bite – the muffled crunch it will make as that smooth delicious exterior gives way.  Then I've got to eat pretty quickly or wear drips of ice cream on my shirt for the rest of the day!  I know – it's just a plain old chocolate covered vanilla ice cream bar.  But this one's special.  It's sweet, cold, just the right size and shaped like Mickey's head!  How could any vacation food be better than that?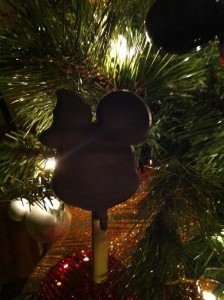 Last time I went to Disney World, I brought a Mickey Bar home with me.  I saw a package of souvenir Disney snack magnets and couldn't wait to buy them.  Reminded gently by Raymond that we have a stainless steel refrigerator – where would those magnets go?  Not to worry!  I turned them into Christmas ornaments!!!
So, what about you?  Dole whip, turkey leg, school bread, citrus swirl, a funnel cake perhaps?  Which snack makes your Disney visits special?